World Series: Arizona company scores big with Diamondbacks sponsorship logo deal
PHOENIX - For the first time, Major League Baseball allowed teams this year to wear sponsorship logos on their jerseys, and a company in the Phoenix area was one of the first to sign a multi-year deal.
At the start of the season, almost no one expected the Arizona Diamondbacks to head to the World Series, but with the team now set to play ball in front of a national audience, the name 'Avnet' will also be displayed to a wider audience as a result.
So, what's Avnet?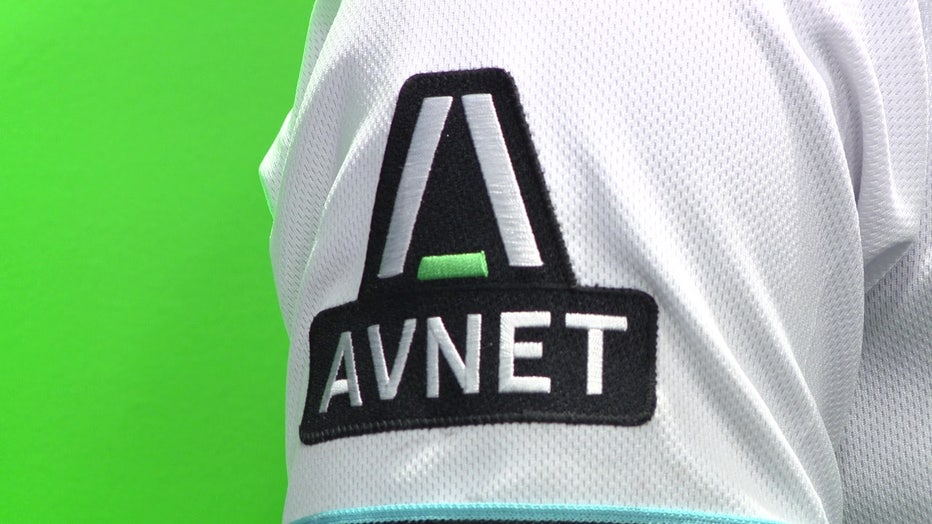 Avnet's logo on an Arizona Diamondbacks jersey.
According to the company's website, Avnet is described as a "global technology distributor and solutions provider."
"Avnet has served customers' evolving needs for an entire century. We act as an extension of our customers' teams, so they can leverage our deep technical and supply chain expertise to maximize their return on investment throughout the product life cycle," read a portion of the descriptions.
The company, according to officials, was founded in 1921, and has over 15,000 employees.
Company CEO speaks
The company's CEO, Phil Gallagher, is a D-backs fan going back to the last time the team was in the World Series, in 2001.
"I was there with my son," said Gallagher.
Gallagher was talking about Game Seven of the 2001 World Series.
"It was unbelievable," Gallagher recounted.
As we mentioned above, Avnet was among the first companies to sign a multi-year deal with MLB teams. Gallagher admits he was hesitant at first.
"I'm like, we're in business to business. Tough to justify," Gallagher said. "I got to give credit to our CFO, Ken Jacobson, who said we got to go talk to these guys. We got to meet them."
When the deal was signed, the D-backs had a lot of rookies, and two years prior, the team had a 110 loss season. A World Series run was likely far from the minds of many.
"I got to admit, I did not sign up and say 'hey, let's go to the World Series and it will be a win.' We just signed up because of values," said Gallagher. "This has been the old saying, playing with house money. This is bonus money, because now, we're truly getting national exposure."
Avnet's logo may now be on a World Series jersey, but it is also where that patch is placed that is important.
"I got to give credit to the D-backs. You can see that patch. You can't miss it," said Gallagher.
It is fair to say, in a possibly cliched manner, that Avnet has hit a homerun.