'Wonder Years' star Danica McKellar reveals love triangle with Candace Cameron Bure back in the 1980s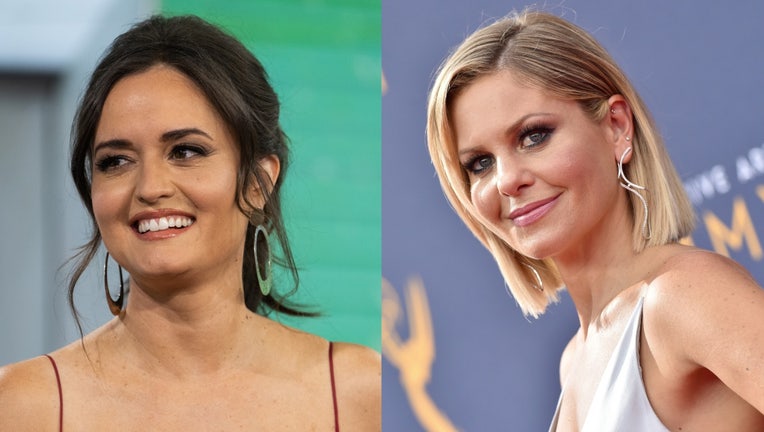 article
"The Wonder Years" star Danica McKellar and "Full House" actress Candace Cameron Bure have been friends for decades, but they recently discovered they were in a love triangle as teenagers.
"So, in 1989, I believe it was, there was this party that a teen magazine was putting on and ["Growing Pains" star] Jeremy Miller, who was also a young actor, he was at this party," McKellar explained to Fox News Digital while at That's4Entertainment's '90s Con in Tampa, Florida. 
"I was there, and Candace was there. and he asked me to be his girlfriend. And I was like, 'Yes!' And I didn't know at the time, but I guess Candace thought that she and Jeremy were dating.
"[It's] so silly. I mean, we were so young. We were like 13 years old. So, this was not any kind of serious relationship we're talking about." 
'THE WONDER YEARS' ALUM DANICA MCKELLAR SHARES WHAT KEPT HER GROUNDED AFTER BECOMING A CHILD STAR
"But I found out years later on 'Dancing with the Stars,' I found out that she was like, 'Oh, we were dating. I'm like, What?' So, Jeremy, tsk tsk, not good," she said with a laugh.
"But luckily my friendship with Candace has survived just fine." 
The 48-year-old's friendship with Bure goes beyond their shared past as childhood stars, but to their faith, something that's a newer to McKellar's life.
"I am a new believer as of April of last year, and it's been the most amazing journey and relationship," the "Dancing with the Stars" alum said.
McKellar has been open about her exploration of faith online through Instagram and Great American Community, an app linked to the Great American Family Channel, where McKellar has starred in several projects. 
CANDACE CAMERON BURE'S LOOKALIKE DAUGHTER NATASHA AIMS FOR 'MODESTY' BY SHOWING 'LESS SKIN'
"I'm reading the Bible this year all the way through, which has been [a] really amazing journey. It's a lot. It's a really long book," she said with a laugh. "But I'm going to finish by the end of the year, and it's been amazing.
"For me, it's not about religion, it's about relationship. And that's what I'm finding so fulfilling. And … I wish it and pray it for everyone to feel the kind of peace that comes with that."
McKellar even supported Bure last year after her controversial comments about Great American Family's plans to focus on programming that "will keep traditional marriage at the core."
Bure faced backlash and later released a statement saying she has "great love and affection for all people. It absolutely breaks my heart that anyone would ever think I intentionally would want to offend and hurt anyone." 
CANDACE CAMERON BURE RESPONDS TO BACKLASH OVER 'TRADITIONAL MARRIAGE' REMARKS AND SAYS SHE LOVES 'ALL PEOPLE'
However, McKellar's co-star, Neal Bledsoe, decided to leave the network.
"As an artist, I yearn to be proud of the work I create. But the thought that my work could be used to deliberately discriminate against anyone horrifies and infuriates me," he said in an interview with Variety at the time. 
"I hope GAF will change, but until everyone can be represented in their films with pride, my choice is clear."
"Neal is a wonderful person. He's such a great actor, and I have enjoyed working with him so much," McKellar told Fox News Digital last year at ChristmasCon. "He and I both share our love and support of the LGBT community for sure. … I don't agree with his interpretation of her comments. I just didn't see them the same way.
"[Bure] started the sentence with 'I think,' which is not definitive, and she ended it with 'at its core,' which doesn't mean exclusively," she continued. "I don't agree with his interpretation, but I love him to death, and I wish him well."
This year, being at '90s Con over the weekend had McKellar feeling sentimental about her time on "The Wonder Years," which ran from 1988 to 1993 on ABC.
"It's nostalgic, and so many fans [have been] telling me how much they love me on my childhood shows. And it just, it makes you feel all the warm and fuzzy. And it's fun to reminisce about the '90s," McKellar said. 
The "Christmas She Wrote" star did admit that it wasn't always easy growing up as a teen in the spotlight or a teen in general.
"I mean, as a kid in the '90s, I think any kid goes through a lot of insecurities. And so if I'm going to talk to myself in the '90s, I would say, 'It's all going to work out. Don't worry, don't worry so much. It's going to be fine. It might not be what you think it's going to be, but it's going to be fine,'" she said.
McKellar said the swing dance revival was an unexpected highlight of the '90s for her.
"Like the late '90s, there was this whole swing dance revival and I used to go swing dancing in Los Angeles. There [were] tons of clubs you [could] go to and swing dance. And then, in '99, I got a chance to play Rizzo in 'Grease' in a regional production … just outside of Los Angeles.
"And I remember swing dancing on stage and thinking at that moment, looking at the sea of shining, happy faces and dancing and feeling like there's nowhere else I'd rather be right now," she continued. "There's nothing else I'd rather be doing. I just loved dancing so much.
"And I got to be on 'Dancing with the Stars' many years after that. And then now I get to dance in movies!" 
The actress is translating that love of swing dancing into a new role on Great American Family's "Swing Into Romance."
In the movie, McKellar plays a former dancer who enters a competition to help raise money for her family's store. Her one-time "Dancing with the Stars" partner Gleb Savchenko also makes an appearance in the film. 
"Swing into Romance" premieres Oct. 7 on Great American Family.