Woman sues Rudy Giuliani over alleged sexual assault; says he owes her $2M
NEW YORK - A former employee of Rudy Giuliani is suing him and his companies for $10 million, alleging he sexually assaulted and harassed her and owes her nearly $2 million in unpaid wages, among other misconduct.
The bombshell complaint was filed Monday in Manhattan Supreme Court by Noelle Dunphy.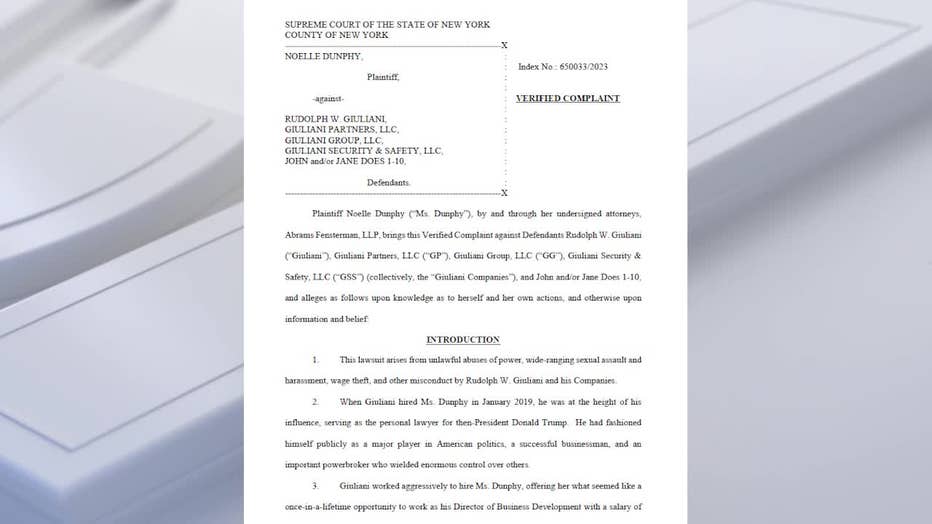 Attorney Justin Kelton is representing Dunphy, who was hired by Giuliani in January 2019.
"She's alleging that first, he never paid her for the work, and second, that he pressured her into unwanted sexual contact," he explained.
Dunphy was a 24/7 on-call assistant, who helped with everything from secretarial work to high-level analysis of speeches and arguments.
She claims to have met the former New York City mayor in the lobby of a Trump building. He allegedly struck up a conversation and gave her a business card. Years later, Dunphy said he reached out to her via Facebook to arrange an interview.
According to the lawsuit, "Giuliani worked aggressively to hire Ms. Dunphy, offering her what seemed like a once-in-a-lifetime opportunity to work as his director of business development with a salary of $1 million per year plus expenses. As an added inducement, Giuliani also offered to provide pro-bono legal representation to Ms. Dunphy in connection with an ongoing dispute arising from an abusive ex-partner."
The complaint goes on to say, "Unfortunately, Giuliani's seemingly generous offers were a sham motivated by his secret desire to pursue a sexual relationship with Ms. Dunphy."
"Soon after she started working for him, he started exhibiting bizarre behavior. She alleges that it became increasingly behavior that was of a sexual nature and trying to put pressure on her to have a sexual relationship," Kelton told FOX 5 NY.
Kelton said his client was forced into unwanted sex with Giuliani, who was, at the time, former President Donald Trump's personal attorney.
Dunphy alleges Giuliani would often force her to work in a bikini and urged her to strip naked during video meetings.
She also claims to have saved tape recordings of Giuliani's sexual demands, hostile behavior and racist comments he made after he had been drinking.
"She alleges that he told her that people don't report me. I don't have an HR department because I don't need an HR department and if anyone were to report me, my private investigators, would, in a nutshell, make them sorry that they did," Kelton added.
The complaint also stated Giuliani never paid Dunphy because he was in a bitter divorce with his ex-wife Judith Nathan, allegedly telling Dunphy that Nathan would retaliate against any female employee he hired.
Giuliani "vehemently" denied the allegations through a spokesperson. His lawyer had also previously denied that Dunphy ever worked for Giuliani.
"Mayor Giuliani's lifetime of public service speaks for itself, and he will pursue all available remedies and counterclaims," said Giuliani's communications adviser, Ted Goodman.