Wisconsin Capitol armed man sought Evers, police allege
MADISON, Wis. - Wisconsin State Capitol Police allege Joshua Pleasnick was carrying a gun and seeking Gov. Tony Evers; police say they arrested him, then he bailed out and returned with an "AK style" rifle, only to be arrested again. A Capitol Police security alert identified the man as Joshua "Taco" Pleasnick of Madison.
Police said the first incident happened Wednesday before 2 p.m., inside the Capitol corridor that leads to the governor's office, where police are stationed at a security desk. 
The alert, shared with lawmakers and Capitol staff Thursday and obtained by FOX6, said Pleasnick was carrying a handgun when he was stopped and told officers he would not leave until he saw the governor. A state spokesperson confirmed Pleasnick wasn't wearing a shirt, had the gun in a holster and also had a dog on a leash. 
SIGN UP TODAY: Get daily headlines, breaking news emails from FOX6 News
The security alert said the officer told Pleasnick he could not open carry firearms in the Capitol. The alert added that Pleasnick responded that he would not comply – at which point he was arrested, while the dog was turned over to Madison Animal Control.
"I'm OK. To their credit, the Capitol Police took control of the situation, and it's over," Evers said Thursday. "That's always something that is things you don't want to see happen, but that's why we have good people in the police department and Capitol Police and State Patrol. They're doing their great work."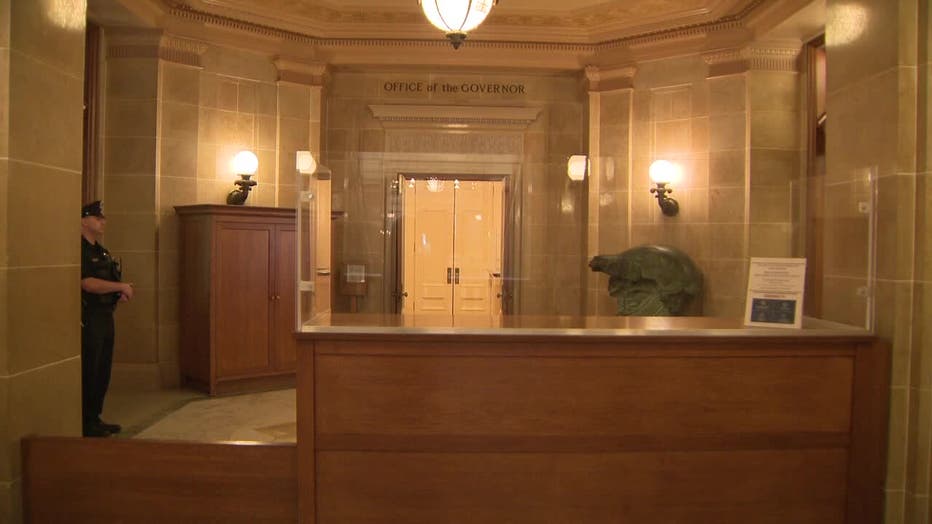 Security desk outside Gov. Tony Evers' office at the Wisconsin Capitol
The Capitol Police alert added: "While being interviewed, Pleasnick said he would continue coming to the Capitol until he spoke to the governor about domestic abuse towards men. Pleasnick stated he did not own a vehicle, and it is likely he has access to a large amount of weapons and is comfortable using them."
Pleasnick was booked into the Dane County Jail, then posted bail. Capitol Police said he returned Wednesday night before midnight outside the building armed with an "AK-style rifle." They said they also found a police-style baton in his backpack. Again, police said Pleasnick said he wouldn't leave until the governor spoke with him.
FREE DOWNLOAD: Get breaking news alerts in the FOX6 News app for iOS or Android.
"We got people out there that just they are really some bad people. Some negative people," said State Sen. Van Wanggaard (R-Racine). "If you go and serve your community, you shouldn't be put up there as a target. You know, I think that we really need to stop and step back and pay attention to what we're doing as a society. And we need to address some of those issues, mental health. One of the major things that we're continuously working on from a legislative standpoint is trying to provide more mental health services."
Wanggaard, a retired police officer, has a federal concealed carry license and carries a pistol in the Capitol. He told FOX6 News he is not worried about his safety after what happened Wednesday.
"I can carry in all 50 states, and so that's why I'm not concerned about my security," he said. "I can defend myself in the building and others if I had to."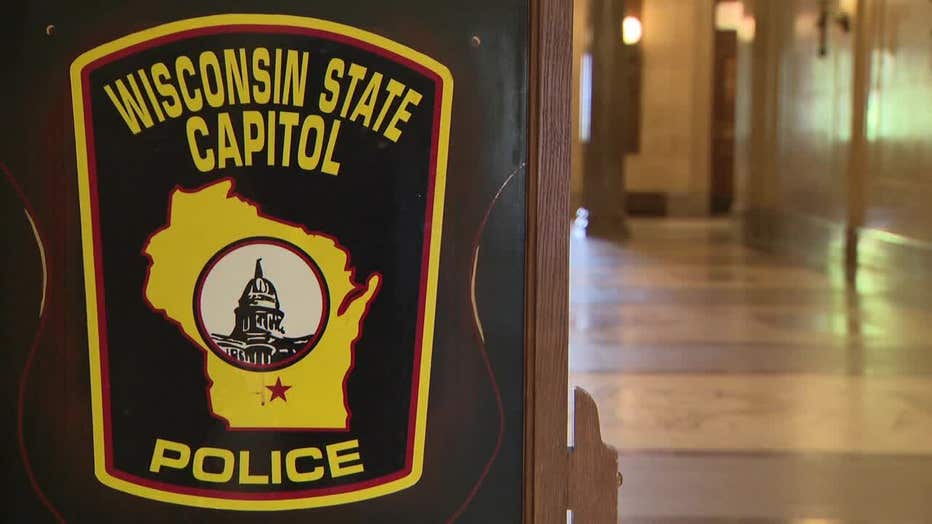 Wisconsin State Capitol Police
The Wisconsin Capitol doesn't allow open carry, but it does allow concealed carry for those with a license. 
As far as new steps to keep the governor and the Capitol safe, Evers said he won't share what is being done.
"I never, ever talk about what my security detail does or what they're planning on doing. But anytime something like this happens, obviously they reevaluate," he said.
The Wisconsin Department of Administration spokeswoman said before Pleasnick was arrested the second time, he made "concerning statements" that led them to bring him in for a psychiatric evaluation.