Why Rosalynn Carter hired a convicted murderer as a nanny in the White House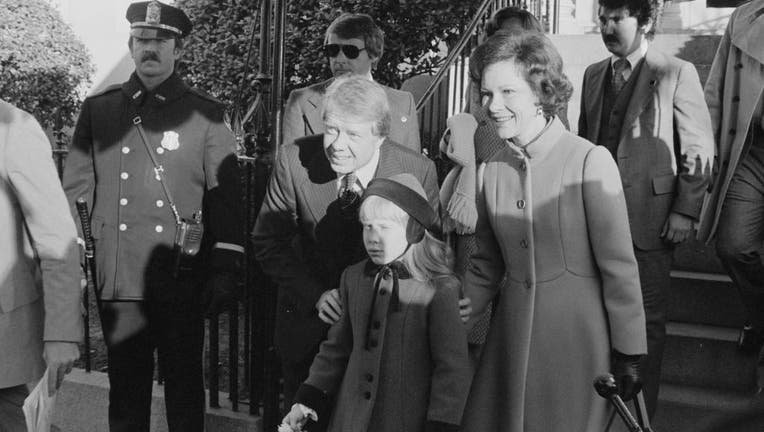 article
ATLANTA - Mary Prince, a Black woman convicted of murder in Lumpkin, Georgia, landed a job at the most powerful home in the free world: The White House. Rosalynn Carter hired the 31-year-old as a nanny during her time at the Georgia Governor's Mansion to take care of little Amy Carter.
Prince's involvement with the family was seen as controversial as Jimmy Carter placed his hand on the Bible and was sworn in as the 39th president of the United States. However, Rosalynn Carter believed the real controversy was how Prince ended up behind bars.
Rosalynn Carter's nanny sentenced to life in prison
Prince first met the Carters in December 1970. She was serving a life sentence for murder and earned the right as a trusty to be assigned to the governor's mansion. It was after Rosalynn Carter interviewed her and took a close look at her case that she became convinced she was innocent. 
Her charge stemmed from an incident outside a bar in Lumpkin. Prince said her cousin and another woman had gotten into an argument. At some point, a gun was brought out and Prince tried to wrestle it away. It ended up going off. The other woman claimed Prince had stolen the weapon and deliberately fired it, killing her boyfriend.
Prince spoke with her lawyer, who was white, only two times for less than 15 minutes before the trial and only spent less than an hour in court before she was sentenced to life. She says the lawyer had promised her that if she pleaded guilty, she would get a lighter sentence. However, she believed she was pleading guilty to manslaughter, not murder.
Former President Jimmy Carter remarked in 2015 that she is lucky the man who died was not white as Prince would have "likely" been executed. Rosalynn Carter said she believed Prince was convicted solely based on the color of her skin.
"She was totally innocent," Rosalynn Carter told Kate Anderson Brower for her 2015 book, "The Residence: Inside the Private World of the White House," bristling at the slightest hint of wrongdoing. "She had nothing to do with it."
Rosalynn Carter's nanny hired at The White House
As Jimmy Carter's political ambitions took him to The West Wing, Rosalynn Carter asked Mary Prince to join them in the White House residence. This was despite advisors expressing the political dangers it would bring.
The Carters felt the move was justified as their daughter, Amy, had both taken to her, and their firm belief in her innocence. 
Prince would stay in the White House for four years, with President Carter serving as her parole officer.
She and her sons would stay in an apartment in Suitland, Maryland, a working-class neighborhood. Prince's sister would look after the kids during the day. Prince would commute to and from The White House by taxi.
Rosalynn Carter's life-long friendship with Mary Prince
When Carter was defeated in 1980, he returned to Plains, Georgia, with Mary Prince moving in a few blocks away. She would still babysit for the family, who were now caring for grandchildren, but still found time to enjoy conversations with the Carters.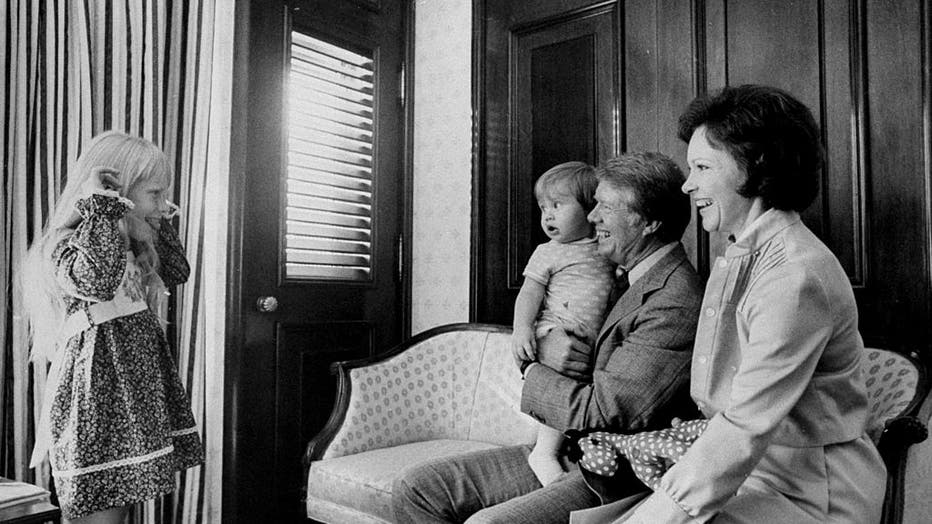 UNITED STATES - JULY 14: President Jimmy Carter with grandson, Jason, wife, Rosalynn, and daughter, Amy, at the Americana Hotel. (Photo by Dan Farrell/NY Daily News Archive via Getty Images)
She eventually would receive a full pardon after "a reexamination of the evidence and trial proceedings by the original judge revealed that she was completely innocent."
ALL ROSALYNN CARTER STORIES
In 2004, President Carter dedicated his book "Sharing Good Times" to "Mary Prince, whom we love and cherish."