Washington woman makes 'shocking' discovery after purchasing $3.99 urn at Goodwill
SEATTLE - A thrifter in Seattle appears to have made an unexpected find while shopping at Goodwill, and a video of her discovery now has more than 12 million views on TikTok.
Josie Chase, 24, a social media coordinator for two Seattle restaurants, said she has been collecting vintage clothing and accessories since 2018.
"After I got out of high school, I started thrifting more often and started coming across cool, old items and got interested," Chase told Fox News Digital.
"I started doing research just learning more about it, and fell more in love with it."
On a recent thrifting trip, Josie Chase found an at Goodwill with a shocking surprise inside. (Josie Chase)
Last month, while perusing some bins of newly-donated items at her local Goodwill, Chase spotted a small gray urn with a blue ribbon tied around it, she said, adding that she immediately identified it as a cremation urn.
"It just kind of shocked me that there was an urn there," Chase said. "So I grabbed it and felt that it had some weight to it and looked at the bottom and saw that I had a name."
The urn had a sticker on the bottom of it that read "Toby Cava," which Chase said she assumed to be a person who had died.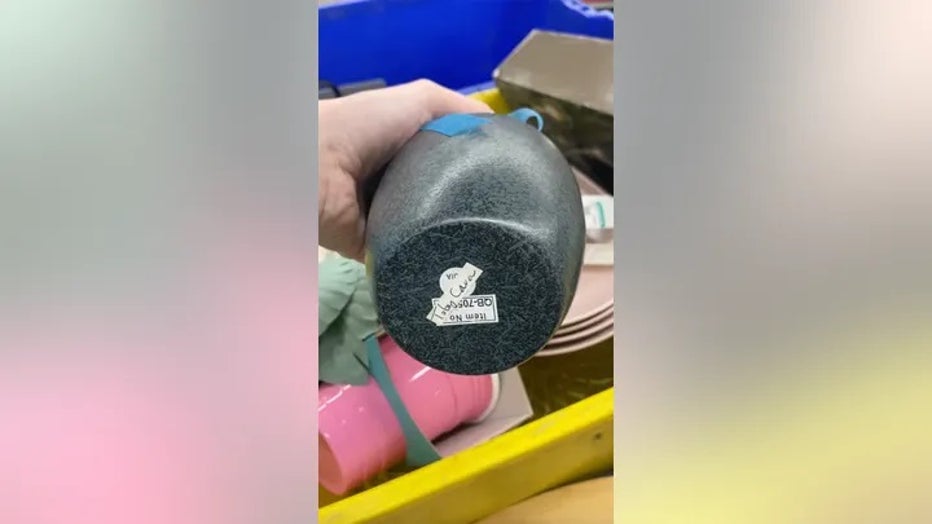 On a recent thrifting trip, Josie Chase found an at Goodwill with a shocking surprise inside. (Josie Chase)
"Then, I unscrewed it and saw that there were ashes inside," Chase said. "It was just kind of shocking and struck me and I thought, 'Who would donate this? This is sad. It must have been a mistake or someone must have misplaced it.' So, I thought maybe I could find someone who it was connected to [and] give it back." 
Chase said she tried to flag down a worker, but that the store was very busy at the time.
"I just put it in our cart and me and my partner were like, 'Well, if we don't get it, this will maybe go to the landfill or something.' We thought we should do it service and spread the ashes somewhere nice or try to find at least a good home for it. So, we decided to buy it."
The purchase price was $3.99, Chase said.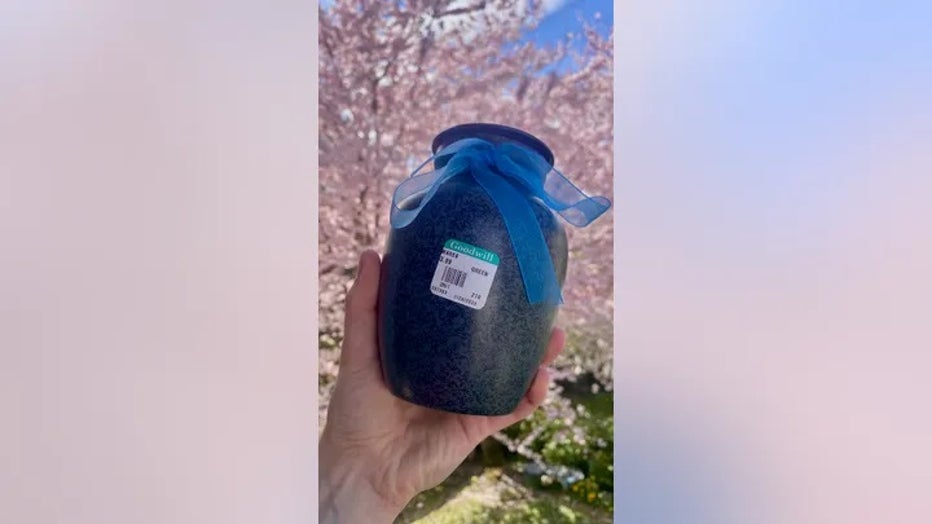 The surprise inside urn was only $3.99 at the Washington Goodwill location. (Josie Chase)
"I was just a cheap small purchase that I thought maybe could help somebody if they were looking for it, but I haven't found anyone actually connected to it," she added.
Chase decided to post a video of the urn on her TikTok account @chasejosie, where she shares her vintage finds and creations. More than 13,000 people commented about the urn.
"The people could have dumped the ashes while driving down the highway, and it would have been more respectful than dropping them at Goodwill," one commenter said.
"This is making me so sad," another TikTok user wrote.
Others who commented on the video speculated that the ashes are those of a pet.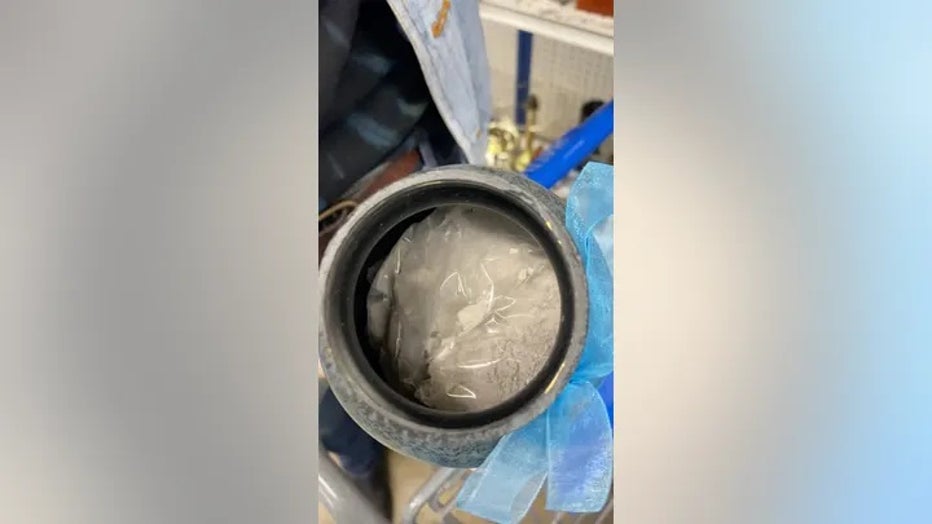 Chase was left in shock when she unscrewed the lid to discover a bag of ashes inside. (Josie Chase)
"My cat is about the same amount of ashes and my husky is twice the volume. Thanks for taking them," one person wrote.
Others appeared to express interest in finding the owner of the urn.
"Ok so there was a guy who died in 2020 named David Bothell and his obituary said he had 2 dogs named Toby & Cava," a TikTok user commented.
"We are all so invested in an update!" another wrote.
Chase said she thinks the "shock value" of someone potentially donating a family member's ashes to Goodwill is what caused the stir among her viewers.
"People have made parody videos claiming that it was a story that related to them and basically just making videos for views that are fake…so unfortunate that people are making dark jokes out of it," she added.
After doing some research and reading the comments on her TikTok video, Chase said she felt a little better.
"I've learned that it's most likely pet ashes or a pet urn since a lot of pet owners have said that their pets have been cremated and put in very similar urns," Chase said.
"So at first I thought maybe it was a person, but then through the video I learned that it's most likely a pet."
Alyssa Grigg, senior director of marketing and communications for Evergreen Goodwill of Northwest Washington, agreed.
"When we became aware of Josie's discovery we quickly reached out to her and have since retrieved the urn and ashes," Grigg told Fox News Digital.
"We have strong reason to believe this particular urn contains the remains of an animal, not a human," Grigg added.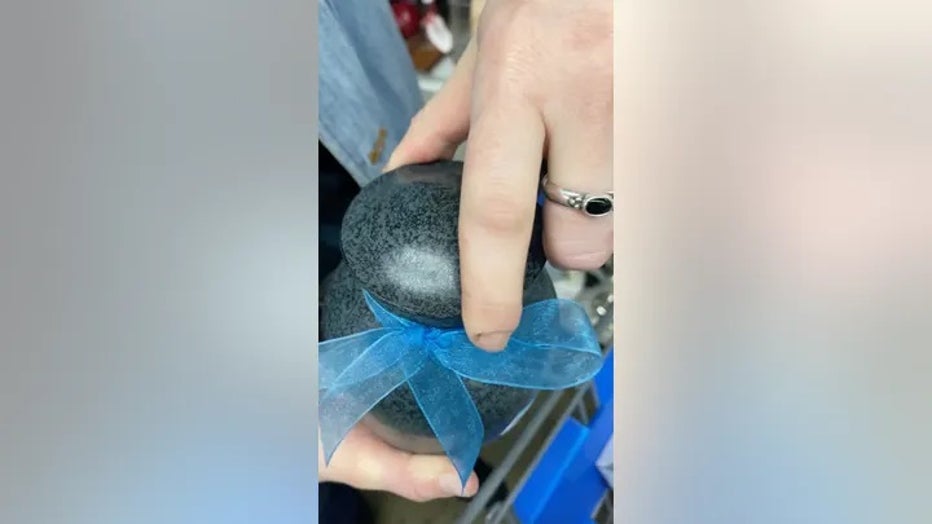 Chase's purchase went viral on TikTok, with many viewers believing the ashes are the remains of a pet. (Josie Chase)
Grigg said Evergreen Goodwill has a standard protocol in place to check the contents of containers that are donated to us as they are being processed and prepared for sale.
"This was an egregious miss that should have never made it to the sales floor," Grigg said.
Whether intentional or not, Grigg said that Goodwill sometimes receives sentimental objects or materials from its donors.
"When our team does discover remains we always do our best to reunite them with a family if possible," Grigg said. "We reach out to local funeral homes and if we are unable to locate a family member we will find a scatter garden to respectfully spread the ashes. Remains are never disposed of in the garbage."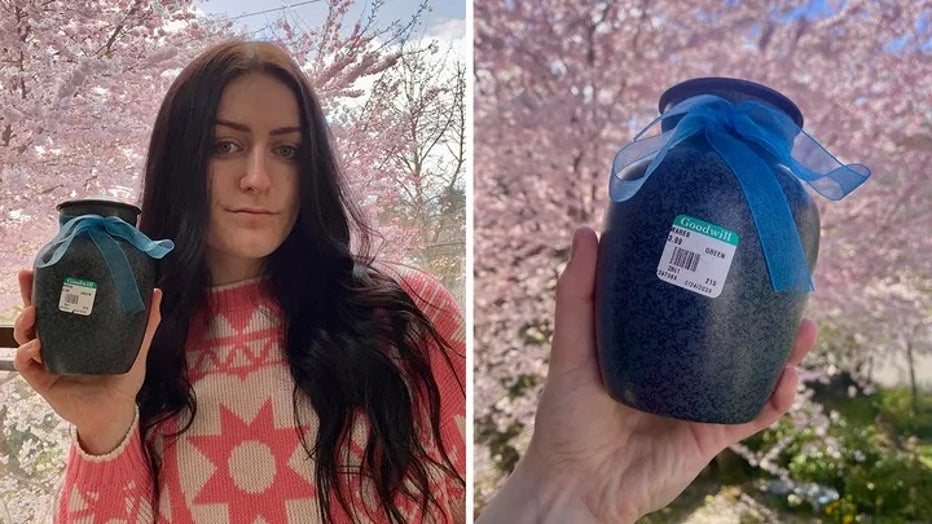 The Goodwill location has taken the urn back from Chase in hopes to track down its owner. (Josie Chase)
When Chase showed up to return the urn filled with ashes, the Goodwill reimbursed her for her purchase and even gave her a $50 gift card to the store.
"I am very appreciative that they took matters into their own hands and handled this very respectfully and kindly," Chase told TikTokers in a video update.
The Goodwill workers told Chase that they will hold onto the ashes in hope that the owner will contact them. If not, they will scatter the ashes in a local garden.
"We encourage Toby's family to reach out and will do our best to honor Toby's memory," Grigg said.