WanaBana fruit pouches found to have 'extremely high' levels of lead, FDA warns
WASHINGTON - The U.S. Food and Drug Administration issued a recall and warning to parents and caregivers about a certain kind of fruit purée pouches that were found to contain "extremely high concentrations" of lead. 
The FDA said lead was found in WanaBana apple cinnamon fruit purée pouches, which are sold nationally at retailers like Sam's Club, Amazon and Dollar Tree. 
"Parents and caregivers of toddlers and young children who may have consumed WanaBana apple cinnamon fruit purée pouches should contact their child's healthcare provider about getting a blood test," the agency said in a notice dated Oct. 28.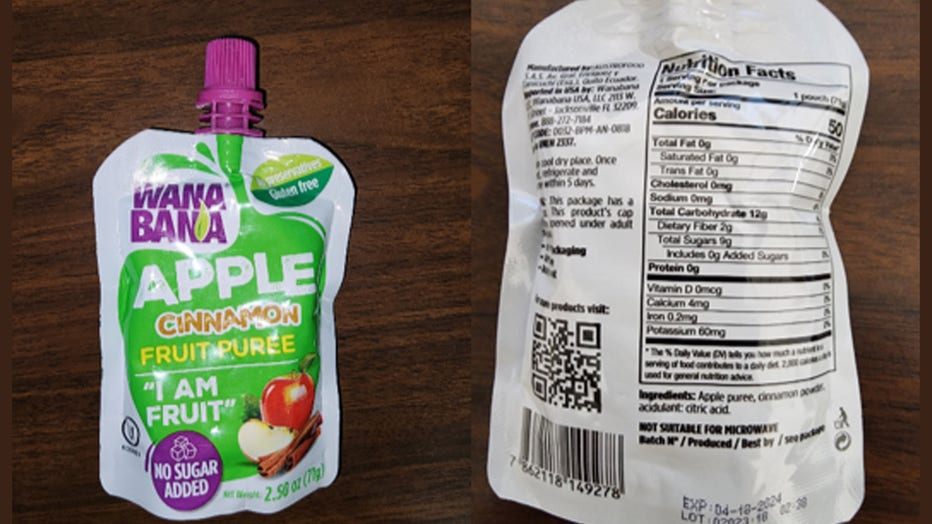 The WanaBana apple cinnamon fruit puree pouches are pictured in provided images. (Credit: U.S. Food and Drug Administration)
The issue was first discovered by North Carolina health officials when four children were found to have elevated blood lead levels, the FDA said. WanaBana apple cinnamon fruit purée pouches were identified as a potential shared source of exposure. 
"As part of their investigation, (North Carolina Department of Health and Human Services) analyzed multiple lots of WanaBana apple cinnamon fruit purée, detecting extremely high concentrations of lead," the FDA notice said. 
Exposure to lead can seriously harm a child's health and cause well-documented health issues, including damage to the brain and nervous system, slowed growth and development, learning and behavior problems, as well as hearing and speech issues, according to the U.S. Centers for Disease Control and Prevention. 
"The health effects of exposure are more harmful to children less than six years of age because their bodies are still developing and growing rapidly," the CDC says on its website.
All WanaBana apple cinnamon fruit purée pouches have been recalled regardless of expiration date, the FDA said.
"The FDA is continuing to work with state officials and the firm, collecting additional information, and taking steps to remove all contaminated product from the market," the notice stated.
The FDA also recently issued a warning to consumers about several over-the-counter eye drop products over the potential risk of eye infections that could lead to vision loss.
This story was reported from Cincinnati.