Virginia election night: Here are the key races in the House and Senate
WASHINGTON - The polls have closed in Virginia and with all 140 seats of the State Legislature up for grabs, it's a key election that has Democrats and Republicans vying for control of the Commonwealth. 
Right now, Republicans control the House by a slim 52-48 margin while Democrats have the Senate, 22-18 (with one vacant seat). 
The results of Tuesday's races will not only determine the potential success of Republican Gov. Glenn Youngkin's policies going forward but also could be an indicator of what's ahead for the 2024 election, as some of the main issues at stake for voters here are also being debated in the national arena, including abortion, education and crime.  
Youngkin is hoping for a red wave to secure a trifecta with control of the governor's office, state House and Senate, which would clear the way for his administration to achieve its legislative agenda. 
Some of the most closely watched races are in the state's most populous areas in Northern Virginia and further south around the capital city of Richmond. There are also local ballot measures that address some of the hot-button issues voters are rallying around, such as funding for schools and public safety initiatives. 
Here's a look at some of the most important races in the Commonwealth:
Note: This story has been updated with election results
VIRGINIA SENATE RACES
In District 16, Sen. Siobhan Dunnavant, R-Henrico, is facing off against state Delegate Schuyler VanValkenburg, D-Henrico. The main issue at play for these challengers is abortion. 
Dunnavant, a doctor who has served in the Virginia Senate since 2016, has proposed keeping abortion legal in roughly the first four months of pregnancy but would restrict access beyond that point and make abortions tougher to get in later stages of pregnancy. But VanValkenburg, a high school civics teacher, says the senator's proposal remains in line with her party — and Gov. Youngkin's restrictive stance.
"A ban is a ban. And she's proposing a ban," VanValkenburg said in an interview with the Virginia Mercury. 
Winner: Schuyler VanValkenburg
In District 27, Democrat Joel Griffin, Republican Tara Durant and Independent Monica Gary are competing for the open seat that oversees Fredericksburg and parts of Spotsylvania and Stafford counties. 
With Gary on the same side of the issues Griffin has been talking about, there is a chance that she could pull some votes away from him, leaving additional room for Durant to jockey in for a win. 
Winner: Tara Durant
In District 31, which includes Loudoun County and Fauquier County, it's a race between Republican entrepreneur Juan Pablo Segura and Russet Perry, a former CIA officer and Commonwealth's attorney. 
There's been a lot of back and forth on this race with the two campaigns exchanging bitter jabs over Virginia's key issues. Perry has painted Segura as an anti-abortion extremist while she's been accused of being weak on crime and failing to stand up for parental rights in schools.
Winner: Russet Perry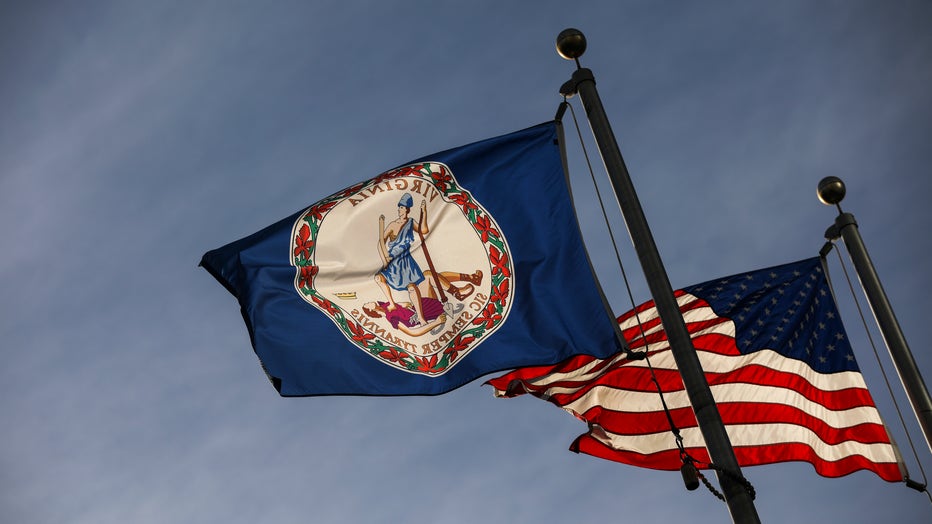 RICHMOND, VA - FEBRUARY 09: The Virginia State flag and the American flag fly near the Virginia State Capitol, February 9, 2019 in Richmond, Virginia. Virginia state politics are in a state of upheaval, with Governor Ralph Northam, State Attorney Gen
VIRGINIA HOUSE RACES
In District 21, abortion also stands out as a key factor in the race in Prince William County after the Washington Post released a recording of Republican Josh Stirrup, a political newcomer who served on the Board of County Supervisors, saying he would "100 percent" vote for a ban on the procedure.
His opponent, attorney and former Marine Corps officer Democrat Josh Thomas has said his focus is tackling economic issues in the district like the cost of living and public school funding. 
Winner: Josh Thomas
In District 65, community leaders Joshua Cole and Lee Peters III will face off. Cole is a Democrat who is a local pastor and the president of the Stafford County NAACP. Peters is a former Marine and current captain with the Stafford County Sheriff's Office. 
Cole has extensively campaigned on abortion rights, pushing to keep Virginia's current law in place. Cole's campaign also out-earned Peters, generating $572,902 in donations, according to the Virginia Public Access Project. Peters' campaign, meanwhile, raised $100,000.
Winner: Joshua Cole
In District 30, which covers Loudoun County and Fauquier County, Republican Geary Higgins is running against longtime episcopal pastor and Democrat Rob Banse. 
Higgins got a big boost last month, endorsed by Gov. Youngkin on his "Parents Matter" tour around the state. Banse's campaign has also targeted parents, advocating for investments in public education and advancing economic growth in the district. 
Also in Loudoun County, Democratic Commonwealth's attorney Buta Biberaj is being challenged by attorney Robert D. Anderson. Anderson, a Republican, was Loudoun's commonwealth's attorney from 1996 to 2003. Now, he's looking for a second stint as the top prosecutor for the District.
Winner: Geary Higgins, 
AP Projected Winner: Robert D. Anderson
VIRGINIA BALLOT MEASURES 
In Fairfax County, Virginia's most populous county, residents were asked to vote on a $435 million public school bond measure. The money would go toward improvements in schools, such as acquiring and renovating properties, buildings and furnishings.
Result: YES
Loudoun County residents voted on three proposed bond measures. 
One was for $59 million that would go toward public safety, public park, and recreational and community center projects approved in the county's capital improvement program. The next was a public school facilities bond measure that would issue up to $362.71 million in general obligation bonds for public school facilities. The final measure on the ballot was a proposed $156. 62 for improvements to public roads and transportation. 
Results: YES, YES, YES
And in Richmond, residents are deciding if they want to have a casino come their way. The measure would allow the proposed 55-acre Richmond Grand Resort and Casino to be built in the city's Southside. The company says its $562 million resort, casino and entertainment complex would create 1,300 union jobs and bring $30 million in annual tax revenue for the city.
Result: NO