Video: Suspects in stolen Jeep crash into school bus full of students
ROCHESTER, N.Y. - Two suspects in a stolen Jeep crashed into a school bus this week in New York with 17 students on board, and a portion of the terrifying events was captured on video. 
Police in Rochester said a red Jeep was stolen at knifepoint from a 51-year-old female who was leaving work on March 15. Officers spotted the stolen vehicle and attempted to make a traffic stop, when the driver reversed into a police car, according to a statement from the Rochester Police Department.
The responding officers then began a pursuit. What happened next was recorded on video by Raymond Gonzalez, who told Storyful that he was leaving a corner store when he heard police sirens and saw the chase.
Gonzalez's video shows the red Jeep driving the wrong way down Roycroft Street before reaching an intersection, where it collides with the school bus full of students. 
The occupants of the stolen Jeep took off from the scene on foot, and the video shows officers chasing them and yelling at them to get on the ground. 
The Rochester Police Department said the suspects were taken into custody by responding officers "without further incident."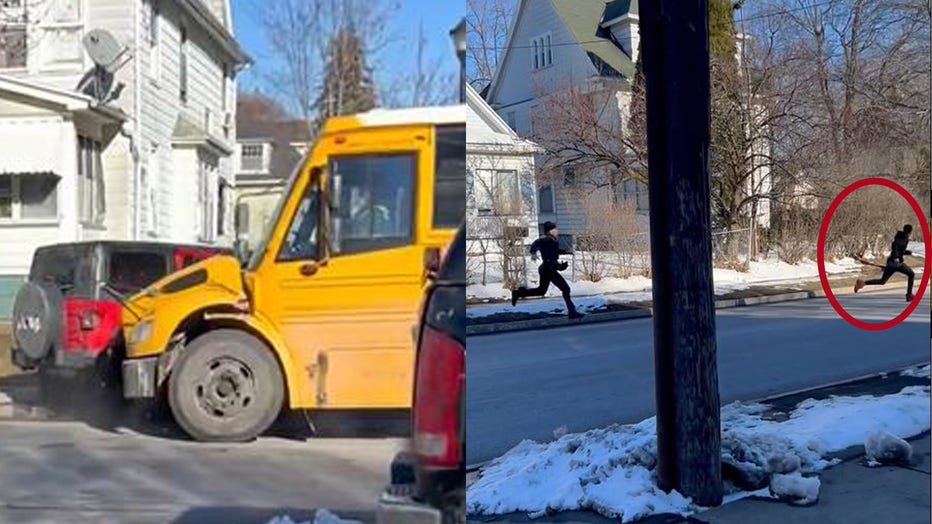 Screengrabs from a video show the stolen Jeep crashing into a school bus full of students, alongside one of the suspects running from police on March 15, 2023. ( Credit: Raymond Gonzalez via Storyful)
The police later learned that one of the suspects was responsible for the knifepoint carjacking. The female victim was injured and received medical treatment, according to the department.
There were 17 students and an adult driver on the school bus at the time, the Rochester Police Department said. 
"Thankfully, the driver and every student was uninjured as a result of the crash," the police statement reads. "The city school district was advised of the accident and made arrangements to have each student transported home."
The two suspects, later identified as 20-year-old Maliq McCullough and 23-year-old Adeosun Hughes, were charged with various crimes, according to local reports and jail records.
McCullough was charged with first-degree robbery, second-degree assault, and third and fourth-degree grand larceny, according to RochesterFirst.com. Hughes was charged with unauthorized use of a motor vehicle, the local news outlet reported.