VIDEO: Armed Mesquite store owner gets in shootout with would-be robbers
MESQUITE, Texas - A store owner in Mesquite surprised a pair of would be robbers who came into his shop with a gun of his own.
The store owner told us this is the third time someone's tried to rob him in the past five years.
Every time he's scared them off and police caught them.
"It's a quick 3 seconds. No time to think, it's all reaction," said Tien, the store owner who asked we only reveal his first name for his safety.
The owner's quick reaction might have just saved his life.
Surveillance video from last Thursday at the Cash4Gold on Town East Boulevard in Mesquite shows the intense confrontation.
Tien is in the back of the store when two masked and hooded men come inside. One pulls out a gun and a shootout begins.
"Everything was slow motion to me. I saw the mask, I saw the hoodie, I saw the gun come out," he said.
Tien shot first and the two men fired back three times.
No one was hurt, but bullets hit the glass counter, the walls and Tien's golf bag.
"Luckily, it wasn't me," he said.
This isn't the first time Tien's had to defend his store.
Surveillance video from July 2019 shows two armed men come into the store.
When they try to get to Tien in the back of the store he fires off a warning shot and it scares them off.
"I think the cash business, the gold business, seems to be an easy target for them, or so they think, but it's not," he said. 
Mesquite police want people to take a good look at the two people in the latest surveillance video.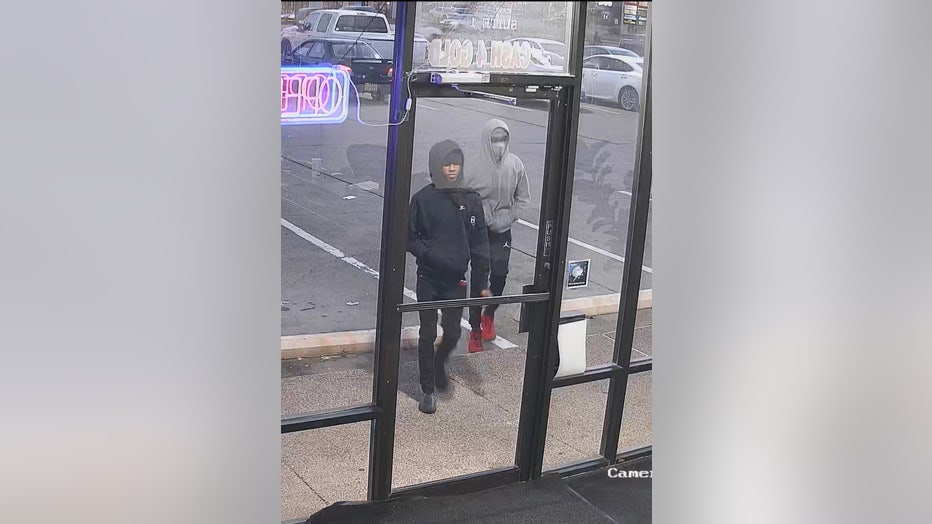 "Our hope is that someone sees these videos, sees these images and recognizes, especially the suspect that doesn't have his face covered," said Lieutenant Brandon Ricketts.  
Tien told FOX 4 he isn't going to move the store for three reasons.
"Part luck, part awareness, part prep. It all adds up," he said. 
Mesquite police told us the two armed men are looking at aggravated robbery charges if and when they are caught.