VIDEO: Dramatic rescue of snowboarder buried in feet of snow by passerby skier on Mt. Baker
MOUNT BAKER, Wash. - What could've been a deadly situation is now being praised as a textbook rescue in the backcountry on Mount Baker.
It was all caught on video in a clip that's gone viral around the county. Even if you have seen it, you need to take a second look, because it could save your life.
In the last two decades, there have been more 70 people who died in a non-avalanche snow immersion incident. Of that number, 65% were because of tree wells, like what was seen in the GoPro video recorded at Mount Baker.  
"I'm seeing this little flash of color, just very strange, it caught my attention to make me stop and reassess," said Francis Zuber, the skier who rescued a snowboarder that fell in a tree well on Mt. Baker.
"It happened so fast, there was little time to figure out what was happening," said Ian Steger, the snowboarder Zuber spotted and rescued.
Steger later said that all he knew was that he was snowboarding through the trees and the snow collapsed behind him, knocking him into the deep snow head-first.  
"Things aren't going to be marked, there could be cliffs, gullies, anything," Zuber said. "If you're out of bounds, it's as dangerous as it's going to get."
Steger has been snowboarding for more than 30 years. He's well experienced in backcountry, though, no one can predict a tree well.
"On these pine trees that have the branches that stick out really far," Zuber said. "They catch a lot of snow, so rather than out in the open when snow just accumulates on the ground, there's sort of this area around the base of the tree where snow is much less dense."
If you get too close, the snow can draw you in.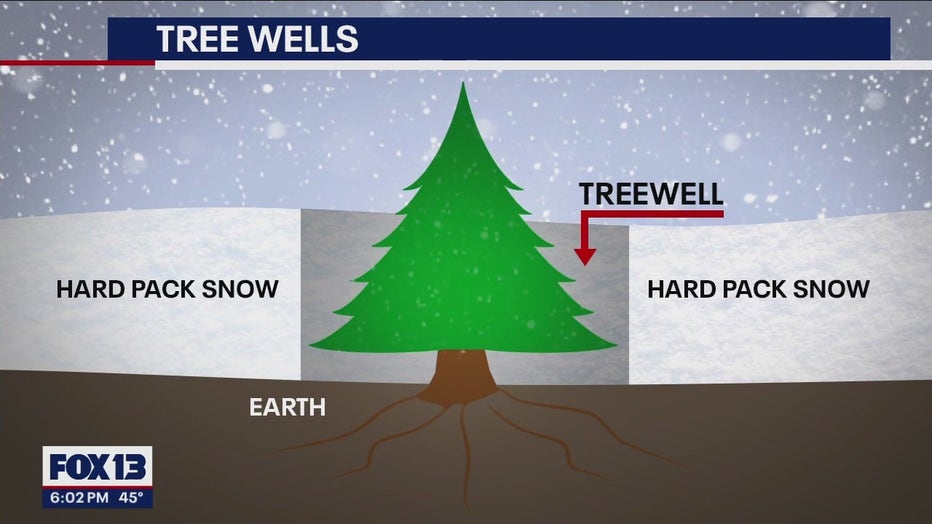 "It's going to be almost like quicksand pulling into it, where the more you sort of struggle and try to get out of it, the more it's going to suck you in," Zuber said. "And then, once you're in it, I mean, you can see in the video, there would be no chance for Ian to get out."
"Where my hand was pinned, it was kind of close to my face, so I was able to clear a small airway and pull my jacket over my face, so that I didn't inhale snow," Steger said.
That small air pocket bought him more time, as Zuber worked his way uphill.
For Zuber skiing by, it was a right place, right time encounter.
"He can't breathe right now," Zuber said, remembering the rescue. "I need to be able to get to him and clear his airways so that he can breathe."
"It was kind of just dumb luck that he came upon me," Steger said. "But, he did find me and he did all the right things."
"People have been really nice and gracious, and telling me it looks like I knew what I was doing. Internally, I was freaking out," Zuber said. "It was total panic in my head, for sure. I basically just had to clear all the snow out in front of me. Get to him, and then you see, I use his board to leverage myself up to climb up to him. In those moments, it was really frightening."
After about two minutes from the time Zuber spotted Steger, he started to see hands peeking out of the snow.
"I mean, adrenaline is one heck of a drug," Zuber said.
One more minute passes and Zuber is now able to clear enough snow for Steger to breathe.
"I've told him how grateful I am that he was there and he had saved my life, how grateful my fiancé is," Steger said.
Zuber, now a hero, and Steger, gaining a new friend.
"We ended up riding those same runs and in that same area that he dug me out," Steger said. "Which was cathartic and definitely a positive for me knowing that I could go through that section and be okay being in that area where I almost died."
If you're ever in a situation where you fall into a tree well, first off, stay calm. Second, if you can, the advice is that you take your hand and cup it over your nose. That's to create a small air pocket and keep you from breathing in snow.
It is also helpful if you are able to carry a small shovel and a GPS-type beacon if you're recreating in backcountry in the snow. That way, if you are stuck in a tree well or an avalanche, rescue crews can easily locate you if you can't get yourself out.