Caught on camera: Auburn police arrest man after attempted kidnapping of barista
AUBURN, Wash. - Auburn Police on Monday said they arrested a man accused of trying to kidnap a barista at a drive-though window.
The police department identified the suspect as Matthew Darnell on its social media pages. During his first appearance at King County Jail Court, prosecutors said he is a business owner who lives with his parents in Auburn.
Surveillance video on Jan. 16 captured the man roll up to a coffee stand window and order something. When the victim went to hand cash back to him, he is seen grabbing her arm and pulling, then appears to try and zip-tie her arm.
The barista pulled her arm free and slammed the window shut, and the suspect sped off.
King County Prosecuting Attorney's office said Darnell faces charges of attempted kidnapping in the second degree with a finding of sexual motivation, and assault in the first degree.
"The fact that he tried to capture a petite young woman from a bikini barista stand who was wearing a bikini top and short skirt strongly suggests that this was sexually motivated," said Julissa Rachor, deputy prosecuting attorney.
On Jan. 17, police said in a tweet: "After overwhelming support from the community, APD has arrested a suspect in this case."
A superform obtained by FOX 13 News showed that numerous tips identified the suspect. Police checked with the Department of Licensing and found the suspect and vehicle descriptions to both be a match.
Investigators said they went to the suspect's home which was a mile north of where the truck was last seen. Detectives said they found the suspect in his driveway, read him his rights and took him into custody.
According to the superform, the suspect gave voluntary consent for detectives to search his Chevy Silverado truck. They said they found a black ziptie about 10 inches in diameter under the front passenger seat that matched the size and width of the one seen on the video.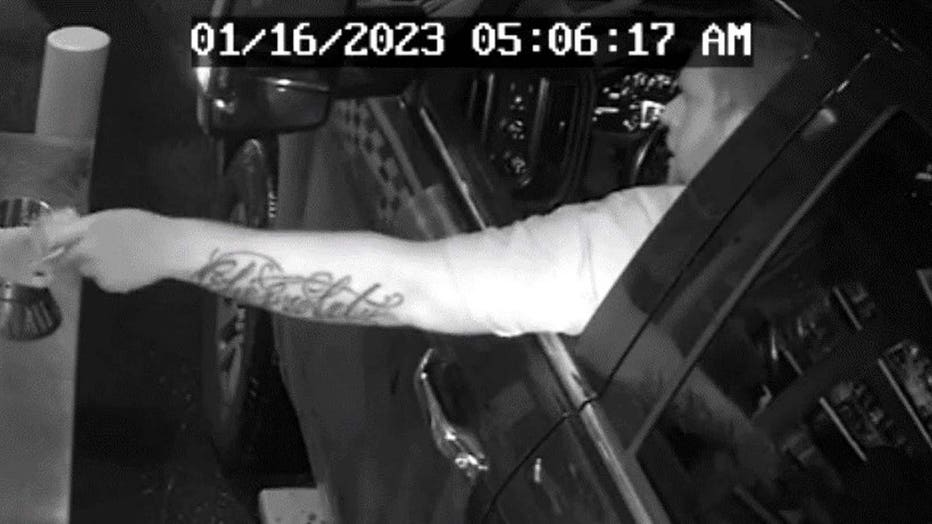 (Auburn Police Department)
Police previously said the suspect had a unique tattoo on his left forearm that appears to read "Chevrolet."
"By the video you can tell he put some thought into this plan that he was conducting, y'know, obviously he had the zip tie, he grabbed the arm. So it's very concerning, it's very alarming, and it's something that we're trying to figure out quick so we can get this guy into custody so he's not a threat to the community," said Kolby Crossley with the Auburn Police Department.
Anyone with information on the case is urged to call the Auburn Police tip line at (253) 288-7403.