Venice hit-and-run driver who plowed into mom, baby in stolen car is murdered after light sentence
LOS ANGELES - A Los Angeles-area teenager who ran over a mother walking her child in a stroller in Venice in 2021 and received just a few months of diversionary camp as punishment was gunned down in Palmdale this week, according to FOX News.
Kristopher Baca, 17, of Palmdale was found fatally shot on Wednesday on a driveway in the 38600 block of 11th Street East, according to the Los Angeles County Sheriff's Department.
FOX 11 had not previously identified Baca in connection with the Venice hit-and-run due to his age. He pleaded guilty in the hit-and-run case last year.
The Los Angeles County Coroner-Medical Examiner's office confirmed Baca's death Friday but said the examination was still pending. At this time, there is no indication that his death is connected to the hit-and-run case, and no suspect description was available.
Sources close to the investigation told FOX News that he had been at a fast food restaurant earlier trying to "get with a girl."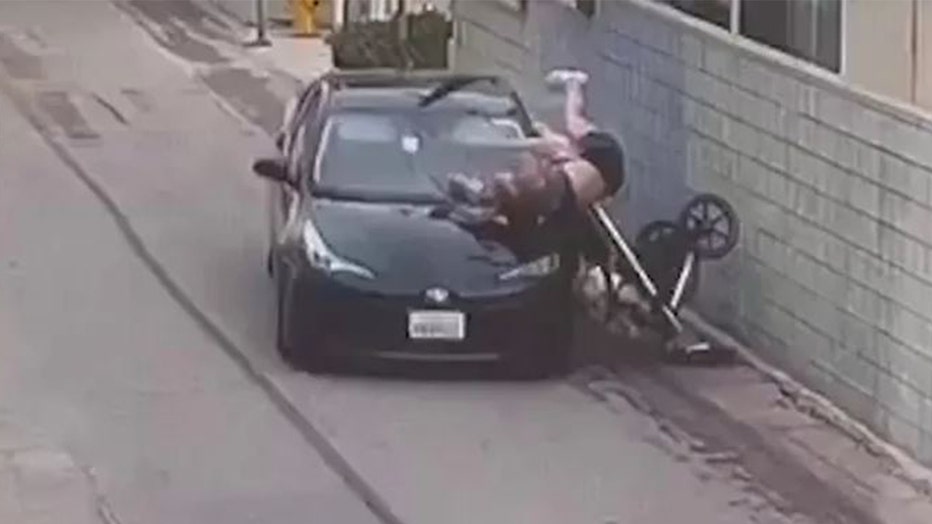 Surveillance video recorded the entire Aug. 6, 2021 hit-and-run incident in Venice, California.
"As he walked home alone, a car pulled up next to him and an argument broke out. Someone in the vehicle opened fire, then sped off," FOX News reported.
The young mother eventually moved her family out of Los Angeles to get away from what she has described as "soft-on-crime policies."
The mother, who asked only to be identified as Rachel, told Fox News Friday that her husband was out of town when she heard the news, and she had to mull it over alone. She said she was both relieved and saddened by the news.
"The universe delivered the justice we weren't given in court, but a much harsher punishment than he'd have been dealt in a court of law," she said.
PREVIOUS COVERAGE:
The case made national headlines last year when Los Angeles County District Attorney George Gascón's office sought a five- to seven-month sentence in juvenile probation camp, a punishment for young offenders described as less severe than military school but harsher than summer camp.
Gascón's office told Fox News Digital at the time that the sentence was "an appropriate resolution." 
The teen was already on felony probation for poisoning a high school girl's drink at the time of the hit-and-run – which surveillance cameras captured on Aug. 6, 2021.
The video shows a stolen vehicle speeding the wrong way down a one-way backstreet. It plowed into a woman walking her infant son in a stroller. Then he hit the gas, accelerating away from the scene, where a good Samaritan in a pickup truck rammed the suspect vehicle head on.
Los Angeles police responded and found drugs in the driver's system and marijuana in the car, according to an incident report obtained by Fox News.
SUGGESTED: 'DA's office failed': Barger criticizes lenient sentence for confessed child molester
The suspect was 15 at the time of the hit-and-run and asked the court for an early release from his light punishment. A judge denied the request, but he died before his 18th birthday.
"I think I feel shorted – by the system because they didn't hold him accountable and sad, not for him, but for his mom a little, because if George Gascón actually did his job this kid would still be alive in jail," Rachel told FOX News.
FOX News contributed to this report.