Blinken and Austin bolster US support for Israel amid potential ground attack in Gaza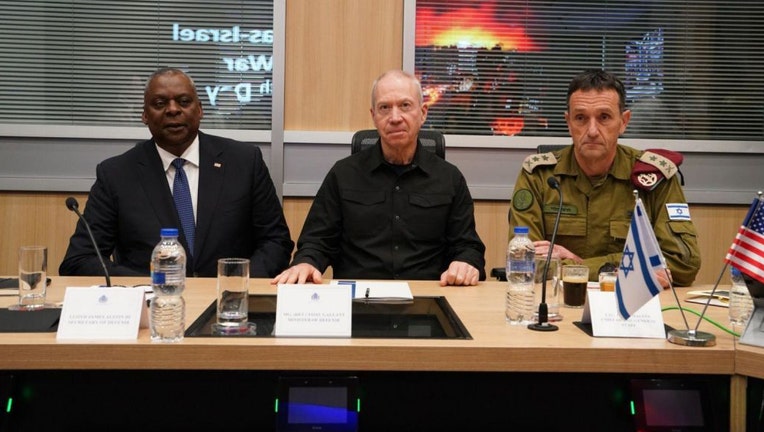 article
TEL AVIV, Israel - Defense Secretary Lloyd Austin assured Israel that "we have your back" as he and America's top diplomat met Friday with Israeli and Arab leaders. But there was no indication the U.S. was trying to prevent an expected Israeli ground offensive into Gaza that could worsen a humanitarian crisis for the 2.3 million Palestinians trapped in the blockaded territory.
The visits by Austin and Secretary of State Antony Blinken came as Israel escalated its war against Hamas militants in retaliation for their shocking and brutal rampage last weekend.
Israel demanded Friday that some 1 million civilians evacuate northern Gaza for their own safety in anticipation of the expected invasion. Palestinians did indeed begin a mass exodus toward the southern part of the besieged territory even as Hamas dismissed the evacuation as a ploy and the U.N. warned of potentially disastrous consequences of so many people fleeing.
RELATED: Israel-Hamas war: Israeli military orders over 1 million people to evacuate as possible ground attack looms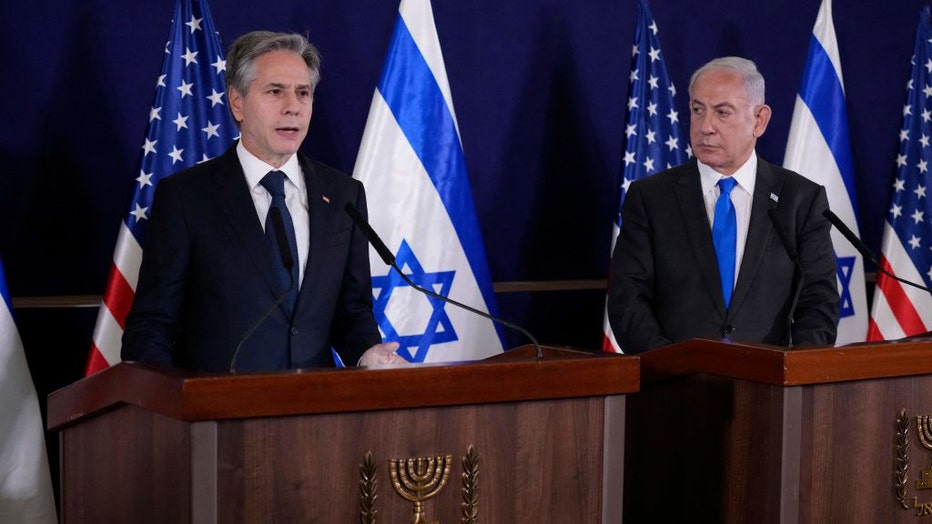 Israeli Prime Minister Benjamin Netanyahu (R) looks on as US Secretary of State Antony Blinken gives statements to the media inside The Kirya, which houses the Israeli Defence Ministry, after their meeting in Tel Aviv on October 12, 2023. (Photo by J
Asked about the likelihood of civilian casualties in Gaza, Austin said Israel has the right to defend itself and added that he has worked with Israeli forces over the years when he was in the military.
"They are professional, they are disciplined and they are focused on the right things," he told reporters after meeting with Defense Minister Yoav Gallant and the Israeli War Cabinet. He also spoke with Prime Minister Benjamin Netanyahu, telling him, "As the president said, we have your back."
Blinken, shuttling among Saudi, Jordanian and other Arab leaders Friday after meeting with Israeli leaders in Tel Aviv the day before, heard Arab demands for aid corridors to be opened for the Palestinians trapped in Gaza and fears that any Israeli ground offensive could push countless Gaza residents into their countries.
RELATED: US, Qatar agree to stop disbursal of recently unfrozen Iranian funds amid Israel-Hamas war
Blinken met with King Abdullah of Jordan, who rules over a country with a large Palestinian population and has a vested interest in their status, also with Palestinian President Mahmoud Abbas, who runs the Palestinian Authority, which controls the West Bank.
King Abdullah warned Blinken of "any attempt to forcibly displace the Palestinians from all the Palestinian Territories or to cause their internal displacement, calling for preventing a spillover of the crisis into neighboring countries and the exacerbation of the refugee issue," Jordan's government said in a statement.
Abdullah also stressed the need to open humanitarian corridors for medical aid and relief into Gaza while protecting civilians and working to end the escalation of the conflict. He appealed for international agencies to be allowed to work unhindered.
Blinken discussed with the king the efforts to release all of the hostages the Hamas militants seized, as well as efforts to prevent the conflict from widening, State Department spokesman Matthew Miller said.
Austin, meanwhile, saw firsthand some of the weapons and security assistance that Washington rapidly delivered to Israel after it was attacked. A senior defense official said the U.S. has already given Israel small diameter bombs as well as interceptor missiles for its Iron Dome air defense system and more will be delivered.
Austin has spoken nearly daily with Gallant and has directed the rapid shift of U.S. warships, aircraft, intelligence support and other assets to Israel and elsewhere in the region. The USS Gerald R. Ford aircraft carrier strike group is already in the eastern Mediterranean Sea, and a second carrier was departing Friday from Virginia, also heading to the Mediterranean.
Austin declined to say if the U.S. is doing surveillance flights in the region, but the U.S. is providing intelligence and other planning assistance to the Israelis, including advice on the hostage situation.
President Joe Biden told CBS' "60 Minutes" that he would speak Friday to families of U.S. hostages held by Hamas.
"They have to know that the president of the United States of America cares deeply about what's happening. Deeply," Biden said. "We have to communicate to the world this is critical. This is not even human behavior. It's pure barbarism. And we're going to do everything in our power to get them home if we can find them."
In his meeting with Abbas, Blinken stressed many of the same points as in his meeting with King Abdullah and expressed condolences for the loss of Palestinian civilian lives, Miller said.
Blinken "underscored that Hamas does not stand for the Palestinian people's right to dignity and self-determination and discussed ways to address the humanitarian needs of civilians in Gaza while Israel conducts legitimate security operations to defend itself from terrorism," Miller said.
In Doha, Qatar's capital, Blinken is to meet later Friday with Qatari officials who have close contacts with the Hamas leadership and have been exploring an exchange of Palestinian prisoners in Israel for the release of dozens of Israelis and foreigners taken hostage by Hamas.
Blinken will make a brief stop in Bahrain and end the day in Saudi Arabia, a key player in the Arab world that has been considering normalizing ties with Israel, a U.S.-mediated process that is now on hold.
He will also travel to the United Arab Emirates and Egypt over the weekend.
Lee reported from Amman, Jordan. Omar Akour in Amman contributed to this report.