Amputee Soccer doesn't want your sympathy. They want you to watch
CLIFTON, N.J. - The sound of crutches banging against each other is distinctive. It is a sharp, metallic clanging sound that is only drowned out by the athletes calling for the ball and coaches yelling instructions. The players move quickly across the field using their crutches to maneuver and maintain balance while using their one functional foot to the control the ball. It is fierce and it is competitive. 
Imagine playing the sport you love with only one leg or one arm. For the U.S. Amputee Soccer Team, this is their reality.
Now, after a strong showing at the Amputee World Cup, these athletes have a new challenge. This team doesn't want your sympathy or to be an inspirational story. They want you to come watch them play.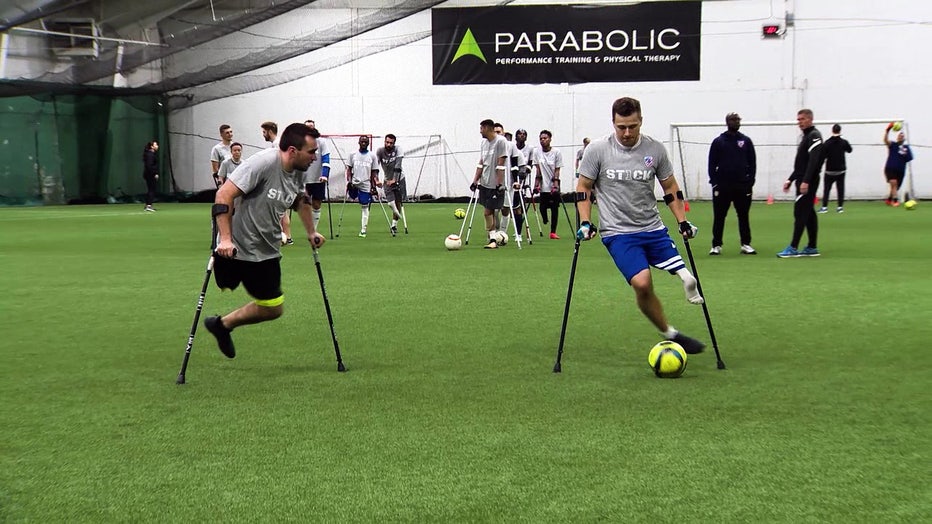 Team captain Nico Calabria, left, goes for the ball.
"We don't want the pity story and we don't want the inspiration story. We're tired of those," said longtime team captain Nico Calabria, who was born with one leg. "We want meaningful support and access to the sport."
The 2023 Talent ID Camp was recently held at the Sports Domain Training Academy in Clifton, New Jersey.
"This is the most amputee soccer players ever gathered in the United States," Calabria said.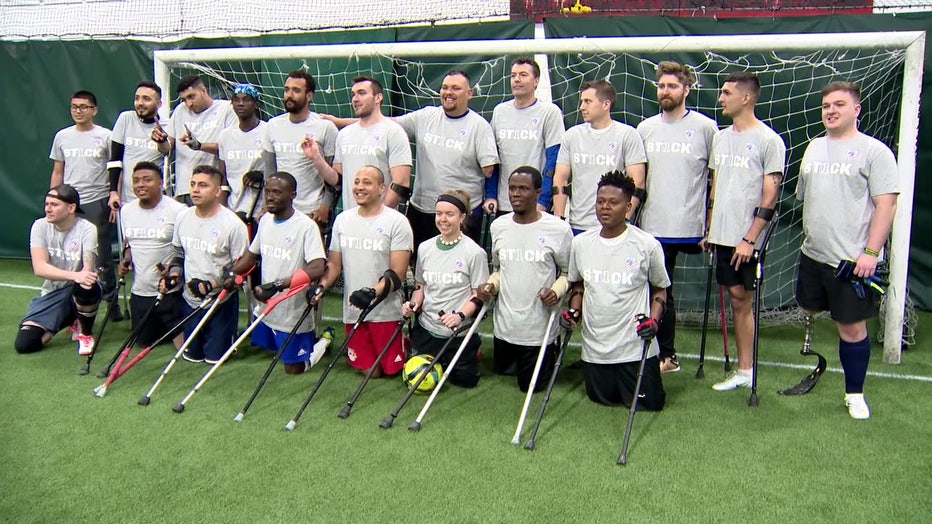 The most ever – for a sport growing in popularity and opportunities.
"Some people were born with a congenital limb abnormality. Some people had traumatic amputations, some people had childhood cancer, and lost their limbs," said head coach Dr. Eric M. Lamberg, a Long Island native who's been in charge of the program for nearly a decade and has helped expand it. "So each one of them has their own story of how they got to where they are here now. But as soon as everyone comes on this field, it becomes a community."
Many of the players were also born with limb differences. All of them have to overcome different challenges every time they play.
Every one of the field players has one leg and is on crutches. The goalkeepers are all upper-extremity amputees.
The team received an increase of interest and opportunities after a solid showing at the 2022 Amputee World Cup, which FOX 5's Jodi Goldberg first told viewers about last summer.
The most notable win was a victory over England, where striker Musa Nzirimwo scored a crucial goal. By any measure, Musa's speed and skills make him an elite soccer player. His journey to the team has not been easy.
"I lost my leg when I was 7," he said.
He was a boy in the Democratic Republic of the Congo. He was playing soccer on an open field with his friends at the height of the war there. They were kicking around what they thought was some kind of ball, but it was a grenade.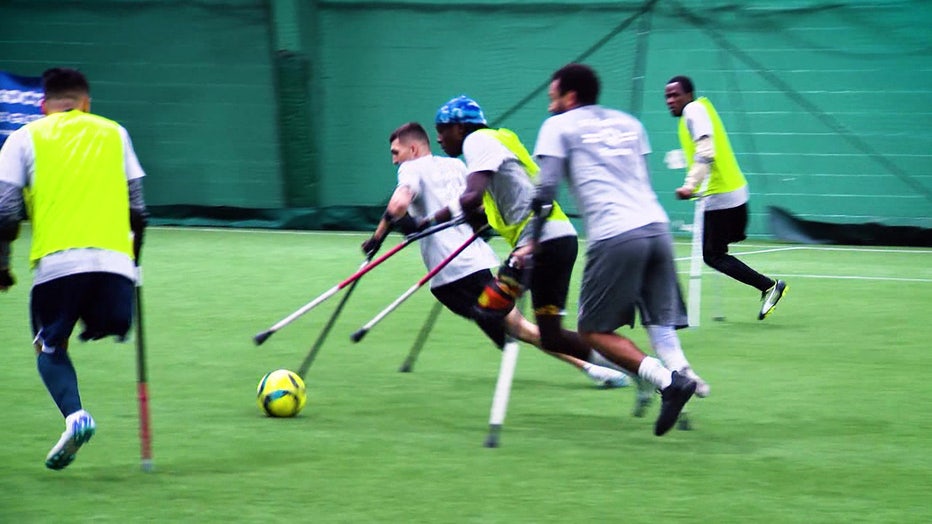 Musa Nzirimwo (center, in neon pinnie) plays striker.
"Then it blew up in front of me," he said.
He first received medical treatment in Kenya, but later ended up in Syracuse where he received more advanced medical care. All along, he never gave up on his dream to play and his love of soccer. He kept playing as he got older and eventually heard about the national team and scored that crucial goal to beat England.
"Once I got out there," Musa said, "I showed them I am different."
The team typically does not train together because it's so difficult for many of the athletes to travel. A recent session was different and there were several players in attendance who had not been there before.
"Anytime someone says you can't do this, I have the mindset of 'watch me,'" said Katie Bondy, at her first practice after a below-the-knee amputation because of a MRSA infection. "If a door closes, you have to find the open door, instead of just, you know, sitting and not doing anything. I can wake up every morning, and I'm grateful."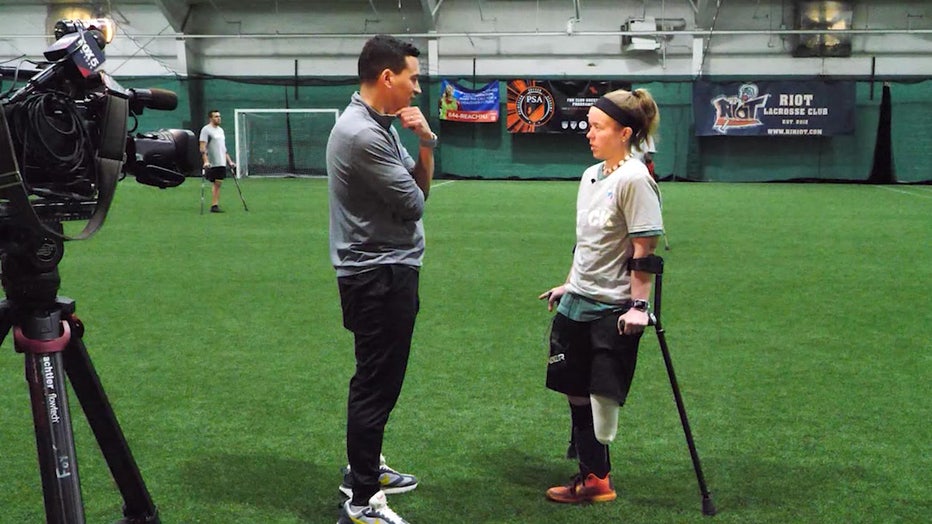 Katie Bondy traveled from Ohio for the session.
I brought my 7-year-old son, Mateo, to watch the team practice. He and I passed it around with the team members. Afterward, I asked him to describe what it was like to see it in person. He had three words: "It was amazing!"
It's why team captain Calabria thinks there's potential to grow the team and several regional programs into a certified league with paid players and ticketed games.
"I think people might have an idea when they hear 'amputee soccer,' what it might be. But you gotta come see it to believe it, really," he said.
It's the goal and another challenge to overcome. Their coach knows, for these athletes, that's part of this game.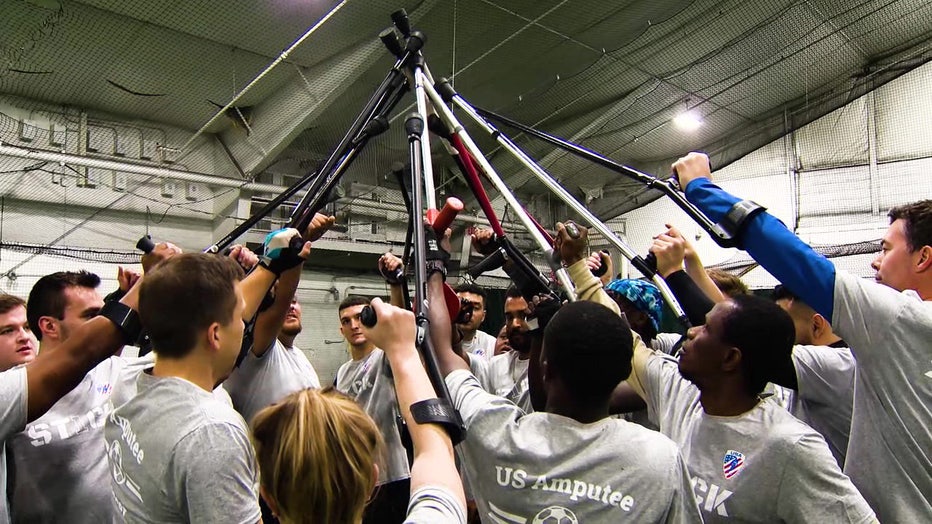 "All these new players have found us and want to be a part of this because they see it as something else that they could aspire to become," Coach Lamberg said.
A talent identification camp and training session like the one in Clifton, which lasted a few days, can cost upward of $20,000 to $30,000. Many of the athletes have financial challenges of their own, for obvious reasons. It's another reason they are all hoping investors can see the potential in these dedicated athletes.
You can learn more information about the team at the website: www.usampsoccer.org or the Instagram page: @usamputeesoccer