1 in 5 US adults 'rarely or never' wakes up feeling well-rested — here's why
More than 20% of American adults say they "rarely or never" wake up feeling well-rested, according to a new survey from U.S. News & World Report.
Nearly half (43%) of survey respondents said they have experienced insomnia in 2023, and 17% said they've suffered from sleep apnea. 
The survey, which polled 1,200 adults about their sleep habits and quality, revealed some of the biggest sources of sleep struggles.
What's keeping people up at night
The survey identified the biggest concerns that are hindering Americans' sleep:
The increase in cost of living
Gun violence
Climate change
The 2024 presidential election
These results were virtually identical to last year, except for No. 5, which was the Russia-Ukraine war.
(The survey was conducted before the onset of the Israel-Hamas war.)
WWII-ERA MILITARY SLEEP METHOD COULD HELP INSOMNIACS NOD OFF QUICKLY, SOME CLAIM: 'PEACE AND CALM'
"In addition to these general worries, there are also specific concerns that may keep Americans up at night depending on their individual circumstances, such as relationship problems or work stress," Dr. Shelby Harris, the New York-based director of sleep health at Sleepopolis, who was not involved in the survey, told Fox News Digital.
Americans' worst sleep habits
Survey respondents shared these top five habits that are detrimental to their sleep:
Going to bed at inconsistent times
Accessing screens in bed
Eating too much before bed
Falling asleep with the television on
Staying up all night
A previous poll by the National Sleep Foundation found that 89% of adults and 75% of children have at least one electronic device in their bedrooms.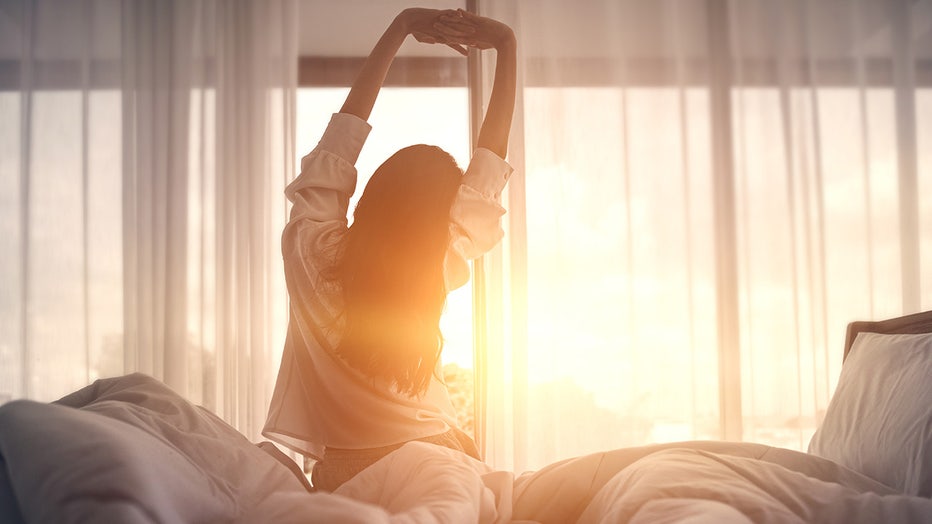 File: Woman waking up in the morning. (Credit: Getty)
"Other common sleep habits that can negatively affect sleep quality include consuming caffeine or alcohol close to bed, napping for too long or too late in the day, not getting enough sunlight in the morning/afternoon, sleeping in a hot or uncomfortable environment and not having a relaxing bedtime routine," said Harris of Sleepopolis.
Impact of partners on sleep
One in three adult respondents said they do not sleep in the same bed as their partners due to differing sleep preferences, a trend known as "sleep divorce."
Dr. Brandy Smith, an Alabama-based psychologist with the virtual health care company Thriveworks, who was not involved in the survey, previously told Fox News Digital that the most common reasons for sleep divorce include snoring, frequent movements that keep one partner awake or wake them too often throughout the sleep cycle, mismatched sleep/wake cycles — and schedule differences.
'SLEEP DIVORCE': WHY ARE SOME COUPLES SPENDING THEIR NIGHTS IN SEPARATE BEDS?
Another sleep trend revealed in the survey is "Scandinavian sleeping." 
This is when couples share the same bed but use individual comforters or duvets instead of sharing bedding.
"While most surveyed U.S. adults (59%) prefer sharing a comforter with their partner at night, the remainder (41%) would rather sleep with their own blanket at night, which is commonly referred to as the Scandinavian sleeping method," Haniya Rae, a New York-based sleep feature editor at U.S. News & World Report, told Fox News Digital.
"The Danes, Icelanders, etc. prefer sleeping with their own duvet with no top sheet to fight over," she noted. 
"This means both you and your partner can each have your own individual, preferred sleep space in the same bed. No more tugging at the sheets or dealing with a blanket hog."
6 SIGNS YOUR MATTRESS MIGHT BE DISRUPTING YOUR SLEEP, ACCORDING TO EXPERTS
Harris agreed that the Scandinavian sleep method can have several potential benefits for sleep quality and overall well-being.
"By allowing each partner to regulate their own temperature and choose bedding that meets their personal preferences and needs, the method can significantly reduce sleep disruptions and improve comfort," she told Fox News Digital.
RELATED: 'Sleep divorce': Why are some couples spending their nights in separate beds?
"Getting better sleep can also help to reduce stress levels and lead to a healthier relationship."
Essentials for a good night's sleep
In the survey, adults were asked to rate which items are most critical for quality sleep. In order from most to least important, they noted the following:
High-quality mattress
Memory foam pillows
High thread-count sheets
Down comforter
Weighted blanket
Nearly 40% of respondents also said they use white noise to help them fall asleep.
The National Sleep Foundation recommends that adults between 18 and 64 years of age get seven to nine hours of sleep each night. 
For more Health articles, visit www.foxnews.com/health.