Uptick in car and car part thefts causing concern for New Yorkers
Vehicle thefts and vehicle part thefts are on the rise across New York City. 
New York City Police Department (NYPD) crime statistics showed a drastic increase in these types of crimes over the last few years. 
As of mid-March 2023, the numbers show a 6.2% increase this year compared to last. That's an increase of over 95% over two years. 
The numbers are consistent with a national uptick in vehicle thefts.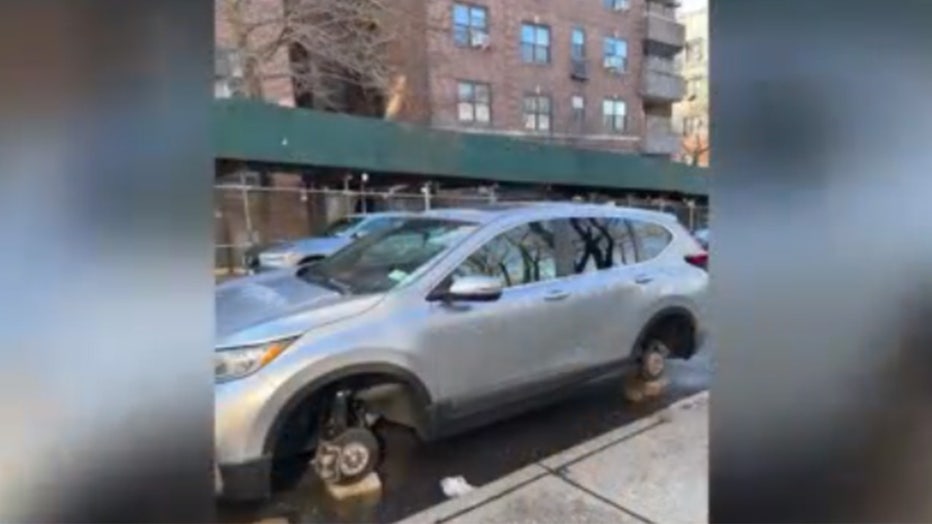 FILE - Tires stolen from parked car.  (FOX 5 New York)
"It's the economy. It's inflation. Vehicles are relatively easy to steal," said Robert Sinclair Jr., senior manager of public affairs for AAA Northeast.  
According to the Council On Criminal Justice, motor vehicle thefts went up 59% between 2019 and 2022. 
The NYPD told FOX 5 New York that the top five vehicles being targeted are: the Ford Econoline, Honda Accord, Honda CR—V, Honda Civic and the Toyota Camry. 
In New York City, thieves are targeting not only vehicles but also parts in high numbers. 
The NYPD tracks numbers on catalytic converter thefts and in 2022, 8,591 were stolen. 
In 2020, that number stood at 802. 
According to an NYPD spokesperson, these parts are being targeted "at increased rates because they contain precious metals that have increased in price." 
"You have to worry about where you park the car now," said New Yorker Maurizio Angione. He worries he could become the next victim.