UAW strike update: Michigan Local taking donations to help workers who have been on picket line since Sept. 15
WAYNE, Mich. (FOX 2) - UAW Local 900 is taking donations to help members who have been on the picket line since the strike started Sept. 15.
Some members of Local 900 work at Ford Michigan Assembly Plant, one of the first facilities called to strike last month. They have been picketing since then while getting $500 a week in strike pay.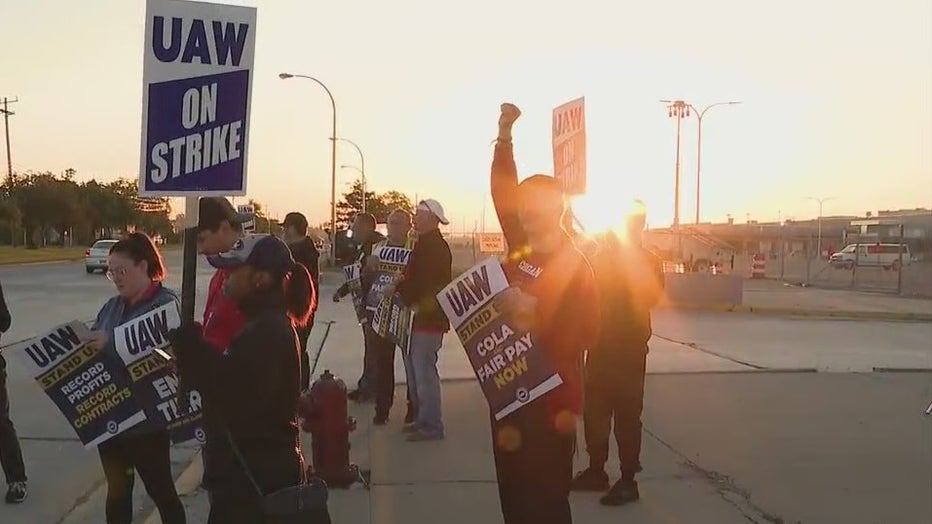 Workers strike outside Ford Michigan Assembly in Wayne on Sept. 15, 2023
"It's hard right now. The weather's turned cold. It's raining tonight," said Mike Smith, the vice president of Local 900.
The Local office in Wayne is taking donations of food, baby supplies, and other items that will be given to those who are struggling to make ends meet. The office is at 38200 Michigan Ave., across from the plant.
Now, UAW members at 43 Big Three facilities are on strike. At the end of each week, UAW President Shawn Fain shares an update on negotiations and announces if more members will be joining the strike. 
In addition to the nearly 25,000 UAW members striking, Ford, GM, and Stellantis have laid off almost 5,000 employees since the strike began.
"I feel bad for any location that is being laid off due to a strike. But one thing about it is I know every brother and sister in the long fight for the long haul, supporting one another," Smith said.
Jan Griffiths, a former auto industry supply chain executive, said the layoffs are having a greater impact than expected.
"The layoffs that we see right now are cutting wider and deeper than we originally thought," she said. "It's going to impact the ability to start up again and what about all the new vehicles that we're launching in the EV space? If we cut too deep it's going to make those launches more difficult, more problematic."
Watch FOX 2 News Live