Tupac Shakur murder: A look back at the rise and untimely death of a hip-hop legend
Nearly 30 years after the unsolved killing of legendary rapper Tupac Shakur, a suspect has finally been indicted. 
On Sept. 29, 2023, law enforcement arrested Duane "Keffe D" Davis, who has long been known to investigators as one of four suspects identified early in the 1996 fatal shooting of Shakur. 
Davis, now 60, isn't the accused gunman, but was described as the group's ringleader by authorities. He was indicted on a murder charge in Las Vegas in September of 2023. 
As the case against Davis unfolds, take a look back at the life of one of hip-hop's most influential artists before his untimely death almost three decades ago.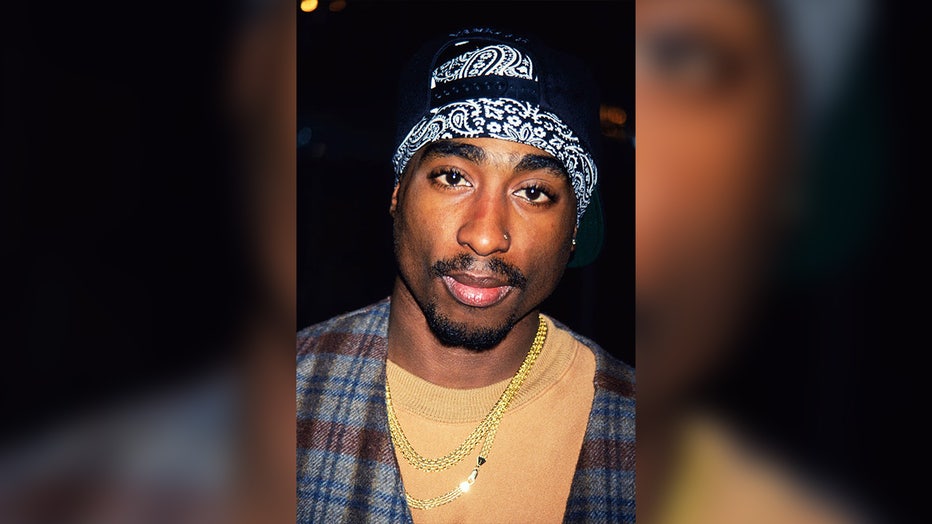 FILE - Portrait of rapper Tupac Shakur (2Pac). (Mitchell Gerber/Corbis/VCG via Getty Images)
Tupac Shakur's early life  
Tupac Amaru Shakur was born on June 16, 1971, in Harlem, New York. 
He was raised by Afeni Shakur, a single mother of two and a member of the New York chapter of the Black Panthers, according to Rolling Stone.
Shakur had interest in the arts early in life and by age 12, he enrolled in a theater ensemble in Harlem. There, he starred in the play "A Raisin in the Sun" which further ignited his lifelong love of performing.
MC New York 
Shakur's family moved to Baltimore, Maryland, in the 1980s where he would write his first raps and gave himself the rap name, MC New York. 
It was also in Baltimore where Shakur would meet and become good friends with Jada Pinkett Smith, actor and wife to Oscar-winner, Will Smith.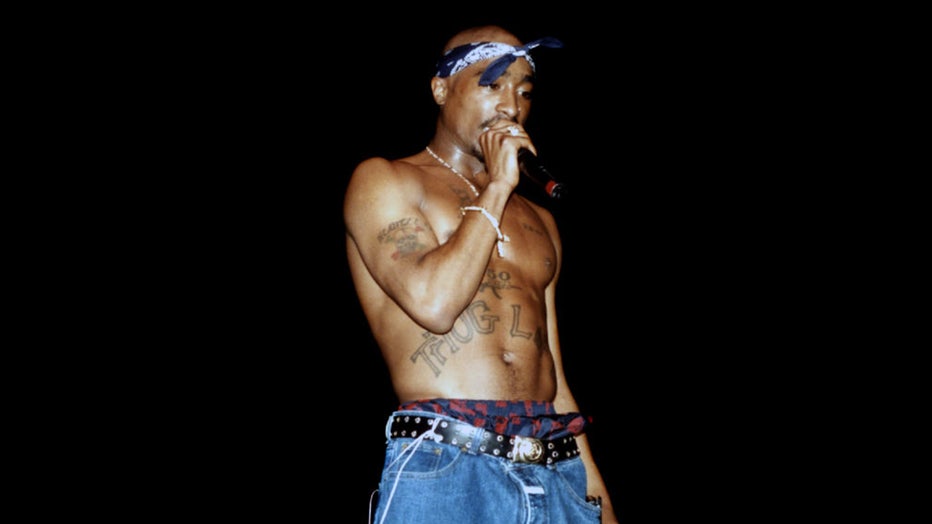 FILE - Rapper Tupac Shakur performs at the Regal Theater in Chicago, Illinois in March 1994. (Raymond Boyd/Getty Images)
East Coast to West Coast
At age 17, Shakur moved from New York to California where he attended high school and studied poetry, theater and music. 
He would eventually drop out of high school to form his first rap group called Strictly Dope in 1989. 
In 1991 Shakur was discovered by the rap group Digital Underground and got his first music credit on a song that was featured in the film "Nothing But Trouble."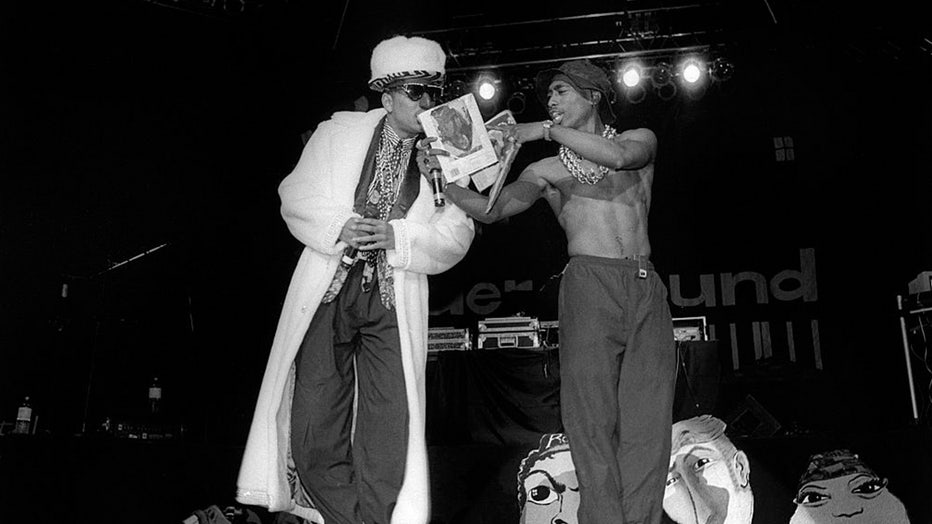 FILE - Rappers Humpty Hump and 2 Pac of Digital Underground performs at Market Square Arena in Indianapolis, Indiana in July 1990.  (Raymond Boyd/Getty Images)
That same year, Shakur released his debut solo album titled "2Pacalypse Now," according to Business Insider. This album would be the beginning of his notoriety as a gangster in hip-hop. 
RELATED: Man connected to suspected shooter in Tupac Shakur's 1996 killing arrested in Las Vegas
Tupac's movie debut
In 1992, Shakur made his acting debut in "Juice" and starred in "Poetic Justice" in 1993 alongside Janet Jackson. 
Also in 1993, Shakur released his second studio album through Interscope Records and it went certified Platinum by 1995, according to Rolling Stone. 
Shakur had five No. 1 albums including "Me Against the World" in 1995 and "All Eyez on Me" in 1996, along with three posthumous releases: 1996's "The Don Killuminati: The 7 Day Theory," 2001's "Until the End of Time" and 2004's "Loyal to the Game."
Tupac's run-ins with the law
A year later in 1994, Shakur was arrested and charged with sexual assault. He served eight months in prison for the assault before he was bailed out by Death Row Records boss Suge Knight in 1995. 
In November of 1994, Shakur had a planned visit to meet with rappers Sean "Puffy" Combs and Biggie Smalls at Quad Studios in Manhattan, New York. 
Right before he was set to walk into the studio, Shakur was shot five times and was robbed of some jewelry. 
And in 1995, a wrongful death lawsuit filed against the rapper for the 1992 fatal shooting of a 6-year-old in Marin City, Calif., was settled. 
Rift between East and West Coast
Following the shooting at Quad Studios, what was once a strong bond rooted in a love for hip-hop, turned into a rivalry between East and West Coast. 
Shakur openly accused Biggie, his label Bad Boy Records, and Combs of having prior knowledge of the shooting, an accusation they vehemently denied. 
"It definitely pivoted to where it was more serious," said Spice 1, Tupac's friend with whom he recorded classic hits like "Jealous Got Me Strapped." "It wasn't, it wasn't just competition anymore." 
Shakur's allegations effectively drew a line in the sand. 
On the East Coast, representing New York, stood Biggie and his Bad Boy Records, a powerhouse in the rap industry.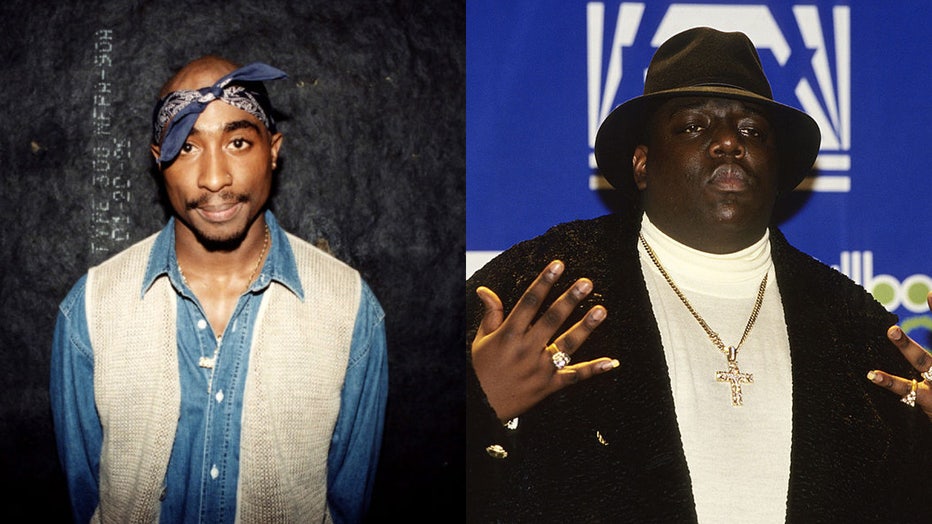 FILE - Side by side image of rappers Tupac Shakur (L) and Biggie Smalls (R).  (Getty Images)
On the West Coast, representing Los Angeles, stood Shakur and Death Row Records, another dominant force in the game. The rivalry became a key narrative in hip-hop, with fans, artists, and industry personnel all being forced to choose a side. 
Both artists used their music as an outlet for their frustrations, diss tracks became their weapons of choice. Shakur's "Hit 'Em Up" is one of the most direct and aggressive diss tracks in rap history, taking aim squarely at Biggie, Bad Boy Records and anyone affiliated with them. 
In return, Biggie's "Who Shot Ya?" — although he claimed it was not about Tupac — was perceived as a direct taunt regarding the Quad Studios shooting, fueling the fire even more. 
"There was so much controversy around who did it, you know, and how did this happen?" said Ralph McDaniels, a music video director, DJ and VJ, and co-creator of Video Music Box with Lionel C. Martin, a show which is still currently going strong. 
RELATED: 1994 Quad Studios shooting: How Tupac Shakur's attack ignited a hip-hop feud
Tupac Shakur's murder
On Sept. 7, 1996, Shakur, then 25, was watching Mike Tyson fight against Bruce Seldon at the MGM Grand. 
After the match, Shakur, Knight and other members of their entourage were involved in a fight with a group that included Davis and his nephew, Orlando "Baby Lane" Anderson, in the casino area of the hotel. 
Shakur had clashed with Anderson in the past.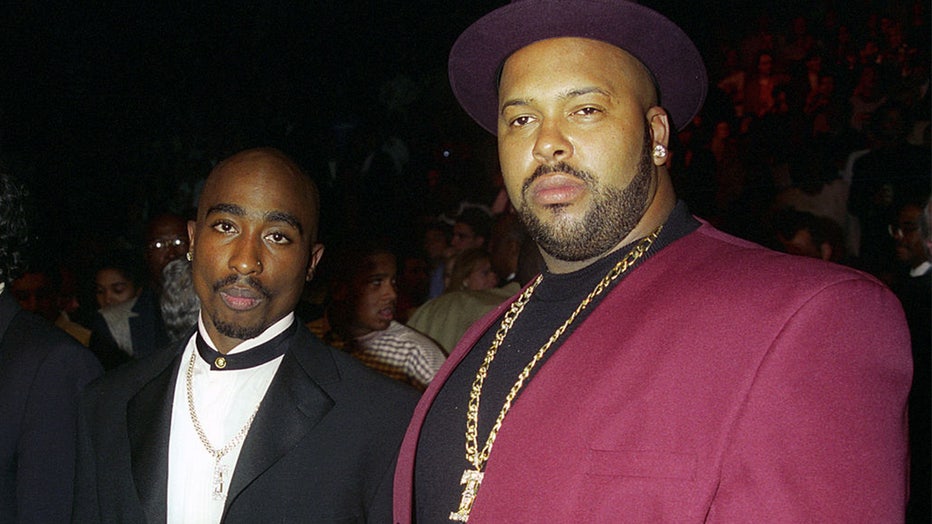 FILE - Tupac Shakur and Marion Suge Knight. (Jeff Kravitz/FilmMagic)
Davis and Anderson were members of the South Side Compton Crips, a Southern California-based gang that were rivals of Knight's Blood-affiliated gang, Mob Piru, Las Vegas police said. 
Surveillance video showed Shakur and Knight kicking and punching Anderson near a bank of elevators, police said. 
Shakur and his group left the hotel and drove down the Las Vegas Strip, headed for a nightclub owned by Knight. 
While stopped at a red light, a white Cadillac pulled up alongside Knight's black BMW Shakur was riding in. 
One person opened fire, showering the passenger side of Knight's car with bullets, according to police. 
Shakur suffered four gunshot wounds, with at least two to the chest. He was rushed to the hospital where he died six days later on Sept. 13. 
Arrest in Tupac's murder
The arrest in September of 2023 for the unsolved murder of Shakur was a long-time coming for investigators. 
"Duane Davis was the shot caller for this group of individuals that committed this crime," said Las Vegas police homicide Lt. Jason Johansson, "and he orchestrated the plan that was carried out."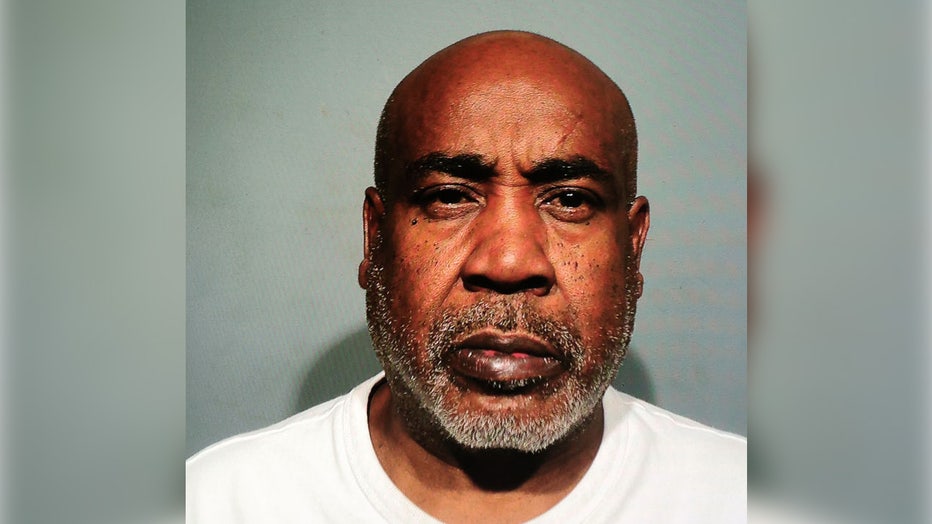 FILE - A booking photo of Duane "Keefe D" Davis, photographed off of a television monitor, is shown during a news conference at the Las Vegas Metropolitan Police Department headquarters held to brief media members on Davis' arrest and indictment for (Ethan Miller/Getty Images)
According to prosecutors, Davis allegedly purchased the firearm used by his now-deceased nephew, Anderson, who is believed to have pulled the trigger. 
RELATED: Tupac Shakur murder arrest: Who is Duane "Keffe D" Davis?
"They all were acting in concert together to go out and commit the murder," retired detective of the Los Angeles Police Department, Greg Kading, told FOX TV Stations. 
Davis himself has admitted in interviews and in his 2019 tell-all memoir, "Compton Street Legend," that he provided the gun used in the drive-by shooting. 
Authorities said that Davis' own public comments revived the investigation. 
RELATED: Retired detective 'thrilled' by Tupac Shakur murder arrest
Davis was arrested while on a walk near his home on the outskirts of Las Vegas, hours before prosecutors announced in court that a Nevada grand jury had indicted the self-described "gangster" on one count of murder with a deadly weapon. He is due in court next week. 
The grand jury also voted to add a sentencing enhancement to the murder charge for gang activity that could add up to 20 additional years if he's convicted. 
The Associated Press, FOX 5 New York and Stephanie Weaver contributed to this report. This story was reported from Los Angeles.