Indictment vs arrest: What's the difference?
NEW YORK - Former President Donald Trump claimed over the weekend that his arrest is imminent and issued an extraordinary call for his supporters to protest as a New York grand jury investigates hush money payments to women who alleged sexual encounters with him. 
In a post on his social media platform, Trump declared that he expected to be taken into custody on Tuesday – even though Trump's lawyer and spokesperson said there had been no communication from prosecutors.
RELATED: Trump's call for protests amid anticipated indictment gets muted reaction by supporters
Manhattan District Attorney Alvin Bragg is thought to be eyeing charges in the hush money investigation, and recently offered Trump a chance to testify before the grand jury. 
Meanwhile, local law enforcement officials are bracing for the public safety ramifications of an unprecedented prosecution of a former American president.
What is a grand jury, and what does an indictment mean? What's the difference between being indicted, being charged, and arrested? Here's a breakdown:
What does an indictment mean, and how does it work?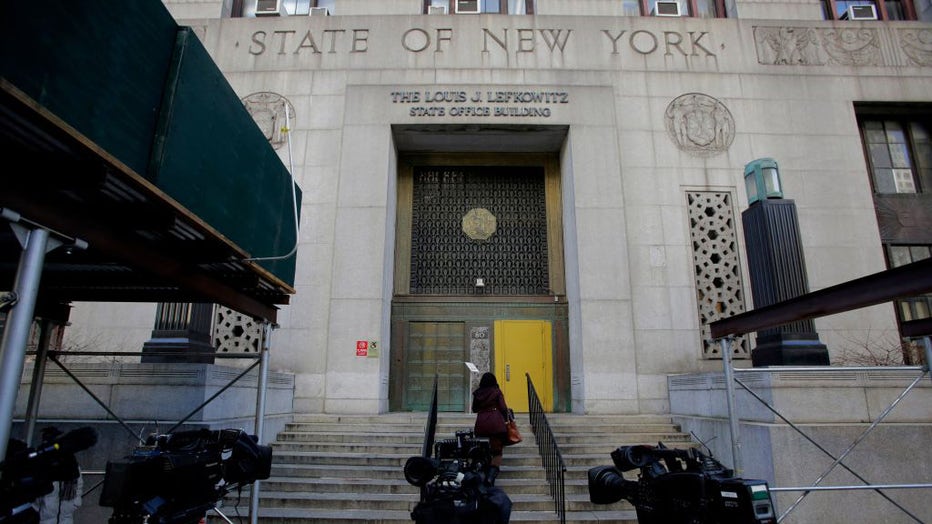 Media cameras sit outside the Manhattan District Attorneys office in New York City on March 20, 2023.(Photo by LEONARDO MUNOZ/AFP via Getty Images)
In New York, an indictment is a formal felony charge.
Here's how it works generally: After a prosecutor studies information from investigators in a case, a prosecutor decides whether to present the case to an impartial group of citizens called a grand jury, according to the U.S. Department of Justice. 
Witnesses can be called to testify, evidence is shown to the grand jury, and an outline of the case is presented to the grand jury members. 
After listening to the prosecutor and witnesses, the grand jury then votes in secret on whether they believe that enough evidence exists to charge the person with a crime, the DOJ states. 
"A grand jury may decide not to charge an individual based upon the evidence, no indictment would come from the grand jury. All proceedings and statements made before a grand jury are sealed, meaning that only the people in the room have knowledge about who said what about whom," the DOJ's website reads. 
Related to Trump's investigation in Manhattan, there has been no public announcement of any time frame for the grand jury's secret work in the case. 
At least one additional witness was expected to testify on Monday, further indicating that no vote to indict has yet been taken, according to the Associated Press, citing a person familiar with the investigation who was not authorized to publicly discuss the case and spoke on condition of anonymity.
When a person is indicted, they are given formal notice that it's believed that they committed a crime, and the indictment contains the basic information that informs the person of the charges against them, the DOJ says online. 
Sometimes people use the terms "indicted" and "charged" interchangeably, but there is a legal difference, according to the office of California-based criminal defense attorney Ronald G. Brower. Only indictments are filed by grand juries, while prosecutors typically file charges.
What does an arrest mean?
Another major step after a grand jury indictment is the defendant's arrest. An arrest is when an individual has been taken into custody for suspicion of committing a criminal act.
In certain cases, prosecutors may offer a defendant who already has legal counsel prior to the indictment an opportunity to turn themselves over to the police voluntarily for processing, experts say.
Trump's aides and legal team have been preparing for the possibility of an indictment. Should that happen, he would be arrested only if he refused to surrender. 
Trump's lawyers have previously said he would follow normal procedure, meaning he would likely agree to surrender at a New York Police Department precinct or directly to Bragg's office.
Will Trump take a mugshot if he's indicted?
Trump's now-estranged lawyer, Michael Cohen, is at the center of the case against him. Cohen was one of several from Trump's former inner circle to provide testimony to the grand jury. 
On Sunday, Cohen told MSNBC that he expects Trump will "absolutely" be fingerprinted and photographed if he's arrested.
On Good Day New York, Aidala agreed.
"He won't do a 'perp walk' where he's going to be in handcuffs, but he's got to go into the building, he's got to go somewhere in the D.A.'s office, he's got to be fingerprinted, there'll be a mugshot of him, he's got to stand in front of a Supreme Court judge, plead 'not guilty' to an indictment, and then walk out," Aidala predicted.
Who is Alvin Bragg?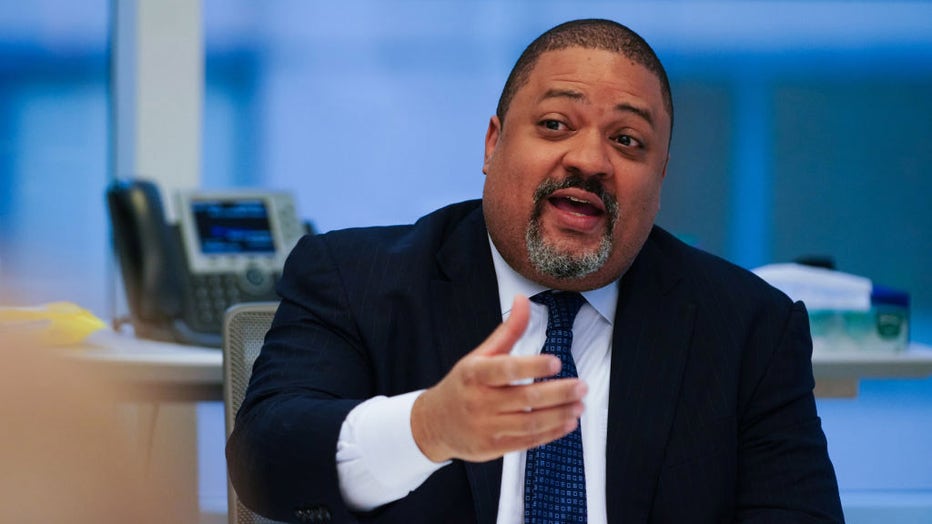 FILE - Alvin Bragg, Manhattan district attorney, speaks during an interview in New York, US, on Thursday, Dec. 15, 2022. Photographer: Christopher Goodney/Bloomberg via Getty Images
Bragg was elected to serve as the 37th District Attorney elected in Manhattan, and the first Black Manhattan D.A. in the history of the office, according to the official website. 
Bragg previously served as an assistant attorney general at the New York State Attorney General's Office and as an assistant U.S. attorney for the Southern District of New York.
As Manhattan's D.A., Bragg prosecutes cases in New York County and brings charges against suspects in a court of law. A district attorney is also sometimes referred to as a public prosecutor, state's attorney, or prosecuting attorney.
Bragg, a Democrat, inherited the yearslong Trump investigation when he took office in January 2022 and quickly faced criticism — not from Trump, but from holdover prosecutors for backing away from his predecessor's plans to charge the former president with business-related fraud.
But Bragg later rebounded with convictions for Trump's company, the Trump Organization, and his longtime finance chief for an unrelated tax fraud scheme before pivoting to what he's called the probe's "next chapter" — bringing fresh scrutiny to the hush money payments, which have been the subject of repeated federal and state-level inquiries over the last six years.
This story was reported from Cincinnati. The Associated Press contributed.