Derailed train in Mohave County was carrying corn syrup, railroad says
TOPOCK, Ariz. - A train that derailed in Mohave County on Wednesday night was carrying corn syrup, not hazardous materials, according to the railroad company.
According to Anita Mortensen with the Mohave County Sheriff's Office, the train derailment happened near milepost 9 on Interstate 40, in the Topock area.
Mohave County officials claimed that the train was carrying hazardous materials, but BNSF Railway said it was carrying corn syrup and that "there are no hazardous materials involved."
Lena Kent, general director of public affairs with BNSF Railway, said at least eight cars derailed, and there is no estimated time for the train tracks to reopen.
Officials say there are no reports of any spills at this time. BNSF, as well as the National Transportation Safety Board, have been notified and are investigating.
There was severe weather in the area around the time of the derailment, but it's still unclear if weather played a role. 
No injuries have been reported.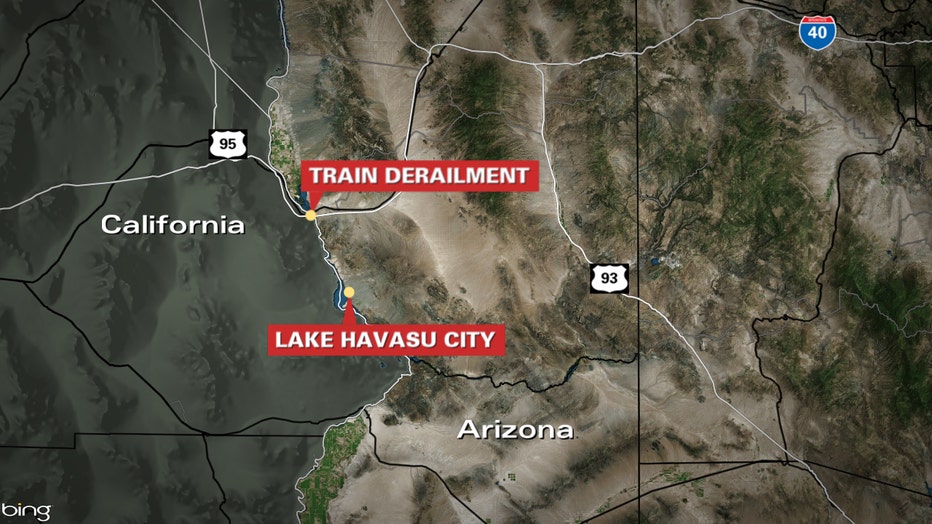 A map showing the trail derailment that happened in Mohave County on Mar. 15, 2023.
This derailment came after recent train derailments in other parts of the country. One derailment, which happened in Ohio, also involved a train carrying hazardous material.
The train derailment in East Palestine involved cars carrying vinyl chloride, which is considered to be carcinogenic. The derailment has sparked concerns over its impact on health and local environment.
BNSF Railway's full statement:
BNSF Railway can confirm that a train carrying corn syrup derailed near Topock in western Arizona, close to the California border on March 15, at approximately 7:40 pm local time. There were no injuries as a result of the derailment and preliminarily reports indicate there are no hazardous materials involved.
Approximately eight cars are reported to be derailed. The main track is blocked and an estimated time for reopening the track is not available. The cause of the incident is under investigation.
According to their website, BNSF has more than 32,000 miles of rail across the western two-thirds of the U.S.