Thanksgiving cranberry conundrum: Americans still divided over canned vs. homemade, jellied vs. whole berries
LOS ANGELES - It's the same debate many families have each year at Thanksgiving: which type of cranberry sauce to serve?
A 2019 poll showed just how divided Americans are over the issue, with 32% of people who eat the side dish preferring canned cranberry sauce, 27% favoring sauce "made from scratch" and 37% saying they liked either type.
When it comes to the canned cranberry sauce, there's an even further divide. Should you go with the jellied sauce or the sauce that contains whole berries?
RELATED: Thanksgiving meals will yield plenty of leftovers, so how do you store them safely?
According to Ocean Spray, the agricultural cooperative growers of cranberries, 7 % of Americans prefer their cranberry sauce jellied in the shape of a can.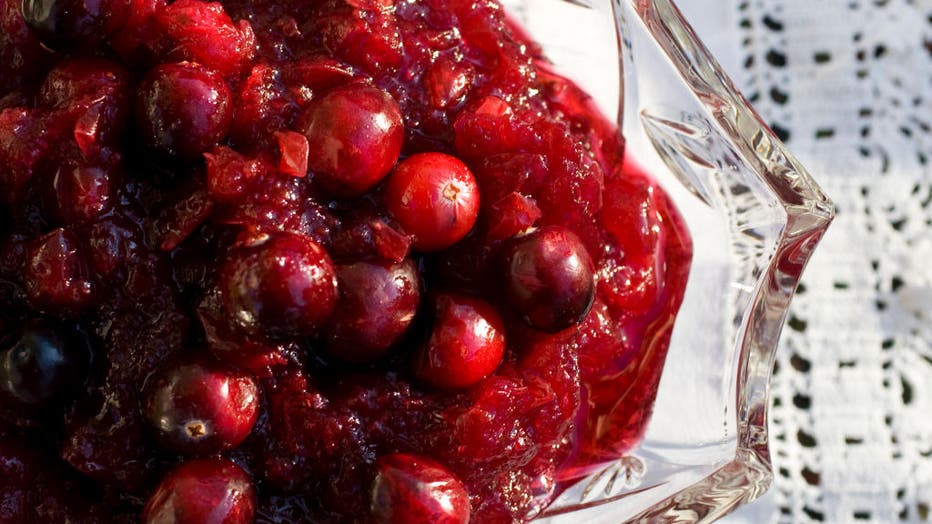 ELIZABETH'S CRANBERRY SAUCE - Thanksgiving table, photographed, Friday, Nov. 7, 2008, in Houston. ( Karen Warren / Chronicle ) (Photo by Karen Warren/Houston Chronicle via Getty Images)
Also, six in ten Americans say cranberry sauce has and always will be on their Thanksgiving table. More than a third go as far as saying they "can't live without it!" according to Ocean Spray. 
But maybe which type you serve doesn't matter.
RELATED: Thanksgiving dinner may cost a bit more thanks to extreme weather events across the US
"So I think there's not 'right' or 'wrong,' it's just preference," Diane Gottsman, a well-known etiquette expert, previously told FOX Television Stations. 
The history of cranberry sauce 
No matter what form cranberries take, the tart fruit has become a standard part of many Thanksgiving dinners.
The cranberry has become nearly as ubiquitous with the holiday dinner as the avian star of the show. While only playing a supporting role, the fruit side dish has been a part of the cast for centuries, bringing along its ancient history and story of culinary evolution to the table.
To help offset some tartness in the fruit, both the Native Americans and pilgrims used maple, honey and other natural sweeteners to make the cranberries more palatable, according to FOX Weather. 
According to Brian Wick, the executive director of the Cape Cod Cranberry Growers Association in Massachusetts, the tart fruit became popularly used to create cranberry sauce for turkey and other types of meat in the late 17th century. Within a hundred more years, cranberry sauce became a staple dish in the U.S., with its popularity taking off even more throughout the 19th century.
RELATED: Where weather could cause problems for Thanksgiving travel this year

"I think on your Thanksgiving dish, [cranberries] really stand out on their own," Wick said. "For a lot of people, it just resonates as the quintessential American side dish."
FOX Weather contributed to this story. This story was reported from Los Angeles.