Texas Senate bill aims to increase criminal penalties for catalytic converter thieves
AUSTIN, Texas - There was powerful testimony from the wife of a Texas deputy who was shot and killed trying to stop catalytic converter thieves.
It's an attempt to curb a problem that's growing more frequent and more dangerous. The catalytic converters are being stolen because of the value of their parts.
The Texas Senate Committee on Criminal Justice met Tuesday, hearing from the bereaved wife as they debate increased penalties for criminals stealing for the highly sought-after parts.
A law enforcement official who works in the Metal Theft Unit testified that for the last three years all he's been investigating are catalytic converter thefts. He calls the problem a nightmare.
But the most powerful testimony came from the wife of a fallen Harris County deputy.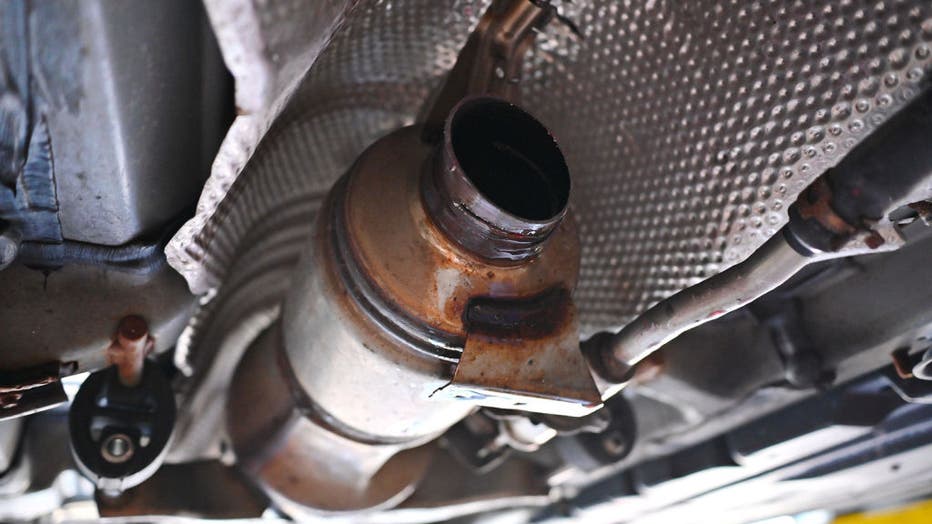 The underside of a Toyota Prius where a catalytic converter was stolen by thieves, at Militoâs Auto Repair in Lincoln Park on Aug. 24, 2022. (Victor Hilitski/Chicago Tribune/Tribune News Service via Getty Images)
With her daughter by her side, Flor Almendarez spoke publicly for the first time about the death of her husband, Harris County Sheriff's Deputy Darren Almendarez. Last April, he was fatally shot in the parking lot of a grocery store by a trio trying to steal the catalytic converter from his truck. Flor watched her husband die.
"When we held on to each other, he just told me I can't breathe and that he loved me. We kissed, and that was his last breath," she recalled.
The committee is considering several bills aimed at increasing criminal penalties for thieves who steal catalytic converters.
"People are being killed," said State Senator Mayes Middleton (R-Galveston). "This is an issue that's wreaking havoc in our communities. It's wreaking havoc on public safety." 
Senate Bill 432 would make it a state jail felony for anyone who is found in possession of a stolen catalytic converter. So even if a thief isn't caught in the act, there would still be consequences. The bill does have protections for special circumstances.
"For businesses that are regularly and in good faith in possession of catalytic converters in the course of their normal course and operation of business such as repair shops, metal recycling," Middleton said.
Catalytic converter thefts have become a big issue in major cities across the state.
"And over the last three years, 24/7 that's all I've dealt with is catalytic converters. It's nightmare," said Harris County Sheriff's Office Sgt. Fred Parsons.
It's prompting state lawmakers to file layers of legislation this session.
State Senate Chair John Whitmire says the bills will be organized under Senate Bill 224 and added that it has large bipartisan support.
Flor wanted to testify before lawmakers, hoping her husband's death wasn't in vain.
"My husband gave up his life for me, and not just for me, for the community," she said.
Following Flor's powerful testimony, the committee voted unanimously to send the catalytic converter bill to the full senate with a favorable recommendation.