Taylor Swift's 'Eras Tour' movie sets Cinemark pre-sale record
Taylor Swift's highly anticipated "Eras Tour" movie is setting pre-sale records as fans gear up for the premiere.
According to a release from Cinemark, pre-sale tickets are more than 10 times higher than any other movie event. "Taylor Swift - The Eras Tour" opens in North American theaters Oct. 13.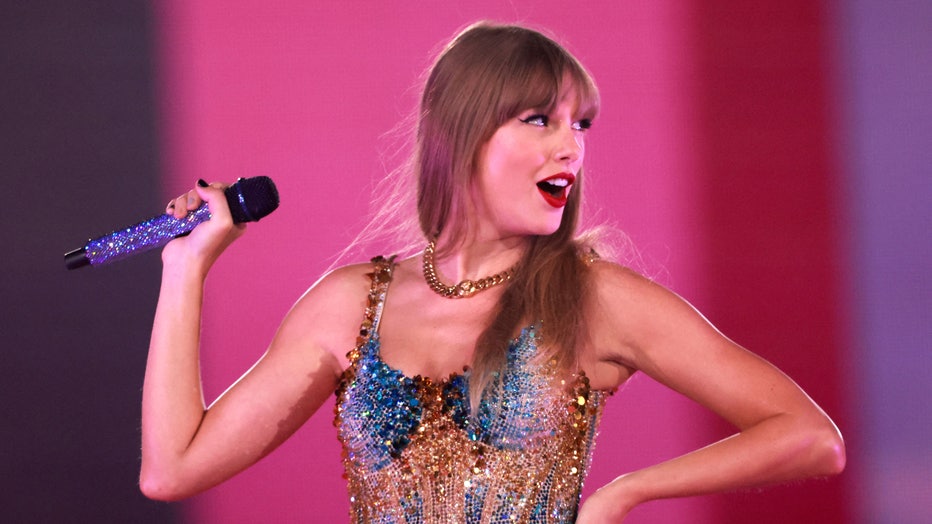 US singer-songwriter Taylor Swift performs during her Eras Tour at Sofi stadium in Inglewood, California, August 7, 2023. (Photo by MICHAEL TRAN/AFP via Getty Images)
In an unusual move, AMC is also acting as distributor for the film, but "The Eras Tour" will additionally play in other chains.
Swift's star power is so strong, Horror producer Jason Blum, who has produced hits like "Insidious" and "The Purge," said he made the decision to move the release of his latest film "Exorcist: Believer" up from Friday, Oct. 13 – a coveted date for a scary movie – after Swift announced that her concert film would open the same day.
READ MORE: Beyoncé Renaissance and Taylor Swift Eras concert films: Everything we know
"We had this amazing Friday the 13th in October, which is the single best day to release a scary movie," he told Entertainment Tonight. "Obviously, we moved off that and we bowed our head to Taylor Swift," Blum said of the new "Exorcist: Believer" Oct. 6 release date. "It was too risky to see if 'Exorswift' was going to take or not. People will still have the 'Exorswift' opportunity, so maybe we got to have our cake and eat it too."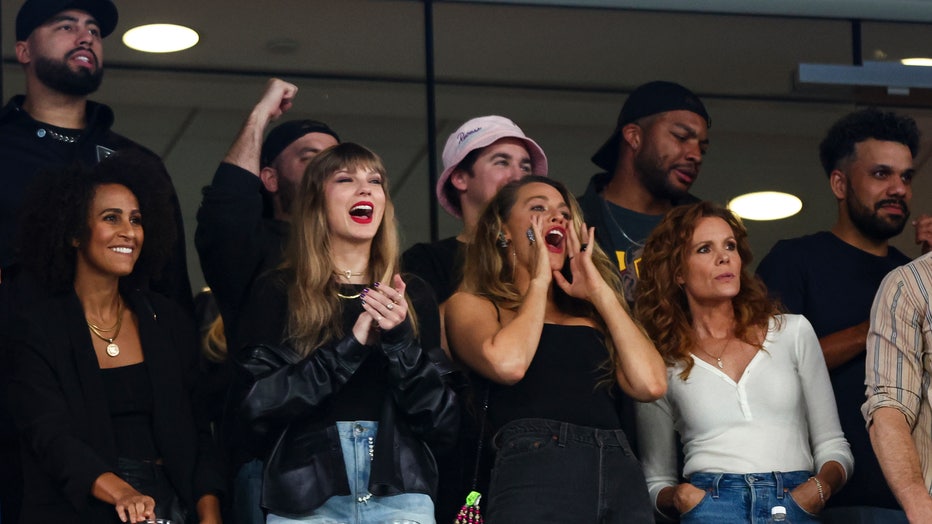 Taylor Swift and Blake Lively cheer from the stands during an NFL football game between the New York Jets and the Kansas City Chiefs at MetLife Stadium on October 1, 2023 in East Rutherford, New Jersey. (Photo by Kevin Sabitus/Getty Images)
Cinemark is selling iridescent popcorn and other exclusive items to coincide with the movie's release, and the company is also selling Private Swiftie Parties on cinemark.com and on the Cinemark app.
While fans get ready for the superstar's theatrical release, Swift has been making headlines for her love life and rumored new boyfriend, Kansas City Chiefs tight end Travis Kelce. Swift was at MetLife Stadium Sunday night to cheer on Kelce, and NBC's "Sunday Night Football" used her songs in promos for the night game. She also attended the Chiefs home game in Kansas City the week before.
Swift has more No. 1 albums than any other woman in history.