Taste of TNF recipe: Cheesesteak empanadas with black pepper mayo
What do you get when you take Philly's most famous sandwich and give it a little Florida Spanish flair? Dr. BBQ says the answer is hot, crispy, and delicious – and it's the featured item on our Taste of TNF menu.
Dr. BBQ says you can also use marinara for the sauce, or if you want to go full Philly, break out some Cheese Whiz and use that for dipping. 
Makes 10 empanadas
Ingredients
2 tablespoons vegetable oil
1 medium onion
1 pound shaved New York strip steak
6 slices provolone cheese torn into strips
10 5-inch discs empanada dough
Oil for deep frying
1 cup mayonnaise
1 teaspoon black pepper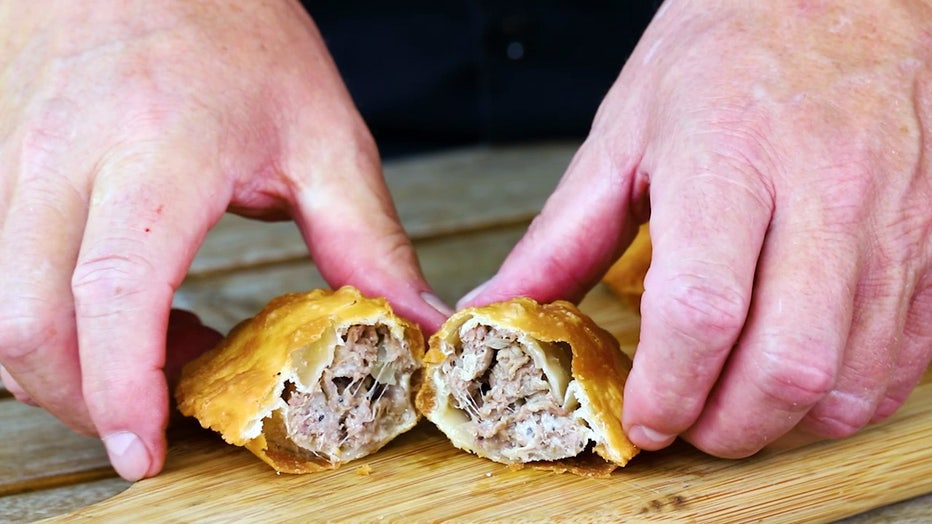 Instructions
Heat the oil in a large skillet over medium heat. Add the onion and stir.
Season the ribeye with salt, then add it to the skillet tearing it as it goes in. Cook, continuing to break up the ribeye until the onions are soft and the steak is cooked.
Add the cheese and remove from heat. Stir occasionally until the cheese is melted and incorporated. Remove from the skillet to a paper towel lined platter.
Lay the empanada discs on a smooth surface. Place a couple tablespoons of the steak mixture in the center of each disc. Fold them over and crimp the edge with a fork.
This can be done ahead. Just refrigerate the empanadas until you are ready to cook.
Heat the oil in a deep fryer to 375. Add the empanadas two or three at a time, being careful not to crowd your fryer. Cook, moving them around so they won't stick to each other for about 6 to 8 minutes until golden brown.
Remove and drain on a paper towel Repeat until all the empanadas are cooked.
Whisk together the mayo and black pepper and serve alongside the empanadas for dipping.