Driver who killed father, 2 kids, was high while speeding over 120 mph, police say
MASSAPEQUA - The 32-year-old driver of a Hyundai, who was allegedly speeding on Sunrise Highway before killing a father and his two children on Sunday, has now been charged.
Michael DeAngelo, 32, of Lindenhurst, was given a bedside arraignment at a local area hospital Friday afternoon, where he was charged with the following:
3 counts of aggravated vehicular homicide
3 counts of manslaughter in the second-degree
6 counts of assault in the second-degree
2 counts of DWI with drugs
1 count of reckless driving
2 counts of assault in the third-degree
According to Nassau County Police, DeAngelo was driving at a speed of 120.55 miles per hour, a second before the collision.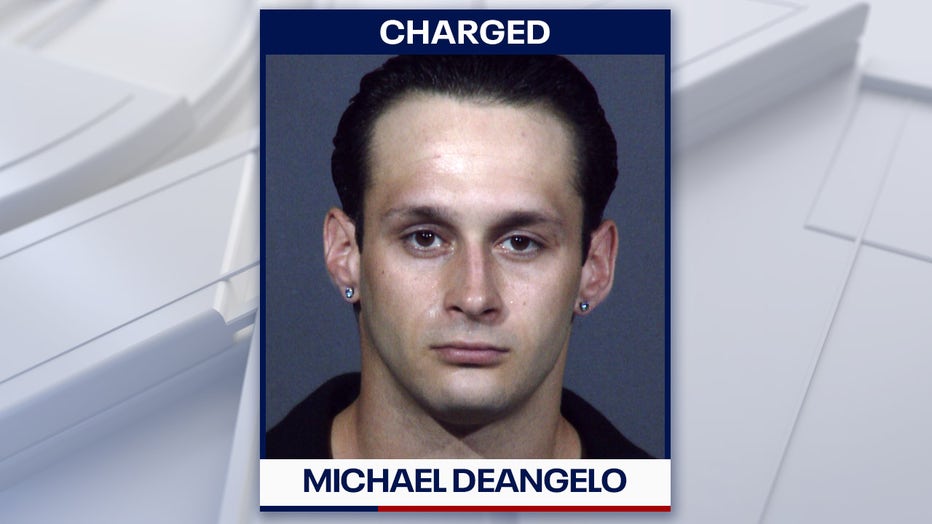 Police detective sergeant Stephen Fitzpatrick said that the reports that DeAngelo had been drag racing were false, based on surveillance cameras. The footage showed DeAngelo speeding, stopping at a Speedway, and then pulling out of the gas station with no other cars nearby.
PREVIOUSLY: Massapequa crash kills father, 2 kids heading out for ice cream
Instead, police said, DeAngelo's behavior and reckless driving contributed to the accident. Toxicology reports showed that he was under the influence of both cocaine and fentanyl at the time of the crash.
DeAngelo has been arrested three times prior to this incident. He has two prior DWI arrests, and a grand larceny arrest.
The first DWI was adjudicated to a violation and the second was a misdemeanor, thus making this most recent arrest a felony, according to police.
Victims were out for celebration
Huntley, 60, his 13-year-old daughter and 10-year-old son were killed when DeAngelo's Hyundai slammed into their SUV.
The family's vehicle then crashed into Chevrolet in front of them, driven by an 83-year-old man, who then flipped over and crashed into another car. 
Huntley's 13-year-old daughter Hannah was pronounced dead at the scene, while his 10-year-old son Jeremiah was rushed to the hospital, where he was pronounced dead. 
From the same vehicle, Huntley's 6-year-old granddaughter, and another one of his children, age 18, were hospitalized.
The 6-year-old is currently in extreme critical condition. The 18-year-old is also in critical condition pending surgery. 
Another one of Huntley's children, 14, suffered back and rib injuries. Officials say the child is expected to survive. 
As for Michael DeAngelo, police said he is in stable condition and suffered a compound fracture to his lower extremities, internal injuries, and is awaiting surgery.
Detective sergeant Stephen Fitzpatrick noted that in the case there are more fatalities as a result of the collision, more charges would be added.
Police said the family was out for ice cream to celebrate a new job when the crash happened.