Suspect charged in Gretchen Harrington's 1975 murder in Delaware County
PHILADELPHIA - A Georgia man and former Pennsylvania church pastor is facing charges in the 1975 murder of an 8-year-old girl who investigators say was abducted during bible camp.
David Zandstra, 83, admitted to authorities that in August 1975 he saw 8-year-old Gretchen Harrington walking alone on Lawrence Road in Marple Township and offered her a ride. 
According to investigators, Zandstra drove Harrington - the daughter of the pastor of another nearby church - to a wooded area where he told her to disrobe and punched her in the head when she refused. 
Zandstra is reported to have told investigators that Harrington was bleeding, and he believed she was dead. Investigators say Zandstra covered up her body and left the area. 
MORE LOCAL HEADLINES
Two months after Harrington's disappearance, her skeletal remains were found at Ridley Creek State Park. Zandstra was interviewed in 1975 in connection to the murder, but authorities say he denied any involvement. 
Nearly 50 years into the cold case investigation, authorities say an interview with a former friend of Zandstra's daughter revealed new leads that connected Zandstra to the murder. 
Investigators reported that the former friend accused Zandstra of groping her during a sleepover. When she confronted Zandstra's daughter, she was told "he did that sometimes."
The individual also recalled to police that a classmate was almost kidnapped twice, according to investigators. Authorities also learned that she made a notation in her 1975 diary that Zandstra was the likely culprit of the murder.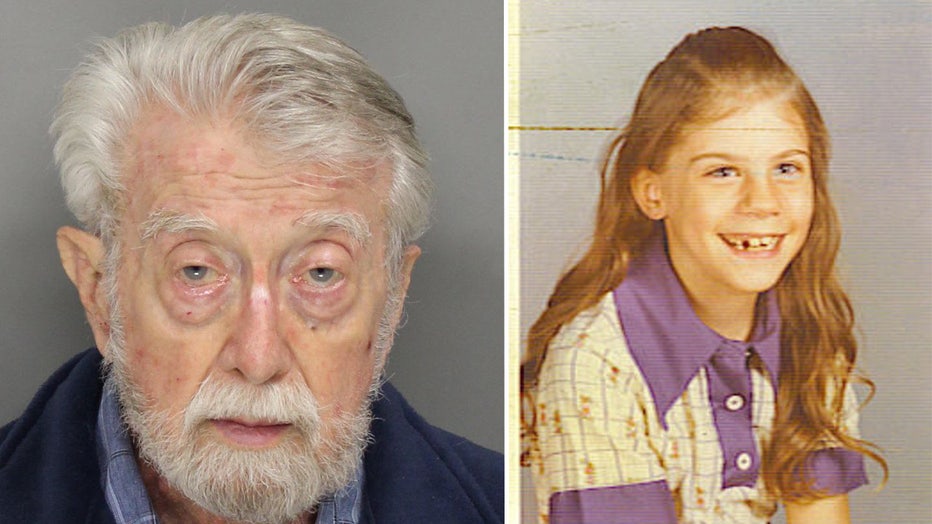 Authorities confronted Zandstra about the murder in July, and investigators say he admitted to the allegations after being presented with the new evidence from the recent interview with his daughter's friend.
Trooper Eugene Tray said the defendant's demeanor was "relieved" as if it was "a weight off his shoulders."  Delaware County District Attorney Jack Stollsteimer said Zandstra, however, was fighting extradition from Georgia though the prosecutor vowed that he would be returned to face justice in Pennsylvania.
DNA from the defendant will be compared to material from open cases in Pennsylvania and elsewhere, authorities said. Zandstra lived in Texas and Georgia after leaving the commonwealth, they said. The Christian Reformed Church lists him as having ministered in New Jersey, California and Texas before retiring in 2005. Authorities said they were concerned that there may have been more victims and urged anyone with information to contact investigators.
Gretchen Harrington's family asked for privacy but said in a statement that they were "extremely hopeful" that the person responsible would be held accountable for taking her away from them, which they said "forever altered our family and we miss her every single day."
"If you met Gretchen, you were instantly her friend. She exuded kindness to all and was sweet and gentle," the family said. "Even now, when people share their memories of her, the first thing they talk about is how amazing she was and still is ... at just 8 years old, she had a lifelong impact on those around her."
David Zandstra has been charged with first, second and third degree murder, criminal homicide, kidnapping of a minor, and possession of an instrument of crime. 
"The murder of Gretchen Harrington has haunted members of law enforcement since that terrible day in August 1975," Stollsteimer said. "This heinous act left a family and a community forever changed. At long last I can announce today that her killer – David Zandstra - has admitted to his crime."
The Associated Press contributed to this report