Suspect arrested in San Francisco Sunset home explosion; facing manslaughter, drug manufacturing charges
SAN FRANCISCO - San Francisco police arrested a 53-year-old man Friday night in the deadly Sunset District home explosion and fire that killed a woman and injured another.
Darron Price, who was located on Newhall Street about 4:30 p.m., was booked into San Francisco County Jail on suspicion of involuntary manslaughter, manufacturing drugs charges, two counts of child endangerment, two counts of reckless arson with great bodily injury, three counts of reckless arson to an inhabited structure, and two other charges not specified, according to jail records.
Police said that the home on the 1700 block of 22nd Avenue in the Sunset district exploded on Thursday morning. The blast was so intense, it lifted the house off of its foundation. Balls of fire were seen throughout the neighborhood.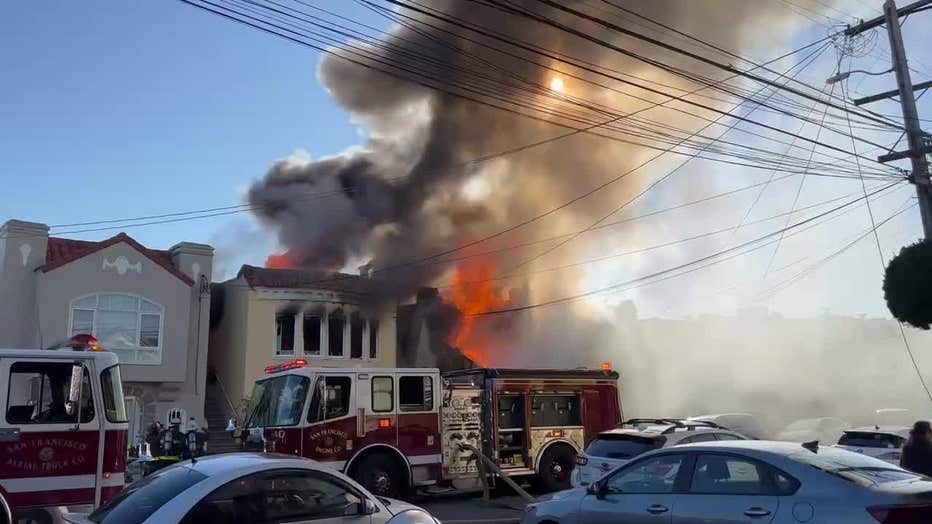 A San Francisco resident shares video of a Sunset District fire that was the result of an explosion on Thursday, February 9, 2023.
In a news release, San Francisco police said there was an "active illegal narcotics manufacturing lab" inside that home. Records indicate that it was a PCP lab. 
A woman's body was removed from the rubble. Another person was badly injured and taken to the hospital. Neither have been identified. 
 A home next door was also a complete loss. Neighbors said they thought they were experiencing an earthquake. Windows from nearby homes were blown out as a result of the blast.
After the blast, one neighbor shared photos of what appeared to be cylindrical gas tanks and blue barrels; the kind used to contain chemicals, being removed from the site of the explosion. 
On Friday, KTVU captured video of San Francisco fire crews loading the large cylindrical tanks into a white box truck to be transported as evidence to the police crime lab. 
Those tanks caused a hazardous material scare in Daly City on Friday.
A police evidence crew driving the cylinders was making a turn on Junipero Serra when said they heard a hissing sound. 
The driver stopped the truck just across the border in Daly City about 10 a.m., prompting a hazmat crew to respond with a robot and a temporary shutdown of highway ramps to Interstate 280 and the BART train overpass. 
Fire officials at that time would not say what the substance was, only that it was evaluated in San Francisco County and deemed safe for transport by hazmat and the Department of Public Health. 
SEE ALSO: Hazmat incident in Daly City possibly linked to San Francisco house explosion
Some noted that the large tanks being taken from the rubble of the explosion resembled the types of tanks used to process cannabis. 
Sold online, they are called, closed-loop extraction systems – a method that uses carbon dioxide and reportedly lab-grade butane or propane to extract purified cannabis products.  
Bill Mason. 96, and his grandson, Michael, watched workers inspect their home that goes back three generations. A total loss, destroyed right next to the house that exploded.  
KTVU's Henry Lee contributed to this report.