Survey: Many holiday shoppers anticipate gift spending will be equal or exceed last year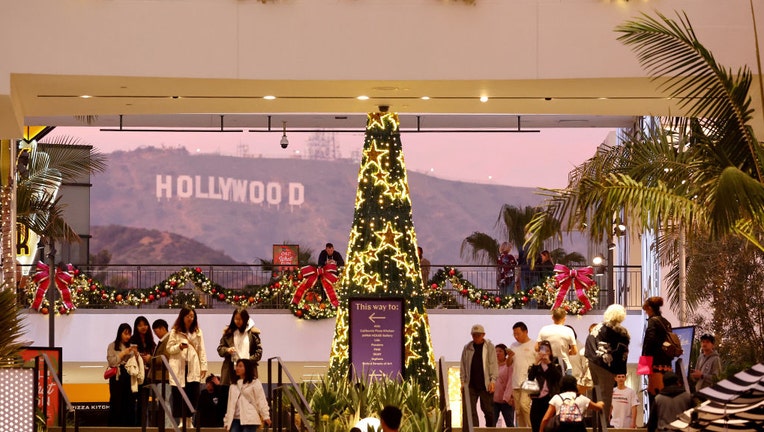 article
Many shoppers anticipate their holiday gift spending will stay flat or increase from last year, according to a survey published Tuesday.
In the Shopify-Gallup Holiday Shopper Pulse survey, the share of American holiday shoppers who indicated they had such expectations came in at 74%, with 55% anticipating spending equal and 19% saying more. 
Over one-quarter, 26%, anticipated spending less compared to last year, according to the survey. 
For 18- to 29-year-old holiday shoppers, the survey found a slightly higher percentage than all American shoppers reported their planned holiday spending would be at a level "at least" on par with last year's, hitting 78%. Spending more was expected by 35% of that group. 
RECORD ONLINE DISCOUNTS THIS HOLIDAY SEASON EXPECTED TO DRIVE SPENDING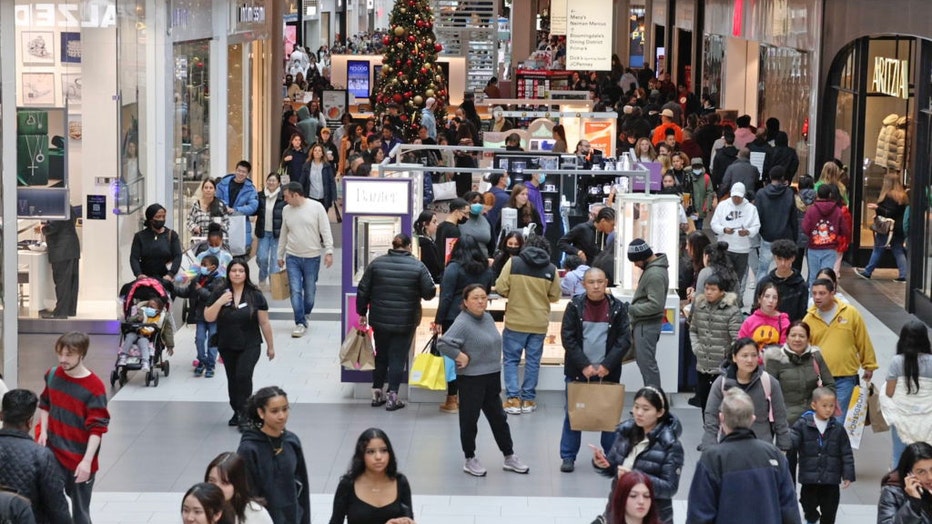 FILE-Holiday shoppers fill the Roosevelt Field Mall for Black Friday shopping on November 25, 2022, in Garden City, New York. (Photo by Howard Schnapp/Newsday RM via Getty Images)
That data stemmed from a survey that took place Sept. 1-23 and involved over 900 U.S. adults. 
"We often say that people vote with their wallets, that the way they choose to spend their money is a vote for what they want to see more of in the world," Shopify President Harley Finkelstein said in a statement. "We know it's a tough time financially for a lot of people right now. But the fact that they're still planning to shop at their favorite retailers to spend their tightened budgets on gifts for the people they love, from businesses they believe in — it's inspiring."
In August, inflation measured by the Consumer Price Index showed an increase of 0.6% month-over-month and 3.7% year-over-year, the Bureau of Labor Statistics said last month. The agency's latest round of monthly consumer inflation data is scheduled for release later this week.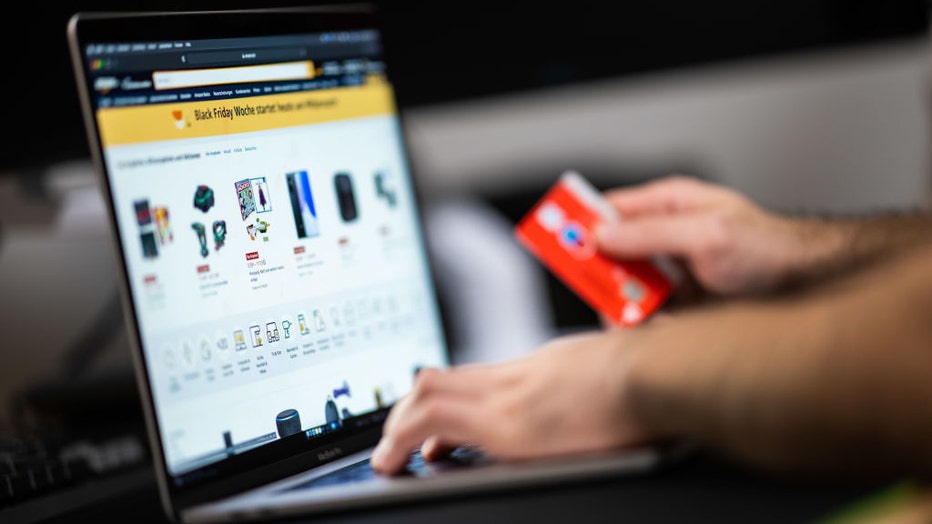 FILE-A man with a bank card in his hand sits at his laptop and looks at the Black Friday deals on Amazon's online shopping site. (Photo by Mohssen Assanimoghaddam/picture alliance via Getty Images)
According to the Shopify-Gallup survey, online shopping will serve as an extremely popular method of acquiring presents among holiday shoppers this year.
About 93% indicated they would make holiday gift purchases via online retailers to some extent, it found. Of those, 47% reported plans of getting "all" or "most" that way.
Separately, Adobe Analytics estimated the upcoming holiday season would see $221.8 billion worth of online shopping sales. 
The Shopify-Gallup survey also included findings regarding the holiday shopping timelines that consumers intended to follow this year.
For many holiday shoppers, they have November planned as the month they will hit stores in search of gifts for loved ones. The survey pegged the share with such intentions at 39%. 
Thanksgiving will fall on Nov. 23 this year, with Black Friday and Cyber Monday happening Nov. 24 and Nov. 27, respectively.
Meanwhile, slightly more — 41% — indicated their holiday spending on gifts had already begun or would do so before October ended, according to the Shopify-Gallup survey.
WALMART, KOHL'S KICK OFF 2023 HOLIDAY SALES
Retailers are offering holiday sales this month, with e-commerce giant Amazon holding the two-day Prime Big Deal Days sales event on Tuesday and Wednesday. Walmart and Kohl's also recently started their own offers for shoppers, FOX Business reported. 
The survey for the Shopify-Gallup Holiday Shopper Pulse was conducted from Sept. 1-14 and involved over 1,700 adult Americans. 
Daniella Genovese contributed to this report.