Strongest in series of winter storms to impact Eastern US with snow, rain from Texas to Northeast
It's a one, two, three bunch for parts of the country after an extended break from winter weather that caused many cities to report a deficit of snow, to the enjoyment of many. 
After a weekend of mostly light to occasionally moderate accumulations in the northern tier, the FOX Forecast Center is tracking the potential for a major storm system to spread snow from Texas through Maine, and on the system's southern end, the chance for heavy rain and severe weather.
Forecast models show moisture will start to gather over the Rockies and southern Plains Monday, but for many in Texas and Oklahoma, Tuesday appears to be the day that impacts will be most widely felt.
"A major dip in the jet stream allows that cold, Canadian air to plummet and push into areas of New Mexico, Texas. The reason why this is important is that instead of a coastal low emerging, it's going to be that interior low that continues, to be really enhanced. And so, it's going to bring widespread snow," FOX Weather meteorologist Steve Bender said.
Depending on where the freezing line sets up, some places could be in store for heavy snow where temperatures are cold enough.
NEW YORK CITY HAS LACKED SNOW SO FAR THIS WINTER, BUT LATE-SEASON STORMS CAN CRIPPLE THE BIG APPLE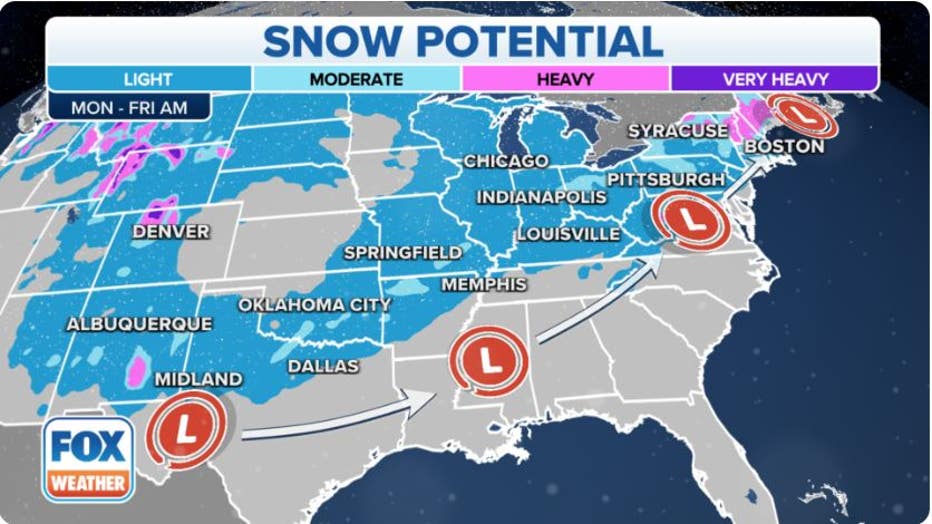 Tracking snow potential. (FOX Weather)
Amarillo, Texas, and Oklahoma City are two of the communities that forecast models show enough cold air to be in place for frozen precipitation and accumulating snow.
As the storm system progresses northeastward, snow will become dominant over parts of the middle Mississippi Valley and upper Ohio Valley by Wednesday.
Most accumulations are expected to remain light, but the FOX Forecast Center warns there will be a region that could stretch from Missouri through Illinois and into Indiana and Michigan, where snow could be rather modest and potentially impact travel.
Due to the trajectory of the system, large parts of the Southeast, Tennessee Valley and I-95 corridor will remain snow free but, due to abundant moisture, will receive precipitation in the liquid variety.
By later Wednesday and Thursday, the heart of the system is expected to be over the Northeast, where once again, inland regions could see several inches of snow, and big cities will see mostly rain as temperatures remain too warm for accumulating snowfall.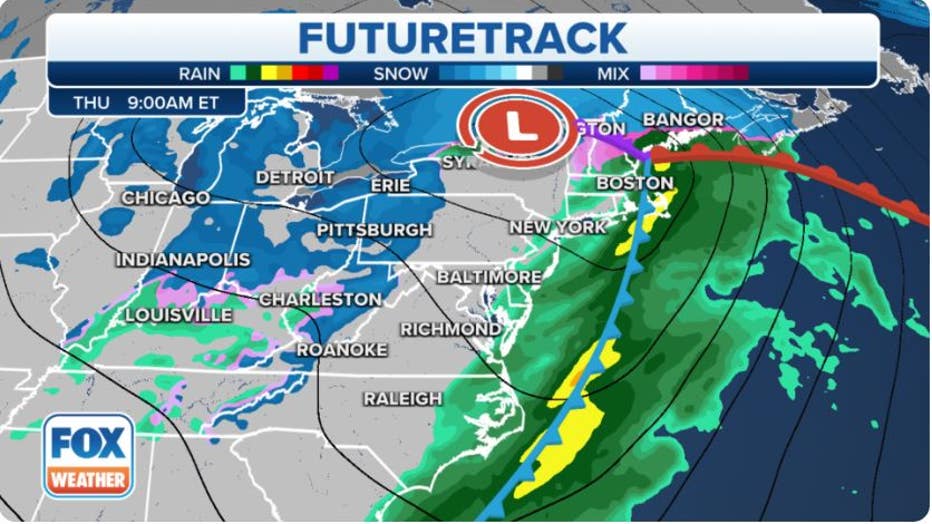 Thursday Northeast Forecast (FOX Weather)
Due to the timing of the event, exact snowfall amounts have yet to be ironed out, but locations from the Catskills through the White Mountains in New England appear to be in store heaviest snow that will likely have to be measured in feet, not inches.
WINTER RETURNS TO NORTHEAST RESORTS: SKIERS' REALLY EAGER' TO HIT THE SLOPES
Not all will see snow: Severe storms possible along Gulf Coast
The clash of air masses with the cold infiltrating further south than during previous weeks will help set the stage for what the FOX Forecast Center believes could be a severe weather outbreak focused along the Interstate 10 corridor.
Forecast models show the first chance of severe weather will be Tuesday, with hail, damaging winds and tornadoes possible.
The potential threat zone stretches from Louisiana into southern Georgia and the Florida Panhandle.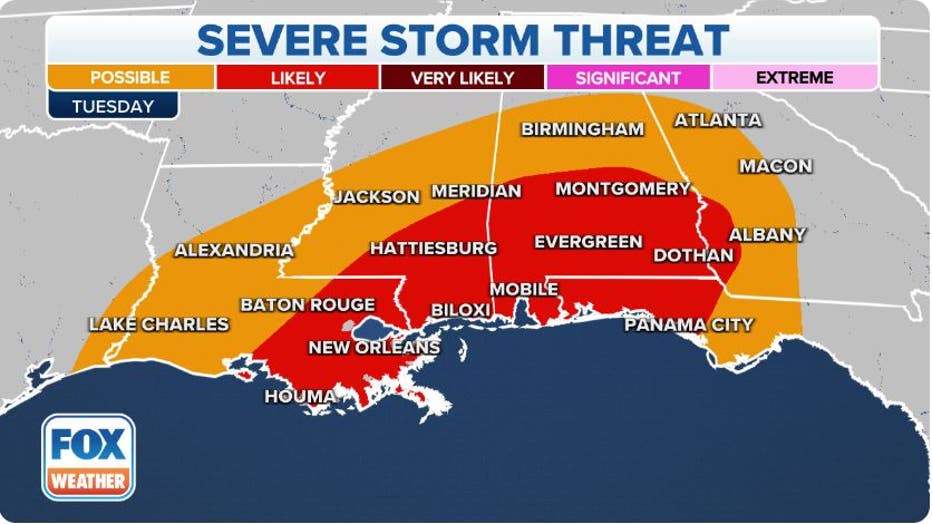 Due to an active pattern, several of these communities have already seen the threat of severe storms despite the year only being three weeks in.
"This weather pattern of severe weather has persisted. And yet again next week we track similar conditions in not only the severe weather that poses a threat for the recovery and the clean-up efforts but also the rain," said Fox Weather meteorologist Brigit Mahoney.
NIGHTTIME TORNADOES FAR MORE LIKELY TO TURN DEADLY THAN DAYTIME ONES
Any additional tornadoes that form during January would add to a busy streak that has the month already on track to break records. 
The Storm Prediction Center said it has received 138 initial reports of tornadoes during the first 20 days of 2023.
An additional wave of moisture may lead to further storm development on Wednesday for areas further east than in Tuesday's threat zone and could include the Carolinas, Georgia and the Florida Peninsula.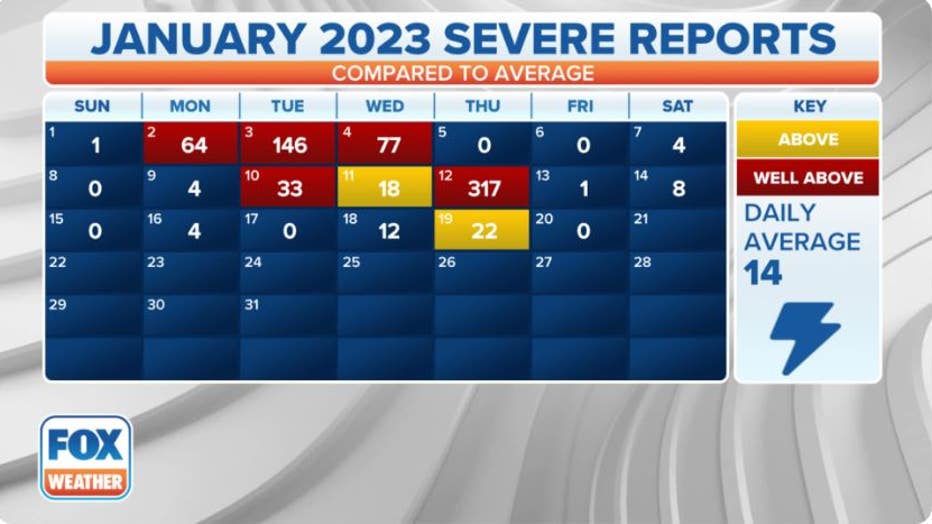 January severe weather reports (FOX Weather)
In the coming days, the FOX Forecast Center will narrow down the potential impacts on the East Coast and will be better suited to provide detailed snow and severe weather outlooks.