'Get certified': Stranger saves 10-day-old baby with CPR at Riverview restaurant
Editor's note: After this story aired on FOX 13's newscast Thursday night, the family of the good Samaritan contacted the news station. Both families have since connected through social media, and are planning on a reunion in the near future. 
RIVERVIEW, Fla. - Leanna Graham and Randy Pickford say they cannot wait to reconnect with the woman who saved their baby's life.
Back in October, they went out for a family dinner, then noticed something terribly wrong.
"We went out to Fred's Market on 301, our favorite restaurant," Graham described, "and she was just asleep in her car seat next to my husband. He looked over, and she was completely blue and pale."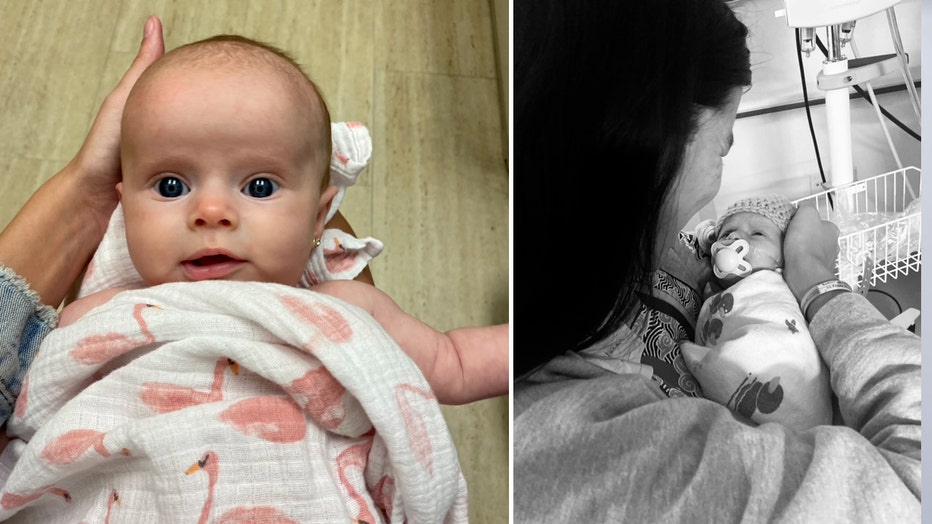 Photos provided by Leanna Graham
Their infant daughter, Scarlett, was not breathing. So, they called 911 and a woman near their table yelled out for a doctor or a nurse, but no one could help.
That's when the woman immediately jumped in to try to get their baby breathing again.
"She grabbed her from me," Graham recalled. "I had to be sat down because I was not OK, obviously. I look down, and my daughter was on the ground getting CPR by this lady. She started chest compressions and mouth-to-mouth."
This woman, who was a total stranger, successfully performed CPR on a 10-day-old infant and brought Scarlett back to consciousness before paramedics arrived at Fred's Market.
"I just keep thinking of that lady because if it wasn't for her, we wouldn't be having this story," said Graham.
Scarlett then went to the hospital and spent about a week in the NICU. Graham said all of Scarlett's tests came back normal, but it turned out she was born with some sort of bacterial infection or meningitis, which caused her to get sick so suddenly.
"If you're watching this, I would love for you to meet my daughter," Graham previously told FOX 13. "You mean so much to our family. I would love to reconnect with her, meet somewhere and take my daughter to go see her because she truly is an angel who saved my daughter. She really is."
Since this story aired, the woman identified herself as Kourtney Newby via her Facebook page. She shared the FOX 13 segment, reminding people to "get certified." Newby wrote that she connected with Graham.
"I found you! I am so, so happy to hear she is okay," Newby wrote on Graham's Facebook page. "You have no idea the amount of happy tears I have cried tonight. I will never forget this evening. Thank you so much for this. It seriously made my entire life."
Graham tells FOX 13 that his family and Newby are planning to meet up soon.