How warm will spring be? NOAA seasonal outlook shows who can pack up those winter coats
Pack up those winter coats. Spring is almost here.
For most of the country, those bulky jackets will become obsolete as temperatures warm in the next three months, especially in the South and East, according to NOAA's 2022-23 spring outlook released Thursday.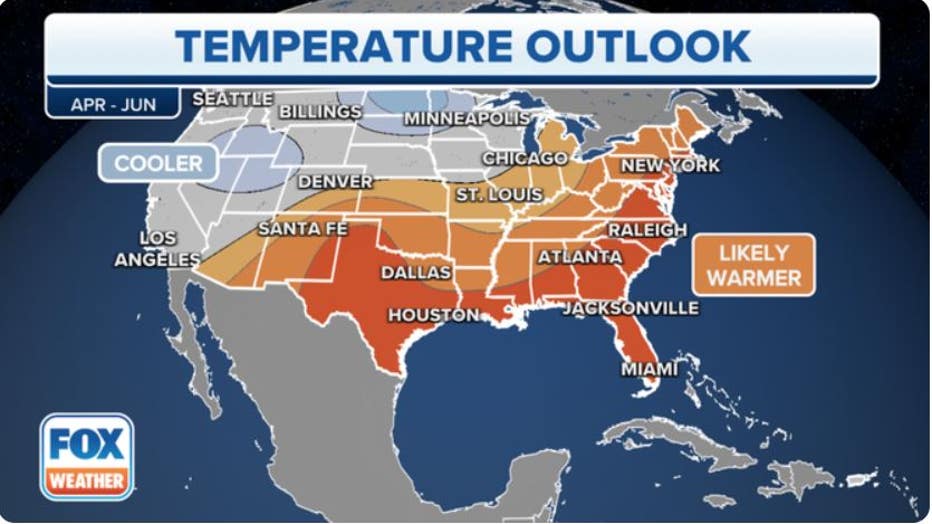 Here's a look at the April-May-June temperature outlook. (FOX Weather)
What's the temperature outlook for spring?
The April-May-June temperature outlook favors above-average seasonal temperatures for the north slope of Alaska, parts of the Southwest, southern Plains and Southeast and northward to include the Ohio Valley, mid-Atlantic and Northeast, NOAA's Climate Prediction Center (CPC) forecasts.
NOAA forecasters point to very dry soil moisture and above-average water temperatures near the coastal regions for enhancing the odds of a warmer-than-average spring along the Gulf and East coasts.
The forecast for the West, where it's been a very soggy winter for some, is challenging, with conflicting forces in play. Wet grounds and an above-average snowpack are competing with long-range forecast models suggesting an overall pattern conducive to warmer-than-average temperatures.
Those in the northern Plains and Great Basin will likely see below-average temperatures. There, abnormally deep snowpack is in place, helping keep temperatures cool, especially for the early part of spring. 
What's the precipitation outlook for spring?
While you pack up those snow boots, bring out the umbrellas and have them ready if you live in the northeastern half of the nation.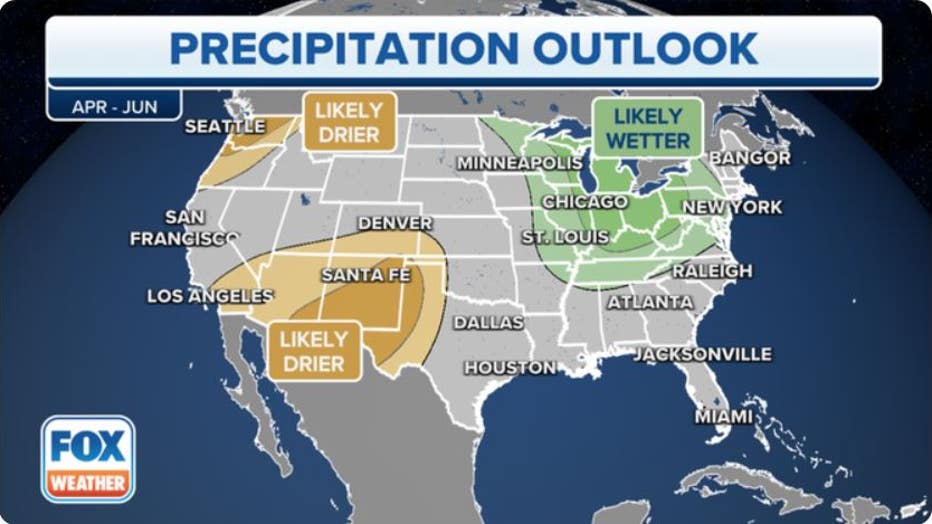 Here's a look at the April-May-June precipitation outlook. (FOX Weather)
Above-average seasonal precipitation is favored for portions of the Great Lakes, Ohio Valley, mid-Atlantic and Northeast, the CPC says.
While La Niña is over, there are still some residual cooling and wetting effects predicted for those areas early in the spring until its influence fades at the end of the season.
Below-average precipitation is most likely for parts of the Pacific Northwest and Southwest, the agency adds.
The remainder of the U.S., NOAA said, will fall into equal chances for below-, near- or above-average seasonal precipitation.
The abnormally wet winter, especially in California, will further improve drought across much of the western U.S. as the snowpack melts in the coming months, according to NOAA's spring outlook.
Winter precipitation, combined with recent storms, wiped out exceptional and extreme drought in California for the first time since 2020, and drought conditions are expected to further improve this spring, the agency adds.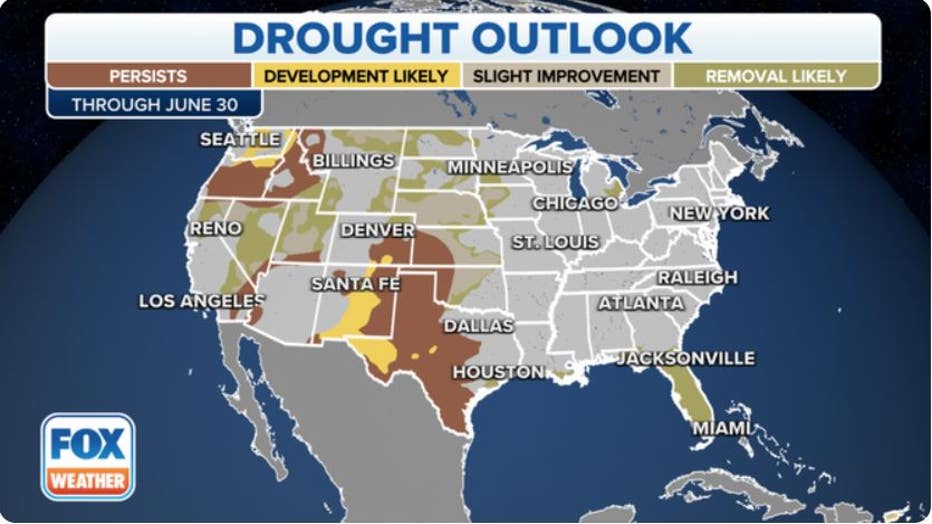 This map depicts where there is a greater than 50% chance of drought persistence, development or improvement through June 30, 2023. (FOX Weather)
Is there a spring flood risk?
There is a risk for flooding in most of the eastern half of the continental U.S., including most of the Mississippi River Basin, NOAA predicts.
Forecasters with the National Water Center, in concert with National Weather Service River Forecast Centers, predict moderate to major flooding along the Mississippi River from Minneapolis to St. Louis.
"Approximately 44% of the U.S. is at risk for flooding this spring," said Ed Clark, director of NOAA's National Water Center. "California's historic snowpack, coupled with spring rain, is heightening the potential for spring floods."
In addition, an above-average to record snowpack in the Sierra Nevada mountains, combined with elevated soil moisture, increases the threat of spring flooding due to snowmelt, especially at high elevations, NOAA said.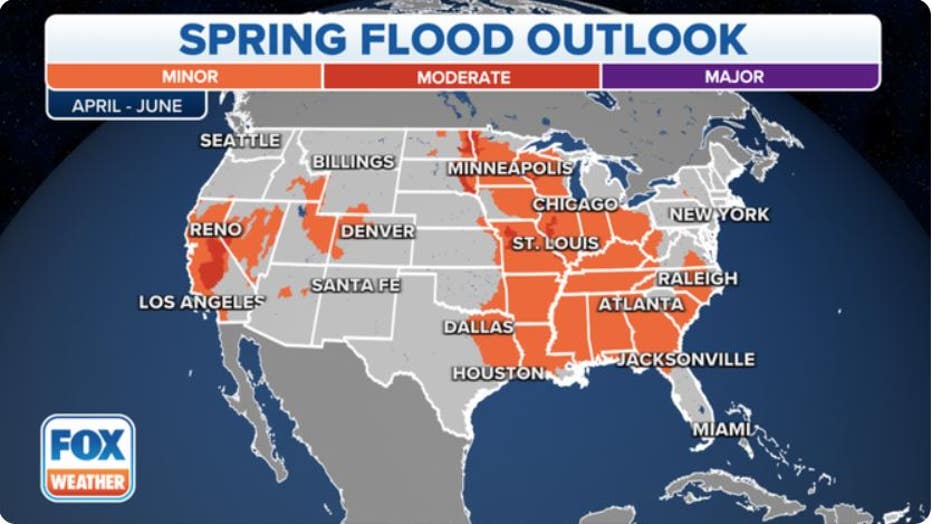 This map depicts the locations where there is a greater than 50% chance of minor to major flooding during March through May, 2023. (FOX Weather)
La Nina's influence finally fades
The new spring outlooks come as one of the most stubborn "Triple-Dip" La Niña periods in recent history is finally over, NOAA declared earlier this month.
The climate phenomenon is a by-product of a years-long cycle of water temperatures in the tropical Pacific Ocean known as the El Niño-Southern Oscillation (ENSO) and has been in its cool phase for the past three winters – a rare feat for an event that typically lasts for one winter, maybe two.
END OF TRIPLE-DIP LA NINA: WHAT IT COULD MEAN FOR SPRING SEVERE WEATHER SEASON
Forecasters now say we've entered the "neutral" phase of the cycle, where tropical Pacific Ocean temperatures are within a half degree of the long-term average and the cycle's influence fades. Neutral conditions are favored to continue through the spring and early-summer months, NOAA said. 
Thereafter, an El Niño is the most likely phase from late summer into the autumn months. Look for forecasts of drier, milder winters in the north and wetter winters in the South if typical El Niño conditions arrive this winter.
Seasonal outlooks: Hit or miss?
NOAA produces seasonal outlooks to help the nation prepare for likely weather and climate patterns during the next few months to help minimize negative impacts on lives and livelihoods. But just how on-target are these seasonal outlooks?
Since 1995, many of the seasonal temperature outlooks have ranged between zero and 40 on the Heidke Skill Score (HSS) – a score of 100 means the outlook was perfect. Only three times has the HSS come in at 80 or above, depicting nearly pinpoint accuracy.