Sport balloon crashed into North Texas power line while avoiding gunfire, pilot says
DALLAS - One of the pilots in the sport balloon that caught fire Monday night says someone was shooting at them moments before they made an emergency landing.
The lead pilot, Krzystotf Zapart, sustained cuts and burns on his legs and arms. Pjotr Halas is being treated for more serious burns and broken bones in his legs and midsection.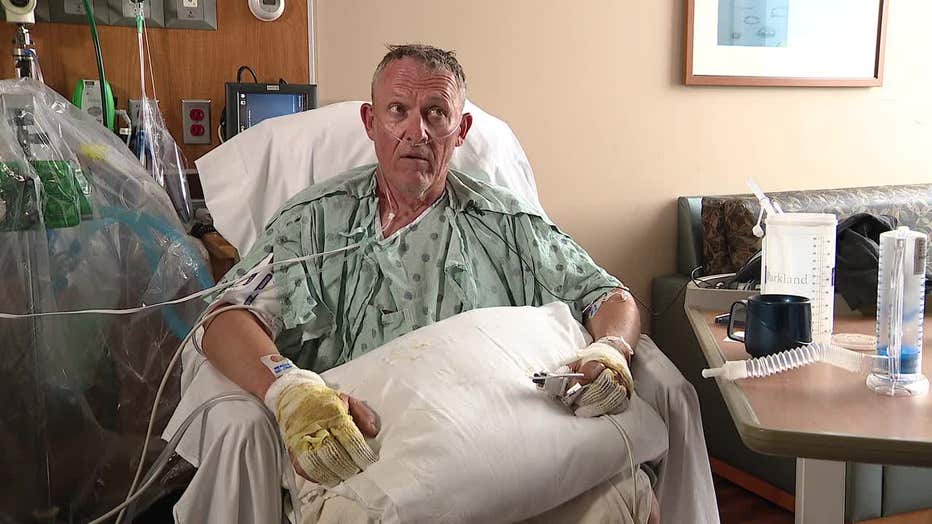 Zapart says it was gunfire, not mechanical failure, that brought his adventure in a multi-state balloon race to an abrupt end.
He is a pilot for the Polish national team in the prestigious Gordon Bennett Gas Balloon Race that launched Saturday in New Mexico.
Zapart and his co-pilot, Pjotr Halas, were flying over Kaufman County when he says they had to think fast. 
"We heard more and more automatic guns," Zapart said. "It was not one shot. It was, 'Do, do, do, do, do, do!'"
They immediately realized their sport balloon could be mistaken for something else.
"I know that all people in, not all people, most people in the West thinking about Chinese spy balloons. I think it is a big problem for us," Zapart said.
Zapart said they decided to land to avoid getting shot.
"We're going down down, down, watching about for a place for landing," Zapart said.
That's when they saw an electrical substation and tried to avoid it.
But after the basket touched down, the gas balloon hit the powerlines. 
"I watched sparks of the balloon inside the balloon exploding at this time," Zapart said.
Zapart says he was in a daze with burns to his hands and an injury to his ribcage. 
"I don't remember where Pjotr is in this time," Zapart said.
Fortunately, Dallas ISD English teacher Israel Alfaro and two others saw the landing and rushed to help pull Halas to safety.
Moments after Alfaro got Halas out, there was an explosion. 
On Tuesday, Alfaro also got to meet Halas, who is still in the ICU. 
"It was relieving being able to see him in much better condition than the night of the accident," Alfaro said. "We thank God we were able to help him out. And there at the right time. 
A Parkland spokeswoman says Halas' condition has been upgraded from critical to serious. 
A spokeswoman for the NTSB said it is investigating what happened and looking for any video from witnesses. 
The Crandall police chief said FOX 4's call was the first they had heard about gunfire at the time.