Some Trump supporters gather outside Manhattan court in protest of case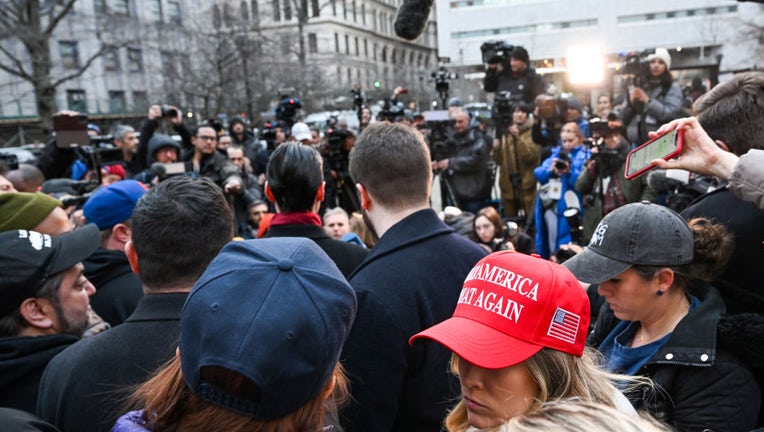 article
NEW YORK - Robert Costello on Monday testified before a Manhattan grand jury that is deciding whether to indict Donald Trump, as some supporters of the former president gathered outside the courthouse to protest the case. 
Costello once served as a legal advisor for Trump's longtime personal lawyer and fixer, Michael Cohen. That is, until they had a falling out. 
Cohen previously pleaded guilty in connection with hush money payments made to porn actress Stormy Daniels and a model, which he says were directed by Trump.
Cohen testified before the grand jury twice last week.  Costello said Cohen is an unreliable witness because he is a liar.  
"He went to jail, and now he's on the revenge tour," Costello said Monday. "That's why I went in there today, to tell these people who the real Michael Cohen is."
In the final days of the 2016 presidential campaign, Cohen paid Daniels $130,000 to stay quiet about her alleged affair with Trump. The Trump Organization later reimbursed Cohen, logging the money as "legal expenses." Falsifying business records is illegal.
RELATED: Will Donald Trump take a mugshot if he's indicted?
The New York Police Department and Secret Service are coordinating security in the event that Trump is indicted and arrested. Metal barriers have already been placed around the courthouse. 
"We're monitoring comments on social media and the NYPD is doing their normal role of making sure that they are, there's no inappropriate actions in the city, and we're confident we're going to be able to do that," New York City Mayor Eric Adams said.
Meanwhile, about two dozen Trump supporters gathered outside court in Lower Manhattan on Monday evening to protest the case brought by District Attorney Alvin Bragg.  
"We need Alvin Bragg to get back to doing his job. Drop the witch hunt on Donald Trump," said Vish Burra, a member of the New York Young Republicans Club.
Patrick Foley and his family happened to be visiting New York from Los Angeles and wanted to stop by and show support for Trump.  
"I do think there's, it's mostly a political persecution," Foley told FOX 5 New York. "I think they're trying to get him any possible way they can."
Stephanie Lu from Astoria, Queens added: "If he's arrested tomorrow, then he's going to win in 2024."
RELATED: Here is the status of the Donald Trump investigations