Here is the status of the Donald Trump investigations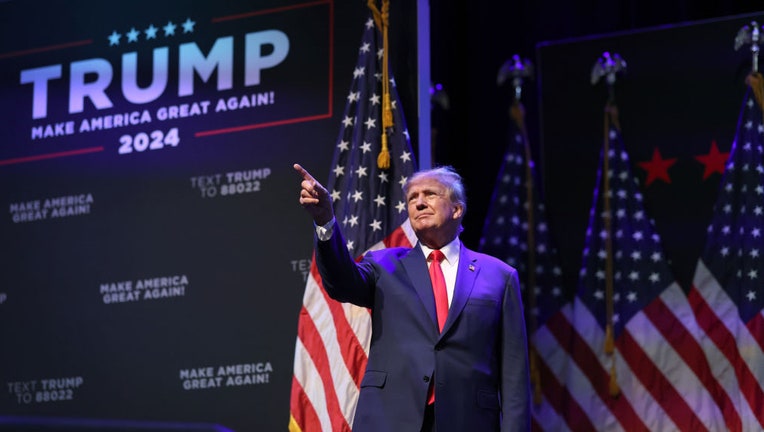 article
An ongoing investigation into former President Donald Trump's alleged hush money payment to an ex-porn actress is his latest legal trouble as he prepares his presidential campaign for a White House run in 2024. 
Trump is currently under investigation to determine if he paid Stormy Daniels, a former porn actress, to keep quiet about a sexual affair she claimed she had with Trump before he ran for president in 2016. 
Lawyer Robert Costello arrived in court Monday afternoon after being invited to appear before the grand jury in New York, the Associated Press noted. 
RELATED: Stormy Daniels meets with prosecutors investigating Donald Trump
Costello was asked to appear by the Manhattan district attorney's office after he said he had information raising questions about the credibility of former Trump lawyer Michael Cohen, a key witness in the investigation.
Costello's testimony came after Trump declared in a social media post over the weekend that he expects to be taken into custody on Tuesday and urged supporters to protest his possible arrest. However, there has been no public announcement of any time frame for the grand jury's secret work, the Associated Press reported. 
Cohen pleaded guilty in connection with the payments to Daniels and model Karen McDougal, which he said were directed by Trump. 
RELATED: Trump says 'illegal leaks' indicate he'll be arrested Tuesday, calls for protest
Prosecutors invited Trump to testify before the grand jury – another sign that phase of the probe is winding down. According to the Associated Press, inviting the subject of an investigation to appear before a grand jury is typically one of the last steps before a possible indictment. 
The former commander-in-chief has the right to testify under New York law, though legal experts say he's unlikely to do that because it wouldn't benefit his defense and he'd have to give up immunity that's automatically granted to grand jury witnesses under state law, the Associated Press noted. 
What about other Trump investigations?
The New York probe is among many legal problems Trump is facing.
The Justice Department is investigating his retention of top secret government documents at his Florida estate, Mar-a-Lago, after leaving the White House, as well as possible efforts to obstruct that probe, according to the Associated Press. 
Federal investigators are still probing the Jan. 6, 2021, insurrection and efforts to overturn the presidential election Trump falsely claimed was stolen.
Portions of a report from a special grand jury in Georgia that investigated whether Trump and his allies illegally interfered in the 2020 election in Georgia shows jurors believed "one or more witnesses" committed perjury and urged local prosecutors to bring charges. The former president never testified, but the report didn't foreclose the possibility of other charges.
Has a former president ever been charged with a crime?
No former U.S. president has ever been charged with a crime. Citing the Washington Post, Poynter, a journalism and research non-profit, notes that in cases when probes found evidence suggesting a president was involved in criminal conduct, as with Richard M. Nixon and Bill Clinton, authorities decided not to pursue such cases — in part to avoid appearing to use government power to punish political figures and to ensure the tradition of a peaceful transfer of power.
According to Poynter, the DOJ adopted a policy in 2000 against indicting a sitting president. This policy protects presidents while they are in office so they can fulfill their constitutional duties. But it's a tradition, not a law or policy, that's prevented former presidents from being indicted in the past 240 years.
The Associated Press contributed to this report.  This story was reported from Washington, D.C.