Nearly 1 in 4 Americans would support political violence if necessary, survey finds
WASHINGTON - The 2024 election appears to be headed toward a rematch of the 2020 election, which ended with violence at the U.S. Capitol and charges against the former president after thousands of people refused to accept the legitimate results. 
With politics in the U.S. influenced in part by the circulation of misinformation, a new survey sheds light on the feelings of many ahead of the next important election. 
A survey published on Oct. 25 by the Public Religion Research Institute (PRRI), a nonprofit research organization, found that most Americans believe democracy is at "risk" in the upcoming election, as some polled state they would support political violence if necessary.  The PRRI conducted the poll in partnership with the Brookings Institution.
The survey noted that 75% of Americans polled stated they agree that "the future of American democracy is at risk in the 2024 presidential election." A larger majority of Democrats (84%) agree that the future of American democracy is at risk compared to 77% of Republicans and 73% of independents who also agree with this view.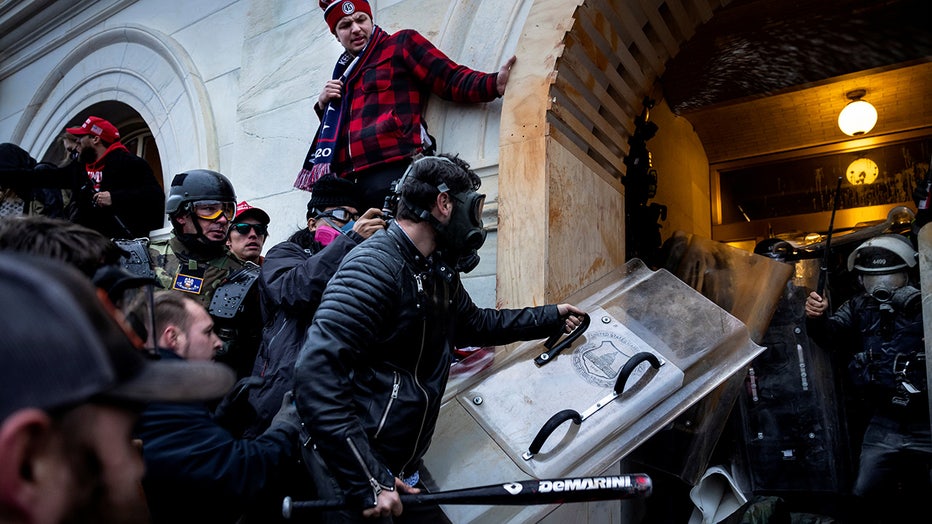 Trump supporters clash with police and security forces as people try to storm the US Capitol on January 6, 2021 in Washington, DC. (Photo by Brent Stirton/Getty Images)
PREVIOUS: Proud Boys' Enrique Tarrio gets record 22 years in prison for Jan. 6 seditious conspiracy
Yet, a troubling sentiment revealed in the poll found that 23% of people support political violence, with respondents agreeing with the poll's phrasing that, "things have gotten so far off track, true American patriots may have to resort to violence in order to save our country." The PRRI noted that this response is up from 15% in 2021.
According to PRRI, individuals were asked this question in past surveys since March 2021, and the research group shared that this is the first time that people advocating for political violence exceeded 20% in their poll results. 
When members of political parties were asked their thoughts on supporting political violence, one third of Republicans (33%) favor it, compared with 22% of independents and 13% of Democrats with the same response. 
Separately, the survey found that Republicans with a favorable view of Donald Trump were almost three times as likely (41%) as Republicans with unfavorable views (16%) of the former president to advocate for political violence. 
RELATED: Poll shows half of young Americans not excited about voting in 2024 election
Despite some views on the nation and democracy, a majority of respondents (61%) polled said they will vote in the 2024 presidential election, while 11% responded they will probably vote, or the chances are 50-50 compared to five percent of people who say there's less than a 50-50 chance they will vote, and 13% who say they definitely don't plan to vote, according to the survey.
This story was reported from Washington, D.C.