Snow causes major travel disruptions in France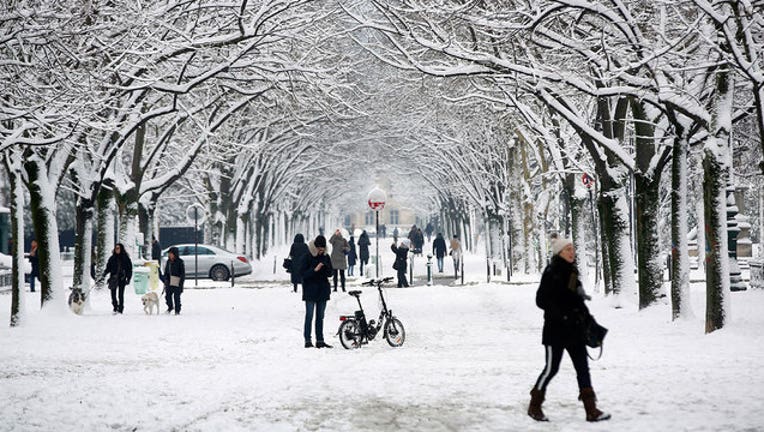 article
PARIS (AP) - Heavy snowfall is causing major travel disruptions in the northern half of France and in Paris after the weather conditions caught authorities off guard.
Hundreds of people spent the night trapped in their vehicles or in improvised shelters outside Paris after French authorities failed to clear roads on time. The snowy episode - up to 15 centimeters (6 inches) in the Paris region - brought some excitement to Parisians, though, with some putting on their skis to tackle the Montmartre slopes, where the Sacre Coeur basilica is located.
Several flights from Paris airports were canceled or delayed, while the Paris police prefecture urged drivers to leave their cars at home to avoid creating more traffic jams on Wednesday. On subway services in Paris, commuters faced long journeys in packed carriages.
In Velizy, a small town in the suburbs of Paris, about 200 people unable to make it back home were put up for the night in a commercial mall and a sports hall. Some 1,500 others slept in 46 reception shelters opened in the French capital.
In anticipation of the cold, the "Grand Froid" plan - which translates as "Big Cold" - had been launched earlier this week in 22 departments in order to create about 1,000 extra housing places for homeless people.
Despite the huge traffic jams, Paris police chief Michel Delpuech praised the measures put in place, especially the decision to prevent trucks from entering the Paris region that was enforced Tuesday afternoon.
Delpuech said 3,790 trucks were stopped, a move that contributed to decongesting roads. He added that only 47 people were injured across the region, and that no fatal car crash had been recorded.
"A total of 73 salting vehicles treated 700 kilometers of roads," Delpuech said, adding that the ban on trucks was lifted Wednesday to guarantee they could deliver their stocks.
Transport minister Elisabeth Borne noted some improvement but said the traffic remained "difficult," adding that gritting teams would continue to hit the roads as a cold wave is expected to sweep the country in the coming days.
Rail traffic was slowed down, too. France's national operator SNCF reduced the speed of its high-speed TGV trains because of the snow, and advised customers to postpone their trips.
Ten French departments remained on orange alert over the dangerous weather conditions and ice on the roads by Wednesday afternoon, and school buses in several regions were halted.