2 students, guard shot outside Brooklyn school
NEW YORK - Two students and a security guard were shot outside a charter school in Brooklyn on Wednesday afternoon.
It happened just after 2 p.m. at Williamsburg Charter High School on Varet St. in the East Williamsburg section.
About 15 students from the school got into a fight a short distance from the school.  One of them pulled out a gun and started shooting.
A 17-year-old boy was shot in the leg.  A 15-year-old girl was shot in the leg.  The security guard was grazed in the neck by a bullet.
The conditions of the victims were not immediately available but they were all expected to survive.
The gunman got away and has not been arrested.
The NYPD had blocked off an intersection as part of the investigation.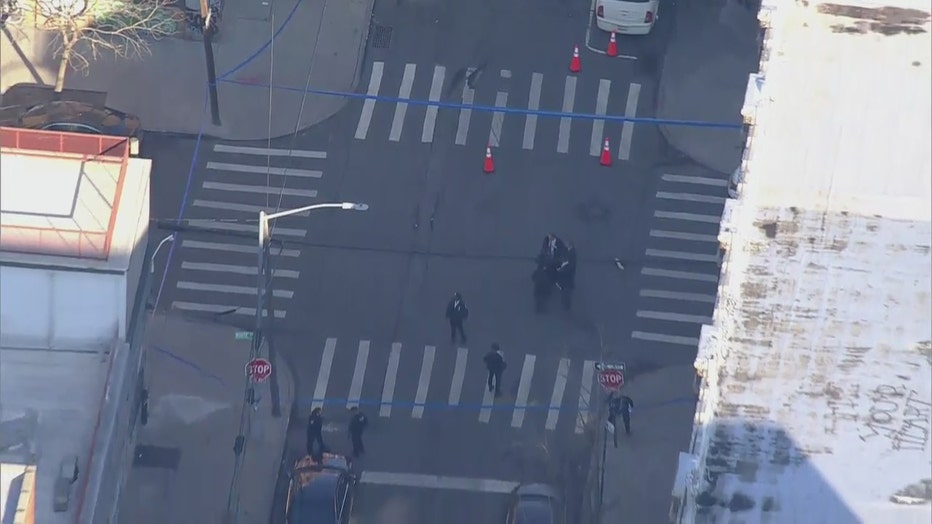 The NYPD was investigating a shooting in the East Williamsburg section of Brooklyn.
It was just on Monday that 2 students at another school in Williamsburg were shot near school grounds.  They survived.
Mona Davids is with the New York City School Safety Coalition.
"Right now in New York City when you send your child to school you don't know if your child is coming home,"    Davids says.
She says they have been begging Mayor Adams for more than a year to assign police officers to problem schools at dismissal which is when many of the assaults and shootings occur.  
"He's not responding to our pleas," Davids says.
The mayor's office tells FOX 5 News that it is not up to the mayor but it's the NYPD's responsibility how and where to deploy officers.
The NYPD tells FOX 5 News that the number of offices in the vicinity of the shooting incident has been increased.