Sergio Brown case: Court docs reveal new details in murder of ex-NFL player's mom
CHICAGO - Ex-NFL player Sergio Brown appeared in court for a detention hearing Wednesday after being charged with his mom's death in early October. 
Brown, 35, was accused of murdering his 73-year-old mother Myrtle Simmons-Brown after her body was found in the backyard of their shared home in Maywood wrapped in a sheet. 
Prosecutors revealed new details about the days leading up to Brown's disappearance and his mother's murder. 
Simmons-Brown was last seen alive around 6 p.m. on Sept. 14 at her home located at 1125 Nichols Lane. One of the victim's sons stopped receiving messages from the victim and began to worry. Her son last spoke to her at 3 p.m. that day.
Simmons-Brown's son did not hear from the victim the next two days. On Sept. 16, he went to the home that Brown and the victim share alone and no one appeared to be home. 
The son returned later that day and met police there. Officers found blood on the back patio, according to prosecutors. The victim and the offender were then reported missing.
As people searched the area, a former neighbor found Simmons-Brown approximately 100–150 feet from her own back door.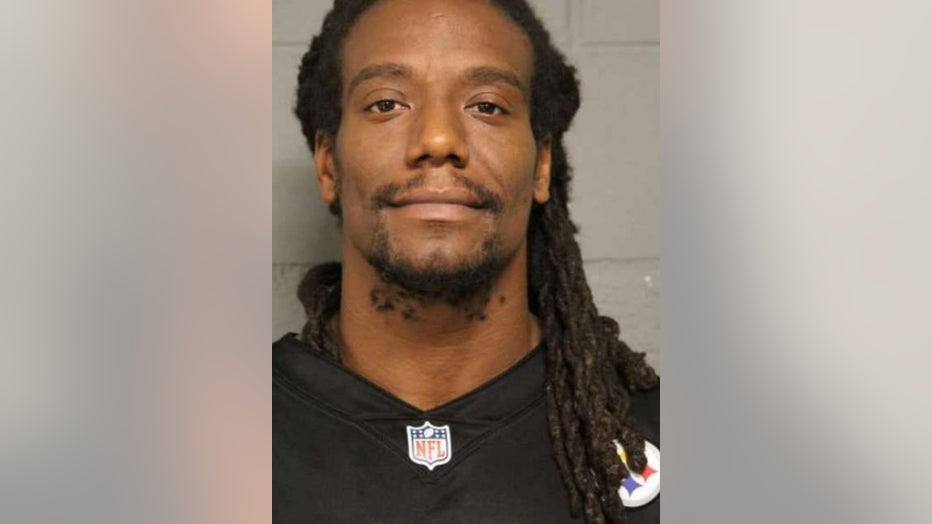 Sergio Brown | Maywood PD
Prosecutors say her cause of death was blunt force trauma. 
As police searched the property they found cleaning product with bleach in the bathtub drain. The victim's iPad, credit cards and phone were all missing, but her cigarettes were left behind, according to court documents. 
Cameras in the area caught Brown burning fabric in a fire pit the night of Sept. 14. Burnt fabric was recovered from the pit by law enforcement. 
Prosecutors say the offender and victim's phones pinged together Sept. 14 and 15, before they stopped pinging all together. 
Court documents reveal that Brown booked a one-way ticket to Cancun, Mexico on Sept. 15 at 3 a.m. An Uber driver took him to the airport that morning, and he flew out of Chicago early. 
Brown was detained on Oct. 7 in Mexico City. US Customs and Border Patrol out of San Diego found the victim's cell phone, iPad, and numerous credit and bank cards in victim's name from a bag that the offender was carrying.
Bank records obtained with several search warrants showed two Airbnb reservations made on Simmons-Brown's Capital One Venture card. One was booked for Sept. 21 for $1,797 and another for Oct. 6 for $1,205. 
Prosecutors say DNA from a toothbrush found in the offender's bedroom is a possible match to DNA found under the victim's finger nails. 
Brown was arrested in San Diego on Oct. 10 after being deported from Mexico. He was then extradited to Maywood on Oct 24. He admitted going to Mexico with the victim's belongings. 
At his detention hearing Wednesday morning, Brown was ordered to remain in custody at least until his next court appearance on Nov. 22.