Staff from all 3 Rutgers University campuses on strike
NEW BRUNSWICK, NJ - Around 9,000 members of Rutgers University's faculty are on strike for the first time in history, impacting over 67,000 students across all three campuses in New Brunswick, Camden and Newark.
A mediator was brought in over the weekend to help with negotiations and any remaining issues that were still trying to be worked out, but that was unsuccessful.
All three striking unions have reportedly been working under the terms of a contract that expired last July.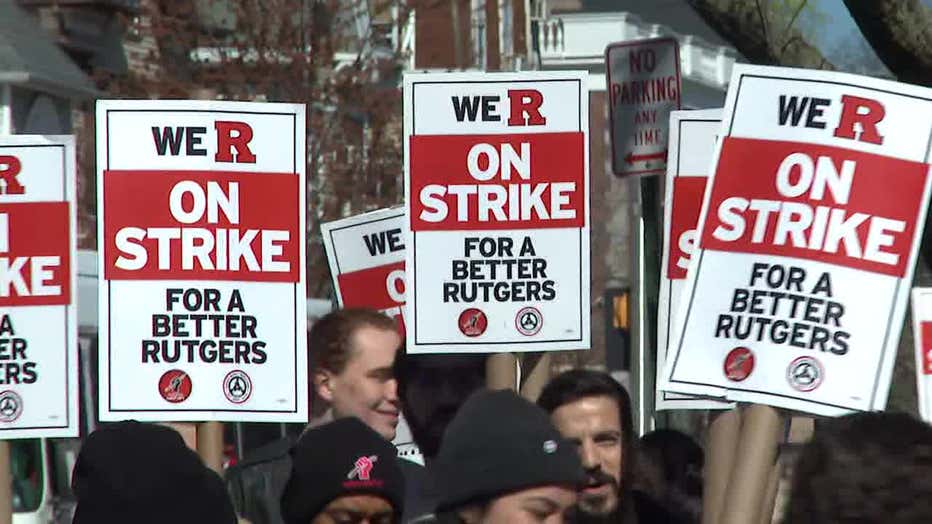 Staff from all 3 Rutgers University campuses in New Brunswick, Camden and Newark are on strike as of Monday.
The union represents 9,000 workers that include full-time faculty, adjunct professors, graduate student workers, part-time lecturers and counselors. 
According to the university, they have been working to resolve issues around compensation, benefits and other terms and conditions of employment. 
In a statement, Gov. Phil Murphy said on Twitter, in part, "Rutgers University is one of the nation's premier institutions of higher learning. I am calling the University and union bargaining committees to meet in my office tomorrow to have a productive dialogue."
University President Jonathan Holloway expressed deep disappointment in the decision and released a statement Sunday that reads, in part, "For the past several weeks, negotiations have been constant and continuous. Significant and substantial progress has been made, as I have noted, and I believe that there are only a few outstanding issues. We will, of course, negotiate for as long as it takes."
Classes were expected to proceed as normal Monday, and campuses were to remain open, according to their website.
The university's AAUP-AFT Academic Worker Union posted about the strike on Twitter, saying it's the first time in the university's history all three unions joined together for a strike. The strike would be the first faculty strike in the school's 257-year history.