Rosalynn and Jimmy Carter: 'Reconciliation, communication' led to 77-year marriage
Former President Jimmy Carter once said there were only two secrets to a long and happy marriage.
"First of all, choose the right person to marry," Carter said in 2021, the year he and wife Rosalynn celebrated 75 years of marriage.
"And every night, we try to make sure we're completely reconciled from all the arguments during the day."
Rosalynn Carter died Sunday in her hometown of Plains, Georgia, after entering hospice care earlier this week. She was 96. 
READ MORE: Former First Lady Rosalynn Carter dies at 96
Jimmy Carter, 99, has been receiving hospice care at their home since February. He and Rosalynn were married for 77 years, the longest-married presidential couple in American history.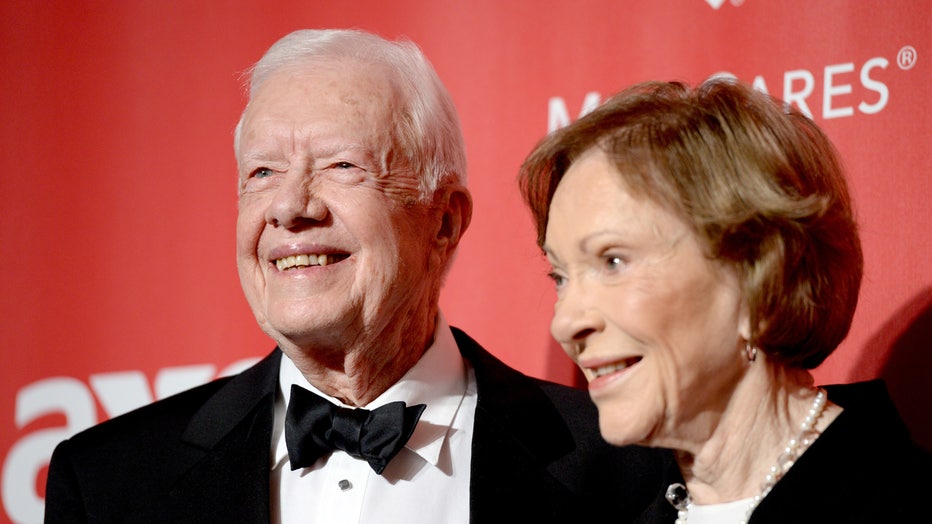 Former U.S. President Jimmy Carter (L) and former First Lady Rosalynn Carter at the Los Angeles Convention Center on February 6, 2015 in Los Angeles, California. (Photo by Michael Kovac/WireImage)
The 39th president often said that the most important decision he ever made wasn't as head of state, commander in chief or even executive officer of a nuclear submarine in the early years of the Cold War.
Rather, it was falling for Eleanor Rosalynn Smith in 1945 and marrying her the following summer.
How did Jimmy and Rosalynn Carter meet?
The two met in their hometown of Plains, Georgia when Jimmy Carter, at the time a young midshipman, was home from the U.S. Navy Academy. His younger sister set him up on a date with Rosalynn, a family friend who already had a crush on the future Georgia governor and U.S. president.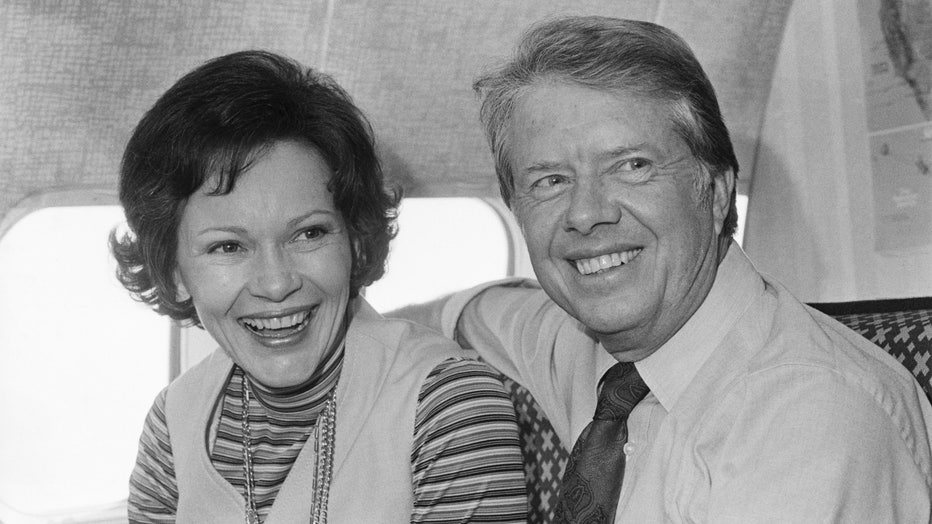 Jimmy Carter, Democratic presidential candidate, and his wife, Rosalynn, share a moment aboard his campaign plane (Getty Images)
Before she met Jimmy, Rosalynn didn't care for dating young men while growing up and never thought she'd get married.
"I didn't know how to talk to them, I didn't want to go out with them," she recalled. Rosalynn said she used to urge her mother to tell suiters calling on the phone that she wasn't around.
"And then, along came Jimmy Carter and my life has been an adventure ever since," she said.
When did Jimmy and Rosalynn Carter get married?
The couple married on July 7, 1946, in Plains, a town of fewer than 1,000 residents.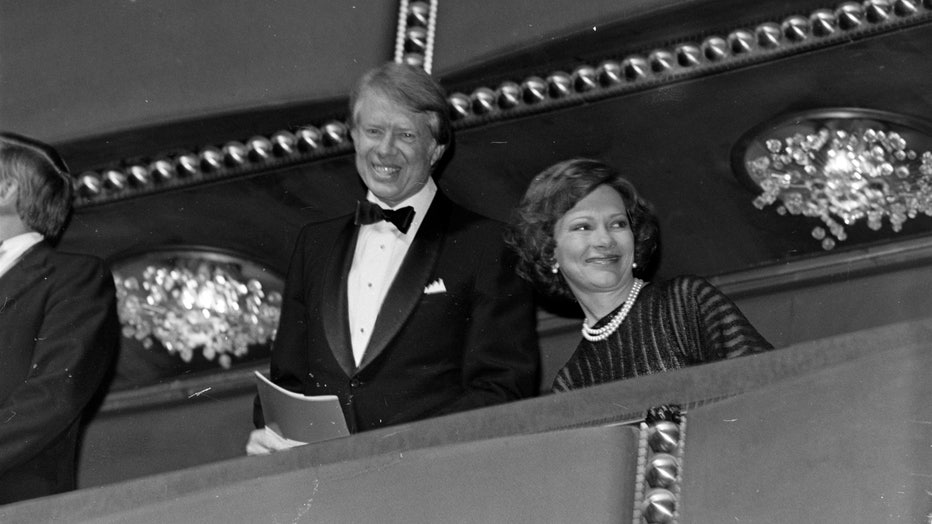 Jimmy Carter and Rosalynn Carter attend an event at the White House, in the Georgetown neighborhood, and at the Kennedy Center, all in Washington, D.C., on November 17, 1977. (Photo by Guy DeLort/WWD/Penske Media via Getty Images)
They had their first child, Jack, within a year of their marriage, and would eventually have three more children: Donnel, James and Amy.
READ MORE: US at risk of 'losing our precious democracy,' Jimmy Carter says in op-ed
"It's a full partnership," Jimmy Carter told The Associated Press before he and Rosalynn celebrated their 75th wedding anniversary in 2021.
What was the secret to their success? 
The couple acknowledged that the marriage wasn't seamless, but "reconciliation, communication" and their devotion to faith kept them going for nearly 80 years.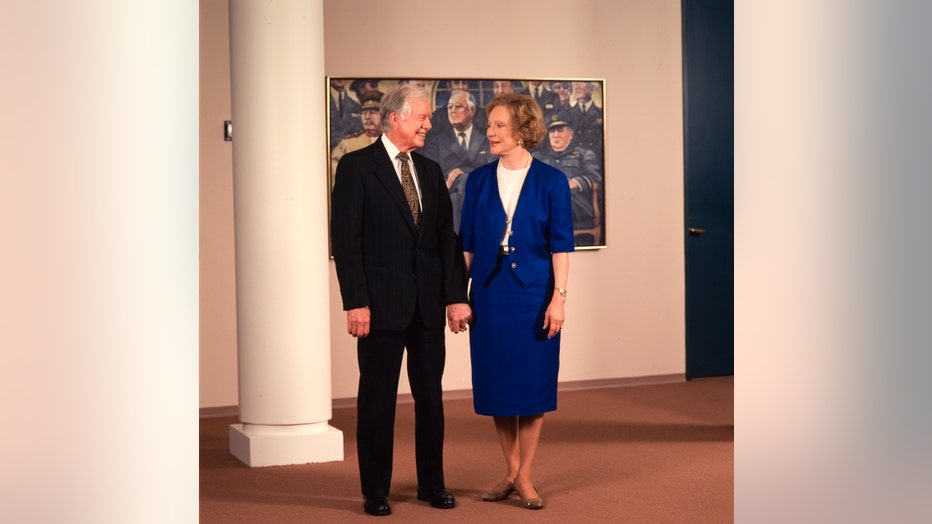 Former US President Jimmy Carter and former First Lady Rosalynn Carter attend an unspecified event at the Jimmy Carter Presidential Library & Museum, Atlanta, Georgia, 1996. (Photo by Diana Walker/Getty Images)
"We developed a partnership when we were working in the farm supply business, and it continued when Jimmy got involved in politics," Rosalynn Carter told AP. "I knew more on paper about the business than he did. He would take my advice about things," she added, drawing a laugh and affirmation from her husband.
In 2021, Rosalynn Carter noted the importance of finding common interests, but with a caveat: "Each (person) should have some space. That's really important."
READ MORE: Jimmy Carter, trounced in 1980, gets fresh look from history
As first lady, Rosalynn Carter carved her own identity even as she supported her husband. She went to work in her own East Wing office, setting a standard for first ladies by working alongside her husband's West Wing aides on key legislation, especially dealing with health care and mental health. She continued that focus as the couple built the Carter Center in Atlanta after their White House years.
Jimmy Carter was an outspoken voice for women's rights, including within Christianity. Carter left the Southern Baptist Convention in 2006, denouncing what he called "rigid" views that "subjugated" women in the church and in their own marriages.
FOX 5 Atlanta and The Associated Press contributed to this report.