Company gets creative, rents helicopters for employees to avoid traffic delays
RAINIER, Ore. - An Oregon business had to get creative this week to get their employees to and from work without sitting in hours-long traffic, thanks to a major bridge closure expected to last more than a week.
Rightline Equipment in Rainier has more than 300 workers who make forklift attachments for companies like Nissan and Caterpillar, KPTV reports.
READ MORE: Oregon murders: Deaths of 4 women over 3 months are linked, authorities now say
At least half of their employees commute to work from Longview, Washington, a town right across the Lewis and Clark Bridge. But this week, the bridge is closed to cars for repairs – adding about 100 miles to what's normally a 15-20 minute commute. The bridge connects two major industrial areas – and it's a primary route for people traveling to the Oregon Coast.
"The first thought was deciding if we stay open," Sean Atkins, the HR manager at Rightline Equipment, said. "If you do stay open, what's the best way of transportation? Do you go by boat? Do you bus people around? Do you shut down for the week?
READ MORE: Remote work could wipe out $800B from office building value by 2030
"Depending on what time they come to work and leave to work, it's anywhere from three to four hours to get here," Atkins said.
So one of the bosses had a "crazy" idea – and it's working. Rightline Equipment has rented helicopters for the week, taking workers from a nearby airport directly to the Rightline property.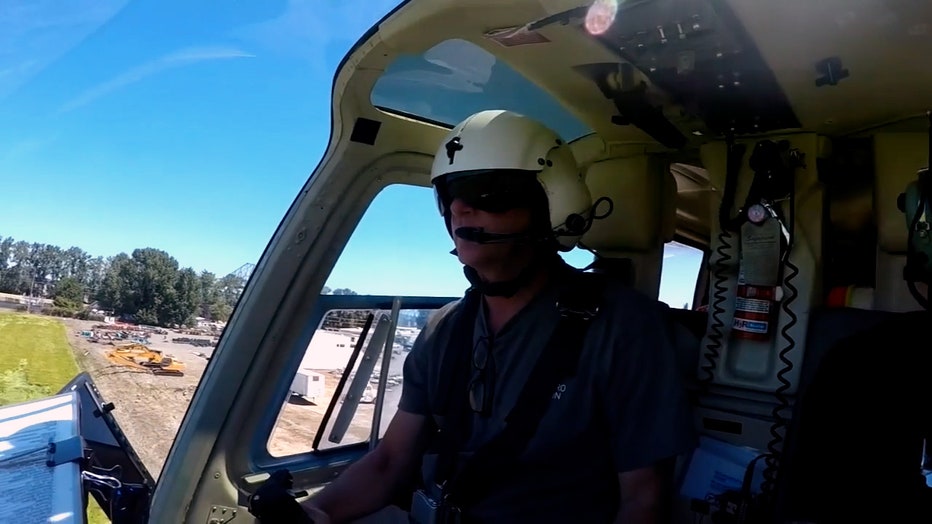 Helicopter pilot flies employees to and from work (KPTV)
Atkins said it's important to take care of their employees – and maybe give them a chance to do something they wouldn't normally get to experience. It also keeps the company's production schedule on track.
"We have to do it all ourselves so if we're not here doing it, it's just not happening," he said.