Resident doctors at Elmhurst Hospital reach tentative deal after 3-day strike
QUEENS - Resident physicians who went on strike at Elmhurst Hospital Center have reached a tentative deal on the third day of their walkout and will return to work, their union announced Wednesday.
The strike by about 160 residents that began Monday was New York City's first strike by doctors since 1990, according to the Committee of Interns and Residents local of the Service Employees International Union, their union.
Although they work at Elmhurst, a public hospital in Queens that became the epicenter of the coronavirus pandemic in 2020, the doctors in training are employed by the Icahn School of Medicine at Mount Sinai Hospital in Manhattan.
The union had said first-year residents working at Elmhurst were making about $7,000 less per year than their peers working at the private Mount Sinai system's main campus.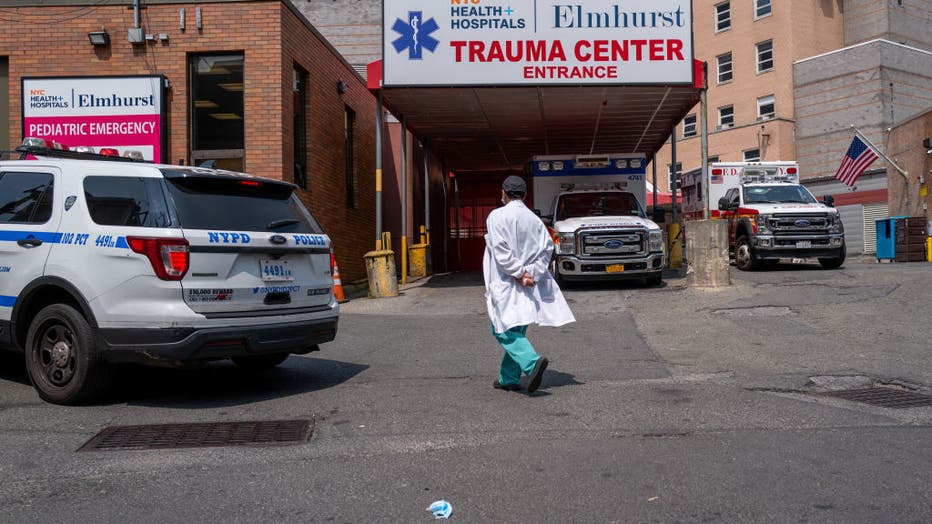 A medical worker walks by an entrance to Elmhurst Hospital Center, which witnessed some of the highest number of Covid-19 cases and deaths on May 11, 2023 in the Queens borough of New York City. The Biden administration officially ended the nation's
Union officials said in a news release that the tentative contract includes wage increases of 18% over three years as well as a $2000 ratification bonus and a meal allowance that reaches parity with residents at Mount Sinai.
"This fight was always about power, and Elmhurst residents are truly building that together," psychiatry resident Dr. Sarah Hafuth said. "Mount Sinai will now have to think twice about leaving Elmhurst behind and perpetuating these disparities for union doctors in the future."
A Mount Sinai spokesperson said in a statement: "The proposed agreement is fair, responsible, and puts patients and residents' educational training first. We want to express our thanks to everyone working at both Mount Sinai and Elmhurst this week for their dedication to patient care during this strike."