Rep. Adam Schiff running for Senate in 2024
BURBANK, Calif. - Rep. Adam Schiff (D-Burbank) is running for U.S. Senate in California in 2024. 
"I'm running for the U.S. Senate from California because we're in the fight of our lives to preserve our democracy and to build an economy that works for everyone," Schiff told FOX 11's Elex Michaelson in his first interview of the campaign. 
The campaign officially launched with a web video describing Schiff's biography and a vow to fight back against right wing extremism. In reference to former President Donald Trump, Schiff told Michaelson: "all too many people are open to a demagogue that says he alone can fix it."
He's running for the seat that Dianne Feinstein has occupied since 1992. The 89-year-old Feinstein hasn't announced publicly whether she plans on retiring in 2024 or running for another 6-year term.
Schiff said he spoke to Feinstein about his plans before making them public. 
"She said she has not made a decision about her own plans. She would make the announcement when she was ready to do so. I think she's earned the right to do that with her own timing. I wouldn't be doing this without her blessing. I want to make sure everything I do is respectful to her."
Schiff added that Feinstein has "been a giant in this state…she continues to show that."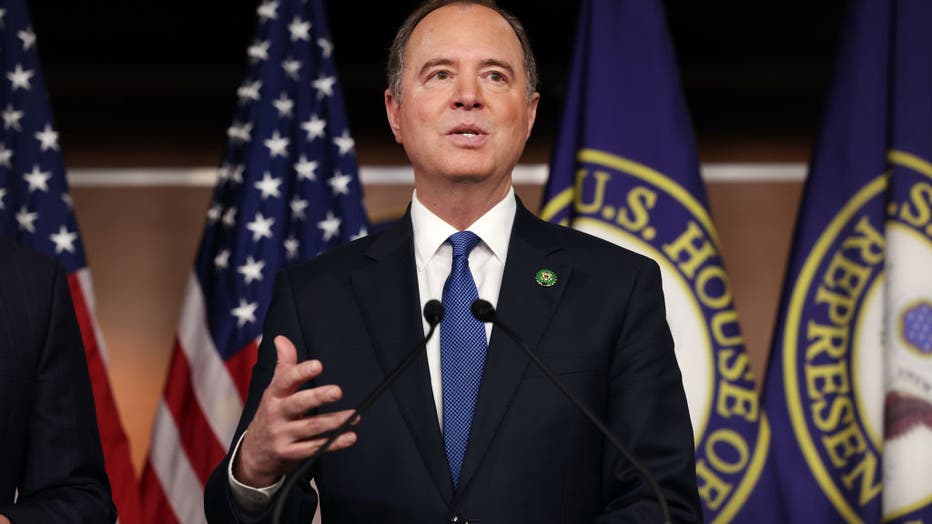 U.S. Rep. Adam Schiff (D-CA) speaks at a press conference at the U.S. Capitol Building. (Photo by Kevin Dietsch/Getty Images)
SUGGESTED: Rep. Katie Porter to run for US Senate in California
The 2024 Senate race in California could be one of the closest, costliest, and contentious statewide elections in a generation. 
Rep. Barbara Lee (D-Oakland) reportedly told colleagues in Congress about her intention to run. Rep. Katie Porter (D-Irvine) has already announced her campaign. 
Michaelson asked Schiff what's the biggest difference between him and Porter?
"I'll speak to my own record. Through all the significant fights for our democracy over the last several years, I've been in the center of them."
SUGGESTED: Speaker Kevin McCarthy says he'll block Rep. Adam Schiff from Intel panel
When pressed on whether he was suggesting Porter hadn't been in those fights, he said he was only referring to himself. 
Schiff's announcement comes a day after House Speaker Kevin McCarthy (R-Bakersfield) officially removed him from the House Intelligence Committee, which he previously chaired. 
"What Adam Schiff did was use his power as a chairman to lie to the American public," McCarthy said. 
Rep. Schiff fired back: "this is Kevin McCarthy. He will say anything and do anything."
"I think Californians are going to respond by saying, 'You know what? We'd like to make Adam Schiff Kevin McCarthy's home state Senator," Schiff said. 
Michaelson's full interview with U.S. Senate candidate Adam Schiff can be seen on FOX 11's statewide political show "The Issue Is," which airs every Friday at 10:30 p.m. on FOX 11 Los Angeles.