Migrant tent shelter will be on Randall's Island, not at Orchard Beach
NEW YORK - New York City Mayor Eric Adams announced late Monday that a tent complex to give temporary housing for hundreds of migrants would be moved from Orchard Beach in the Bronx to Randall's Island. The mayor cited flooding concerns and better access to public transportation.
The move came after objections were raised about the original location. 
Activists were concerned the shelter wouldn't be adequate or safe to house migrants. A video posted online by South Bronx Mutual Aid showed ponding in the Orchard Beach parking lot where the shelter was being assembled after relatively light rainfall. 
Also, residents of some nearby neighborhoods opposed the choice of location for the shelter.
In a statement, the mayor said the safety of the migrants is a "top priority."
"Following this weekend's storms, New York City Emergency Management determined that, while we would be able to put in place the necessary ponding mitigation measures, relocating the Orchard Beach humanitarian relief center to Randall's Island is the most efficient and effective path forward, and work is underway to make this move," Adams said in the statement. "This new location is less prone to flooding, is closer to public transportation, and will provide temporary respite to 500 asylum seekers."
The mayor said the move will not delay the opening of the complex but he didn't elaborate on when exactly it would open.
"We expect this site to open in approximately the same timeframe as the originally planned location," Adams said, "and we continue to build out our options and explore additional sites as we handle this humanitarian crisis created by human hands."
Randall's Island is located in the East River near Manhattan, Queens, and the Bronx. The island can be reached by limited public bus service, private vehicles, and across footbridges and pedestrian walkways on the RFK Bridge. It is home to parkland, NYPD and FDNY facilities, Icahn Stadium, a tennis club, and more but no grocery or other food stores.
"There's not a whole lot of restriction on what they can do in the regulations that currently exist. So it is kind of a new thing," The Legal Aid Society's Kathryn Kliff told FOX 5 NY. "And that's why we have so many questions about it — is because no one really knows exactly how this is going to operate."
The city needs to address "logistical concerns" with the Randall's Island plan, Manhattan Borough President Mark Levine said in a statement.
"To ensure asylum seekers can easily move to and from the island, service on the M35 bus should be greatly expanded, and regular ferry service must be established connecting Randall's to the mainland of Manhattan," Levine said. "The City needs to double down on the provision of permanent housing vouchers to those currently in our shelters, to quickly get New Yorkers experiencing homelessness into permanent homes, and to open up space in the overcrowded shelter system." 
Joint Statement by The Legal Aid Society and Coalition for the Homeless
Many of the concerns we and others have expressed about the initial Orchard Beach location also apply to Randall's Island. The City must look to other solutions instead of tent cities, where our clients will be isolated, vulnerable to extreme weather, and far from public transportation and other critical services.
Hotels have always been the better short-term option, rather than erecting tents in inaccessible parts of New York City. Furthermore, right now, this Administration can unilaterally remove the many bureaucratic barriers that plague its housing voucher process to transition more homeless New Yorkers from shelters into safe, permanent housing. Doing so would free up shelter capacity for new entrants into the system.
While we appreciate City Hall's commitment to the right to shelter, the flooding at Orchard Beach should serve as a canary in a coal mine, and the Adams Administration must abandon this wrongheaded plan in favor of the actions we've been advocating for since the beginning of this crisis.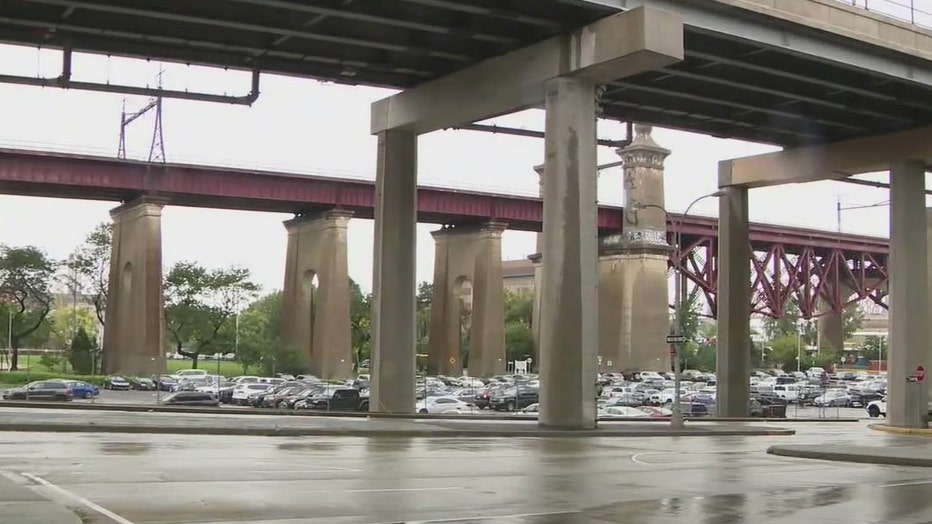 A parking area on Randall's Island underneath a railroad trestle and the RFK Bridge. (FOX 5 NY Image)