Elijah McClain's death sparked protests and led to police reforms. Now, 2 cops on trial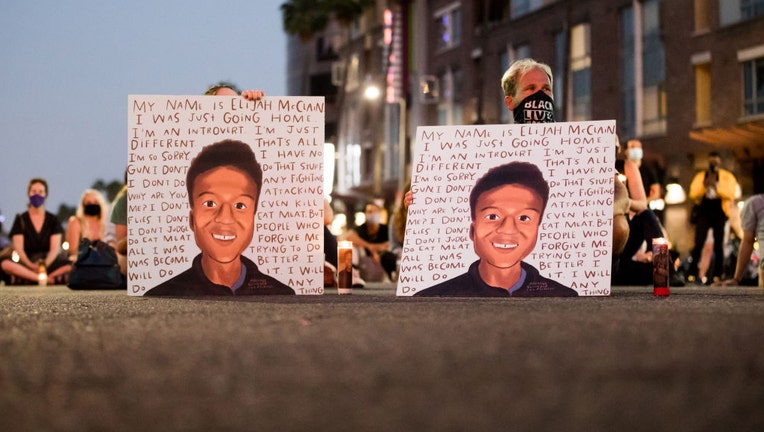 article
BRIGHTON, Colo. - The trial of two suburban Denver police officers was set to open Wednesday in the killing of Elijah McClain, a Black man put in a neck hold and injected with a powerful sedative whose 2019 death later became a rallying cry for nationwide protests and spurred police reform in Colorado.
In the first of several trials stemming from the death of McClain, lawyers for the two sides are expected to paint contrasting pictures of the deadly struggle between the officers and the 23-year-old massage therapist. McClain was stopped by police in the city of Aurora while walking home from a convenience store carrying only a plastic bag and his phone.
One question jurors could be asked to decide is whether it was lawful for officers Randy Roedema and Jason Rosenblatt to detain and use force against McClain, who a 911 caller reported as suspicious. If prosecutors can convince jurors the stop was unjustified, that would undermine any argument that McClain's injuries were a result of the officers just doing their jobs.
Officials eventually determined the sedative ketamine that was administered to McClain played a key role in his death, which fueled renewed scrutiny about the use of ketamine and led Colorado's health department to issue a rule limiting when emergency workers can use it. In 2020, neck holds by police were banned by the state's Democratic-led Legislature.
RELATED: Elijah McClain died due to sedative, restraint, amended autopsy says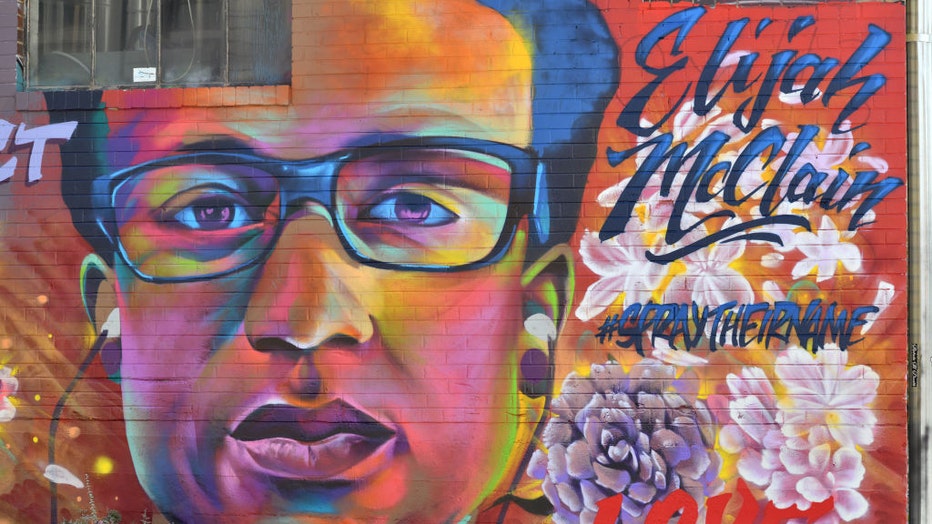 FILE-A mural of Elijah McClain, painted by Thomas "Detour" Evans, is seen on the back side of the Epic Brewing building in Denver, Colorado on Thursday, June 25, 2020. (Photo by Hyoung Chang/MediaNews Group/The Denver Post via Getty Images)
Selection of the 12-member jury and two alternates was set to wrap up Wednesday, after which prosecutors would deliver opening arguments. The trial is expected to last about a month.
The jury appeared to be mostly white. Among the potential jurors removed at the request of defense attorneys was a man who said he'd been racially profiled and a woman who identified herself as Hispanic and said her husband was singled out for arrest in a conflict with white people. Potential jurors removed by the prosecution included the daughter of a police officer who said officers aren't being supported by society and a former EMT who witnessed people being given ketamine.
Roedema and Rosenblatt are both charged with criminally negligent homicide, manslaughter and assault. They have pleaded not guilty but have never spoken publicly about the allegations against them. A third officer and two paramedics are charged in McClain's death and are scheduled for trial later this year.
RELATED: Police officers seen reenacting chokehold on Elijah McClain are fired
Charges were not brought for two years after McClain's death, by which time the case had sparked outrage and a national reckoning had begun over racial injustice in American policing after the murder of George Floyd by officers in Minneapolis. Police body camera captured McClain pleading with the officers, saying "I'm an introvert" and "I'm just different," and telling them "I'm sorry."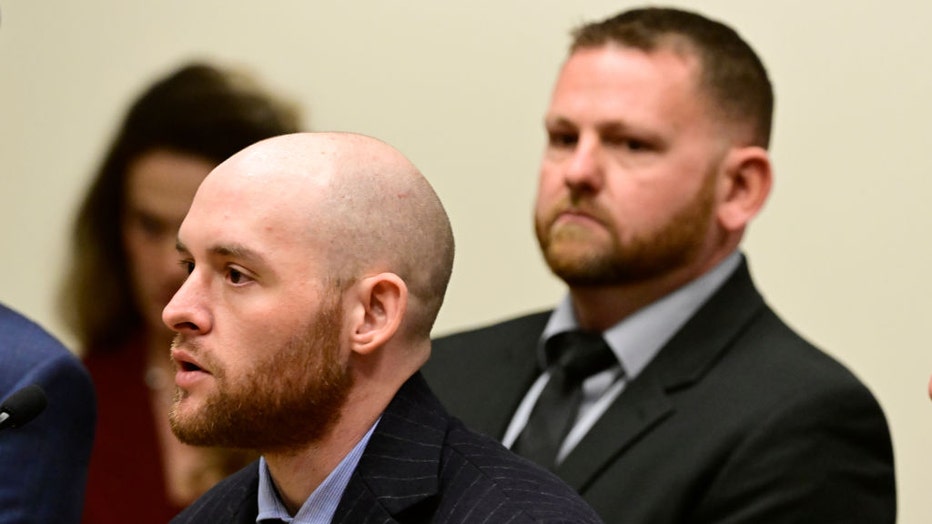 FILE-Former Aurora officer Jason Rosenblatt, left, and Aurora Police Officer Randy Roedema, right, during an arraignment in the Adams County district court at the Adams County Justice Center January 20, 2023. Aurora Police officers Nathan Woodyard, R
In 2019, a local district attorney, Dave Young, called McClain's death "tragic" but decided against prosecuting the officers largely because the coroner's office could not determine exactly how McClain died.
A revised coroner's report was issued in 2021, relying in part on information from a grand jury investigation. It found the cause of death was complications from the sedative after McClain, who weighed 140 pounds (64 kilograms), overdosed because he received a higher dose than recommended for someone of his size, pathologist Stephen Cina found.
"I believe that Mr. McClain would most likely be alive but for the administration of ketamine," Cina had said.
Cina said he couldn't rule out whether the stress of being held down by the officers may have contributed to McClain's death.
RELATED: Elijah McClain death: Results of independent probe faults overall police handling of incident
Police stopped McClain on Aug. 24, 2019, after a 911 caller reported a man who seemed "sketchy." McClain, who was often cold, was wearing a ski mask and a jacket despite the warm weather.
Officer Nathan Woodyard, who is set to go on trial later this year, was the first to approach McClain, and was soon joined by Roedema and Rosenblatt.
McClain, using earbuds, initially kept walking. Within 10 seconds, Woodyard put his hands on McClain, turning him around. As McClain tried to escape his grip, Woodyard said, "Relax, or I'm going to have to change this situation."
The encounter quickly escalated, with officers taking him to the ground and putting him in a neck hold. Paramedics arrived and injected McClain with ketamine, which was legal at the time to give to people showing erratic behavior. McClain suffered cardiac arrest on the way to the hospital. He was pronounced dead three days later.