Project DYNAMO: Veterans rescue over 6,000 Americans, pets from global danger zones
TAMPA, Fla. - A group of veterans is continuing their mission to rescue Americans and their pets from many danger zones across the world, including the Middle East. 
Project DYNAMO, a Tampa, Florida-based non-profit, launched in 2021. The veterans provide rescue and assistance in disaster areas and conflict zones in places around the world where the U.S. government doesn't have access. 
"We started Project Dynamo during the failed withdrawal of Afghanistan after we saw not only our friends and allies being left behind, but also hundreds and hundreds of Americans left behind after the withdrawal, after the military left," Founder and CEO Bryan Stern told LiveNOW on FOX. 
RELATED: Veterans Day: How you can help our homeless military men and women
The non-profit said they have rescued more than 6,000 Americans and a number of animals from Ukraine, Sudan, places affected by Hurricane Ian and the Maui fires. 
Currently, veterans are helping to rescue Americans from Israel and Gaza amid the war. 
"We were taking missile fire and then the whole thing during our time there," Stern added. "We've since deployed back and forth multiple times. We've rescued over 300 people from that conflict." 
RELATED: Israel-Hamas war closes in on Gaza City as thousands flee
Stern said Project DYNAMO helps give veterans a sense of purpose, though those they rescue do not have to be veterans themselves.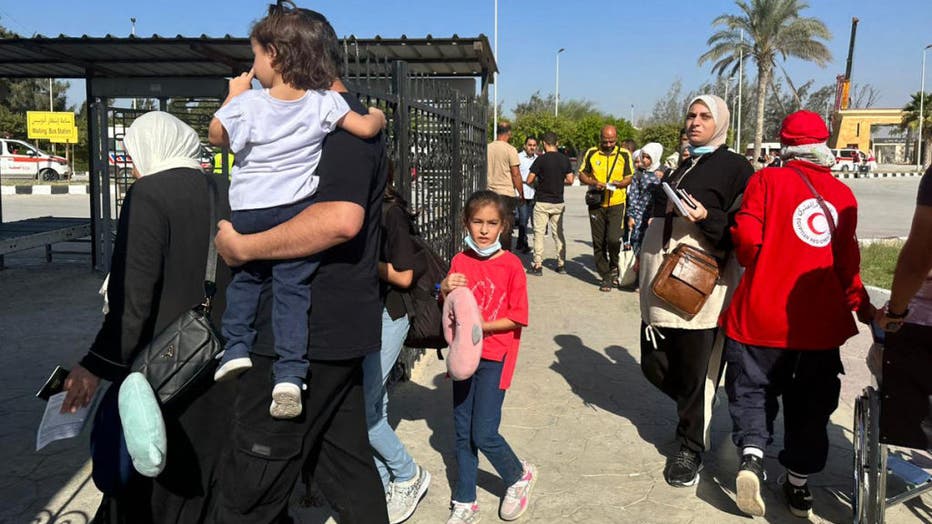 People cross into Egypt's Rafah border crossing with the Gaza Strip, on November 9, 2023, amid the ongoing battles between Israel and the Palestinian group Hamas. (Photo by AFP) (Photo by -/AFP via Getty Images)
"It's really fun to see when we bring volunteers in who hadn't worked with us before, and we plugged them in," Stern continued. "It's the synergy that happens extremely, extremely quickly from, you know, all the funny things to all the serious things."
The non-profit runs entirely off donations.
RELATED: Israel agrees to 4-hour daily pauses in Gaza fighting to allow civilians to flee, White House says
Some Americans have been freed since the start of the war. 
Last month, Hamas freed an American woman and her teenage daughter who had been held hostage in Gaza, Israel said, the first such release from among the roughly 200 people the militant group abducted from Israel during its Oct. 7 rampage.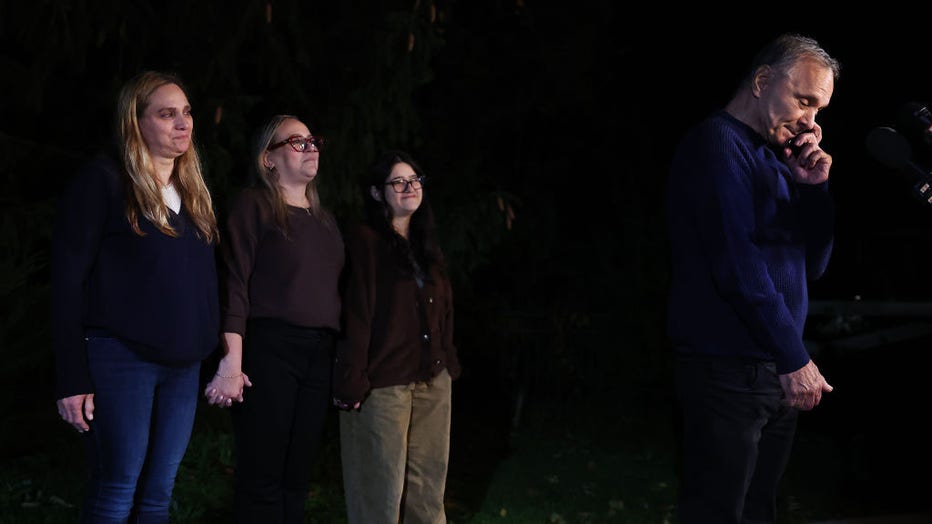 Uri Raanan, father of Natalie Raanan and ex-husband of Judith Raanan, speaks outside his home in Bannockburn, Illinois, on Friday, Oct. 20, 2023, to express his emotions after Natalie and Judith were released by Hamas. (Chris Sweda/Chicago Tribune/Tr
Judith Raanan and her 17-year-old daughter, Natalie, were out of the Gaza Strip and in the hands of the Israeli military, an army spokesman said. Hamas said it released them for humanitarian reasons in an agreement with the Qatari government.

Meanwhile, 400 Americans have been approved to leave Gaza, Fox News confirmed. The State Department was working to assign American citizens in Gaza specific departure dates. Officials say they'll notify those in Gaza who've been in contact with the department. 
FOX News and the Associated Press contributed to this report. This story was reported from Los Angeles.