4.2-magnitude earthquake shakes Malibu area, followed by multiple aftershocks
LOS ANGELES COUNTY, Calif. - A preliminary 4.2-magnitude earthquake struck off the Malibu coast early Wednesday morning followed by multiple aftershocks. 
According to the U.S. Geological Survey, the first earthquake happened at 2 a.m. about 10 miles south of Malibu Beach and 15 miles southwest of Santa Monica. Its depth was reported at about 9.2 miles, according to the USGS.
Just seconds after the first jolt, a second earthquake was reported – a preliminary 3.5-magnitude earthquake, also 10 miles south of Malibu Beach. The depth for the second earthquake was reported at about 8 miles, according to USGS.
Roughly 22 minutes after the initial quake, a 2.8-magnitude aftershock was reported in the same location by the USGS. The depth of the second aftershock was just over six miles.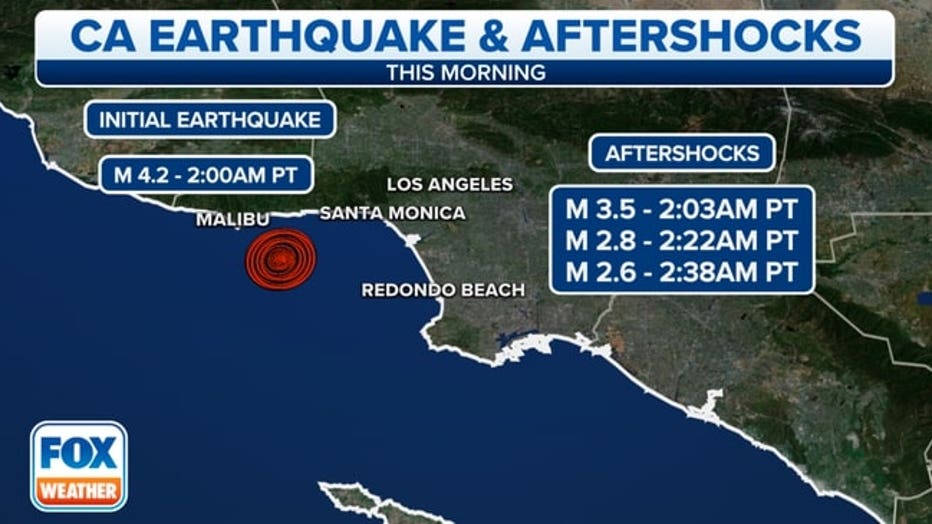 Multiple aftershocks were reported following an initial 4.2-magnitude earthquake off the coast of Malibu Beach, California, early Wednesday morning, Jan. 25, 2023. / FOX Weather
At 2:38 a.m., a third, 2.6-magnitude aftershock struck the same area, according to USGS.
Despite striking offshore, the National Weather Service said there is no Tsunami threat.
"The LAFD is now in earthquake mode. All 106 neighborhood fire stations will conduct a strategic survey of their districts, examining all major areas of concern (transportation infrastructures, large places of assemblages, apartment buildings, power-lines, etc). This survey will be conducted from the ground, air and sea. Once this process is complete and reports are consolidated, assuming there is no significant damage, Earthquake mode will be complete. This process typically takes less than one hour," Nicholas Prange with the Los Angeles Fire Department said in a statement around 2:30 a.m. Wednesday morning.
Shortly before 9 a.m., the department announced that the survey was complete.
RELATED: 
There were no immediate reports of damage or injuries. While there are many variables involved, geologists say damage does not usually occur until the earthquake magnitude reaches somewhere above 4 or 5.
Malibu city officials said motorists should proceed with extreme caution on Malibu Canyon Road, Kanan Dume Road and other canyons as loose rocks from the recent storms may continue to fall. 
RELATED: Surviving the earthquake: Prepare, Survive, Recover
USGS provides information about earthquakes by state and preparedness information, including helpful information for those in California.
RELATED: Quakes push Californians to prepare for the next big jolt
The series of quakes were felt from the Westside of Los Angeles to the San Gabriel Valley.
Wednesday morning's earthquake comes on the five-year anniversary of a 4.0-magnitude earthquake that struck around the same time - just after 2 a.m. - near Trabuco Canyon on January 25, 2018.
The USGS is asking anyone who felt the quakes to submit a brief report. You can click here for more information.