Potential 2024 GOP long shot says his ideas may be enough to boost him past Trump, DeSantis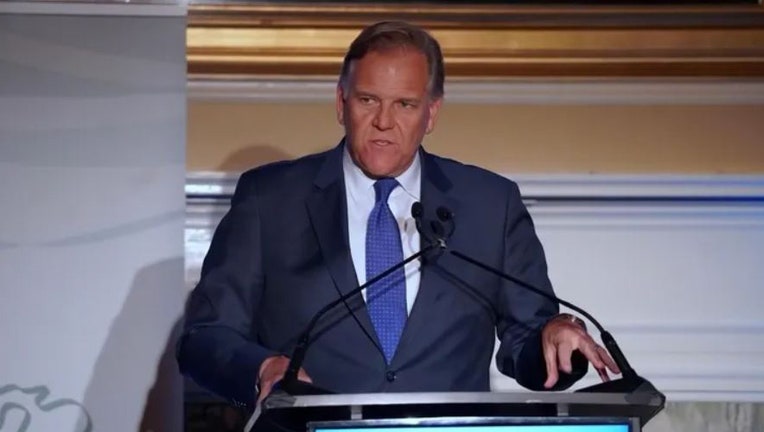 article
Former Republican Rep. Mike Rogers of Michigan wants to bring the GOP back to the future.
The former FBI agent, who later served 14 years in Congress and grabbed plenty of attention in the nation's capital as chair of the House Intelligence Committee, says his latest mission to come up with "real solutions" to get the country back on track could lead to a campaign for the 2024 Republican presidential nomination.
If Rogers ends up running, he'll be considered a long shot against former President Donald Trump and a large list of actual and potential candidates who enjoy much stronger name identification and better financial support than Rogers, who's not well known outside of Michigan or the Beltway.
But Rogers insisted in an exclusive interview with Fox News Digital on Monday that "sometimes ideas and these solutions are bigger than shallow name ID."
WHAT ROGERS TOLD FOX NEWS ABOUT THE CHINESE SPY BALLOON INCIDENT
Rogers and his wife formed a group called "Lead America" to try to remedy the growing discouragement with politics and find solutions to national problems.
He's pushing for greater opportunities for innovation in order to foster increase economic prosperity, and supporting families "by recognizing their needs and lowering barriers to those needs being met."
Rogers wants to put a greater emphasis on civic education to "encourage Americans of all ages to take an active interest in the success of their own communities and of our nation as a whole," and he's also formulating ideas to strengthen America's standing on the global stage.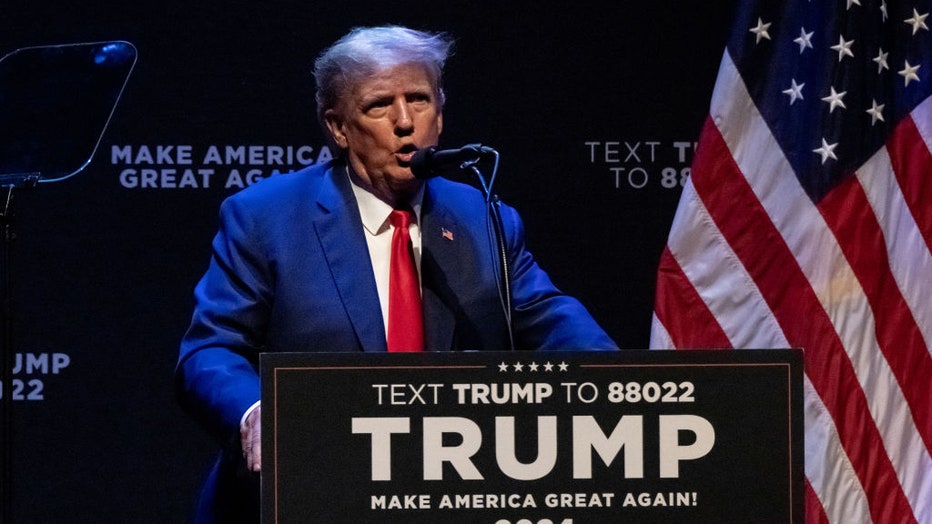 Former President Donald Trump speaks during an "America First Education Policy" event in Davenport, Iowa, US, on Monday, March 13, 2023. (Miriam Alarcon Avila/Bloomberg via Getty Images)
He's been road testing his message and his suggested solutions in recent months in Iowa, New Hampshire, South Carolina and Nevada, the first four states to vote in the Republican Party's presidential nominating calendar.
"If you want to change the narrative, and that's what Lead America is set out to do, you have to go out to early primary states. And what we found is people have been very encouraging," Rogers said. He said people have been telling him, "Hey love this. Would you consider taking this into 2024?"
WHO'S IN AND WHO'S ON THE SIDELINES — YOUR GUIDE TO THE 2024 GOP PRESIDENTIAL NOMINATION RACE
Rogers said, "What we have to do is decide are people are ready for hopeful, optimist, solutions-oriented candidate."
"Late spring, early summer, you would really need to drill down on firing the flare if you were going to do it," Rogers said when asked about his 2024 timeline.
If Rogers runs, he'll face big names like Trump, who launched his third White House campaign in November, and most likely Florida Gov. Ron DeSantis, who remains on the 2024 sidelines but is likely to launch his own bid later this year. Other well-known actual or potential candidates include former Vice President Mike Pence, former ambassador and former South Carolina Gov. Nikki Haley, Sen. Tim Scott of South Carolina, and former Secretary of State Mike Pompeo.
But Rogers says a strong showing in the early nominating states could make a difference.
"I think if you win, place or show early on, you won't have to worry about name ID. That's going to take care of itself," he argued.
"This is not a vanity project for me," he said. "If enough people believe that too, then I think there could be something to this."
Asked if he could compete against candidates with much larger campaign war chests, Rogers argued, "You don't have to have $100 million in the bank to win. But you do need to have enough to get over that first hump, get known, and then go from there."
POLL SUGGESTS TRUMP WIDENING LEAD OVER DESANSTIS IN 2024 GOP PRESIDENTIAL NOMINATION RACE
"I talk to a lot of donors, and I can just tell you I'm not discouraged," he shared. "I certainly wouldn't get in if I didn't believe we could meet that financial challenge."
If Rogers decides to bid for the 2024 nomination, he'd become the second contender from Michigan. 
Businessman Perry Johnson declared his candidacy for the Republican presidential nomination recently. 
Johnson, who last year ran for the 2022 GOP gubernatorial nomination in Michigan and was considered a top contender before he and four other Republican hopefuls were disqualified because of invalid signatures, has already launched campaign commercials.
Perry, who last year ran for the 2022 GOP gubernatorial nomination in Michigan, was considered a top contender before he and four other Republican hopefuls were disqualified because of invalid signatures
Rogers, who emphasizes free-market conservatism and national security, retired from politics in 2016, the same year Trump won the White House. And he's been clear in rejecting Trump's repeated unproven claims that his 2020 election loss to President Biden was due to a "rigged" election that was "stolen."
Pointing to the emerging 2024 GOP field, Rogers said, "I think the Trump, Trump-lite lane is pretty crowded. The lane that is not talking about Trump, that is talking about solutions and the way forward and what the real challenges we face – I just don't find a lot of people in that lane."
Asked about the looming indictment of the former president for alleged hush money payments to adult film star Stormy Daniels in 2016, Rogers said "as a former FBI guy, I find the timing of this indictment distasteful at best."
But he criticized Trump's call over the week for his supporters to protest any indictment, and cited the Jan. 6 riot at the U.S. Capitol as a reason.
"I don't believe he should call for protesting of any sort at this point giving the sensitivities of what happened the last time. And protesting is one thing, but violence is absolutely another. And I don't think that helps anybody," Rogers told Fox News Digital.
Rogers suggested that Trump should bow out of the 2024 race if he's indicted.
He said the former president "has lots of issues to worry about and this might be a really good time for him to stop and focus on those issues and get all of that taken care of. We have to think of a country from '24 on that needs new direction desperately, and I just think that doubling down on chaos and confusion and acerbic conversations is not going to be the kind of America that Americans are willing to support moving forward."
"For his own well-being, I think he needs to stop and focus on this process. Being indicted – I don't care what you say – is not helpful," he argued. "It may galvanize a small percentage of Trump supporters, but that is going to so fractionalize the party going forward. I think it would be best that the country move on from this."
Get the latest updates on this story at FOXNews.com.