PHOTOS: Post Malone, Raising Cane's team up for Dallas Cowboys-themed restaurant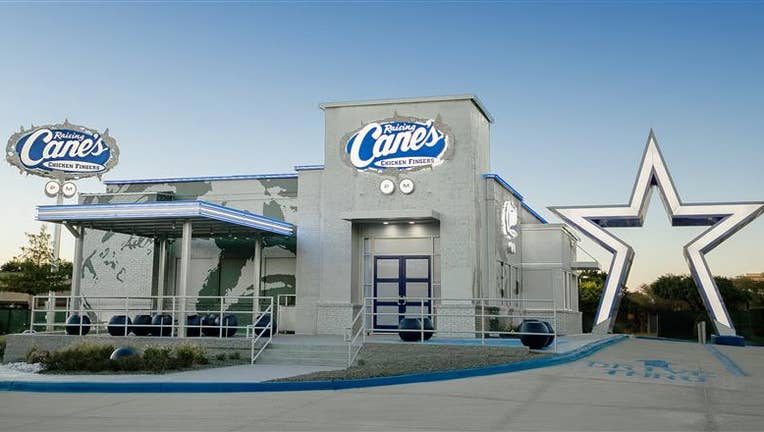 article
DALLAS - Dallas Cowboys fans will soon have a new hangout thanks to rapper Post Malone and a popular fast-food chain.
Raising Canes will unveil its Cowboys-themed restaurant Thursday near Interstate 35 and Northwest Highway in Dallas.
Standing tall at 32 feet, a giant Dallas Cowboys star greets Customers as they enter the Drive-Thru
The restaurant's usual red and yellow branding was replaced with blue and silver for the Cowboys.
There's also a 32-foot-tall Cowboys Star over the entrance to the drive-thru lane, blue interior lighting, a vending machine with exclusive merch, and vintage Cowboys memorabilia displays.
Malone's fans can drop a letter in a fan mailbox and check out some of his guitars and performance outfits.
"Growing up in Dallas, I've been a fan of the Dallas Cowboys and Cane's since I was a kid, so it is an honor to be part of this collaboration with two of the greatest brands in history," Malone said in a news release.
The food at the restaurant will be the same as it is at all other Canes restaurants, but guests will be able to order their meal "the Posty way." That's four chicken fingers, fries, no slaw, extra toast, and two Canes sauces.
The meal deal also comes with a Post Malone sticker and an Arnold Palmer, which combines iced tea and lemonade, in a Post Malone x Dallas Cowboys cup.